Kinh doanh
World
The international credit rating agency "deals a new blow" to Russia
Today, Radio RT (Russia) cited a notice from the international credit rating agency Fitch (USA) that Russia's payment of its debts in rubles was considered "default".
Accordingly, Fitch said that Russia's payment for two bonds maturing in the national currency (ruble, RUB) instead of US dollars (USD) would become a "sovereign default" for the country. this family.
"Russia's local currency payment for Eurobond bonds denominated in US dollars due on March 16, if it occurs, would constitute a case default sovereign, at the end of the 30-day grace period", Fitch said in a statement.
State default means a country is unable to pay its national debts. The ratings make it more difficult and expensive to get loans from foreign investors.
The Russian government has accused the West of creating a default on its own will, with no real economic basis, because the country has money that it cannot use due to sanctions.
Accordingly, nearly half of Russia's foreign currency reserves, worth $300 billion, have been frozen and the country's banks have been cut off from the Western financial system. This is the reason why Moscow cannot pay its creditors, who hold USD bonds.
Russian Finance Minister Anton Siluanov said on Monday that claims Russia could not fulfill its sovereign debt obligations were untrue. "We have the necessary funds to service our obligations", said Anton Siluanov.
Russia then made two payments of about $117 million on Wednesday. These obligations are customarily settled in the currency of issue. But according to the March 5 decree of Russian President Vladimir Putin, foreign debt payments to Russian creditors in "unfriendly" countries are paid in the Russian currency, the ruble. .
The US-based credit rating agency added that if the upcoming bond payment is made in rubles, Russia's long-term foreign currency rating will drop to "Limited Default" by the end of the year. 30-day extension.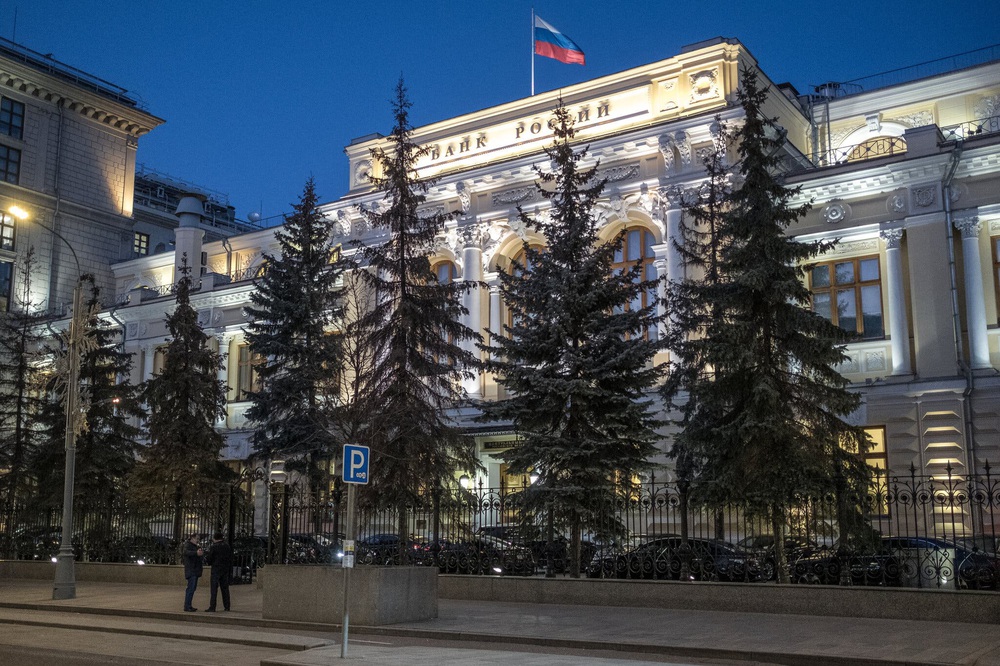 The headquarters of the Central Bank of Russia in Moscow. Photo: New York Times.
How do international organizations deal with the situation in Russia?
The New York Times (USA) commented, "based on sanctions, the Russian government warned it could pay its foreign debt obligations in rubles. But credit rating agencies say a default on the debt. going to happen".
Some Investors Major financial institutions entering Russia include BlackRock, PIMCO, Capital Group and Vanguard, according to aggregated data from Bloomberg. Vanguard, a major exchange and mutual fund provider, recently said it had suspended purchases of Russian securities in its funds and was working to get rid of it.
PIMCO, a major asset management company specializing in bonds and already holding large Russian debt, declined to comment. Carmignac, the French asset manager, said last week that it was divesting Russian stocks.
Leaders of countries and global organizations are trying to gauge the impact the crisis and sanctions on Russia could have on the global financial system.
At the end of February, members of the Financial Stability Oversight Committee (US Department of the Treasury) received a summary of international market developments related to Ukraine and suggested that the country's financial system America is still operating in an orderly manner – nothing has changed.
Andrea Enria, President of the European Central Bank Supervisory Council, said eurozone banks that have a direct relationship with Russian assets appear to remain in control and manageable. For example, debt securities from Russia and Ukraine account for about half of euro zone investment fund debt.
If Russia defaults on its sovereign debt or pays it in rubles, bondholders can fight to get that debt paid (like the currency of issue) through the courts. Because in recent years, Russia has not waived sovereign immunity for debt issued in dollars and euros.
https://soha.vn/to-chuc-xep-hang-tin-dung-quoc-te-giang-don-moi-vao-nga-20220316165525025.htm
You are reading the article
The international credit rating agency "deals a new blow" to Russia

at
Blogtuan.info
– Source:
Soha.vn
– Read the original article
here