Business
The key to the management and assignment of work in the business
In an enterprise, middle management is an effective arm for senior management to implement business strategy and manage management. The important task is that middle managers need to coordinate well with other managers; Assign and monitor work progress effectively to achieve the best productivity.
Entering the context of the 4.0 revolution is also the time when the means of information exchange become increasingly diverse. Not only direct exchange, managers can completely communicate with all levels through many convenient tools such as phone calls, email, chat applications such as Zalo, Skype, Viber… But when the first job starts received and delivered fragmented on these channels is also the time when managers have difficulty in monitoring work progress completely.
For jobs or projects with the participation of many departments and personnel, managers will often find it difficult to track, coordinate and monitor work. In addition, for a period of time, when responsible for several projects or at the beginning of a job, it is easy for a manager to fall into the "busy trap". At this time, a system that helps to immediately report on progress and work performance for managers is definitely essential.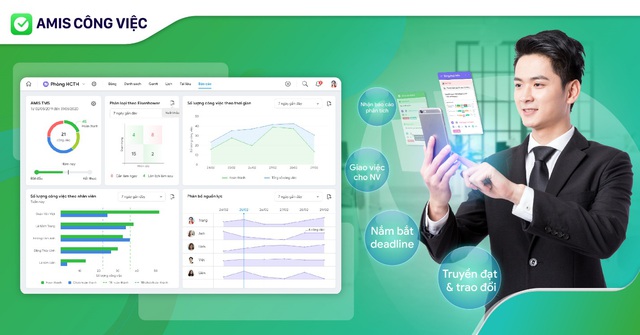 Managers easily manage work thanks to Task Management software
When a manager supervises "micro" work – often only going into details, it will cause lower-level employees to regularly report and update work. At this time, employees both feel overloaded and lose their initiative, reducing productivity at work. For subordinates who are aware, really capable and want to contribute to the business, the above situation will make them depressed and want to quit. According to a recent Gallup survey, 1 in 2 employees quit at some point in time to "run away" from their manager.
To solve the "pain points" mentioned above of a manager, a job management tool to help fully meet the operations management and work supervision is really necessary. In the past few years, when job assignment management requires a large and systematic scale to improve the working performance of enterprises, it is also the time when the 4.0 technology era takes the throne to open the way. for more optimal management technology. The introduction of task management software is "effective assistant" for managers to complete their work well.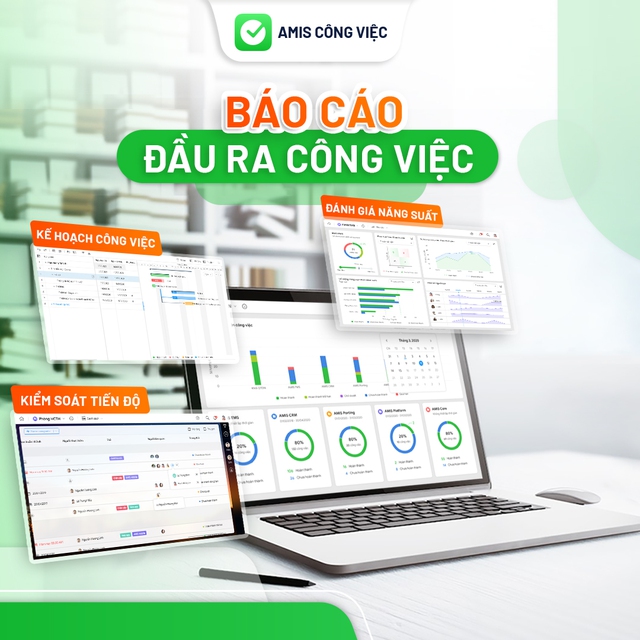 Work AMIS software helps to make instant, multi-dimensional reports on the productivity and work progress of the entire enterprise
Task management software AMIS Work Developed by MISA Joint Stock Company, born as a comprehensive solution for business owners in the 4.0 era. With smart planning, the organization of work items, inter-departmental human resource allocation, and schedule setting are done on a unified platform.
Thanks to the system of authorization, assignment, approval according to an automatic process, work efficiency is completely improved. The software also helps to make instant, multi-dimensional reports on the productivity and work progress of the entire enterprise. Reports with intuitive, accurate charts of progress, to-do lists, productivity spreadsheets of individuals, departments, and projects are automatically published. Managers can fully grasp the arising and anticipate unexpected situations so that they can be resolved in a timely manner.
Along with that, understanding and sharing the challenges that managers in general face in operating and assigning jobs, MISA Joint Stock Company also cooperated with Agile Academy to organize a webinar " Improving management capacity: Authorizing and assigning tasks effectively, the secret to helping employees take the initiative to be confident in their work" at 9:00 am on March 19, 2022. The completely free webinar will hopefully be a useful gift for CEOs in the current context.
Register for the Conference here.
https://cafebiz.vn/chia-khoa-cho-cong-tac-quan-ly-va-Giao-viec-trong-doanh-nghiep-20220315171656447.chn
You are reading the article
The key to the management and assignment of work in the business

at
Blogtuan.info
– Source:
cafebiz.vn
– Read the original article
here