Business
The only wedding with a tray of rice, a special wedding night and the response when the husband is rumored to have a child of his own
Writers and poets are often romantic, and perhaps because of that romance, their love and marriage stories are sometimes tinged with literature.
Writer To Hoai is not only admired for his great literary heritage, but also his strong and lasting love with his wife, Nguyen Thi Cuc, always receives attention.
The wedding is only a tray of rice and 4 guests
Mrs. Nguyen Thi Cuc is the youngest child in a small business family in Hanoi. She studied pharmacy and became a famous and beautiful pharmacist at that time.
Around Mrs. Cuc, there are many young people who want to get acquainted. She even told me how many people followed when she got off the train. She had to hurry home and slam the door.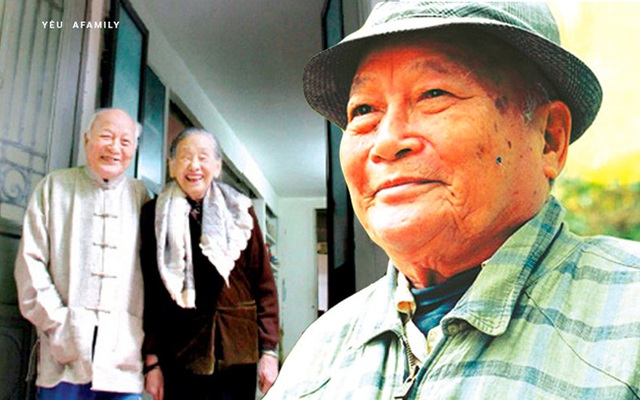 However, from beginning to end, she only liked the poor writer Nguyen Sen (real name of writer To Hoai).
But that year, writer To Hoai was participating in a group to work out a cultural outline for national salvation and was financially supported by a number of bourgeois families in Hanoi.
Incidentally, he was in the same group working in the relief association as Mrs. Cuc's brother. At that time, Mrs. Cuc's family in Hue street also often helped the cultural group to save the country. Gradually coming together, writer To Hoai gradually fell in love with Mrs. Cuc.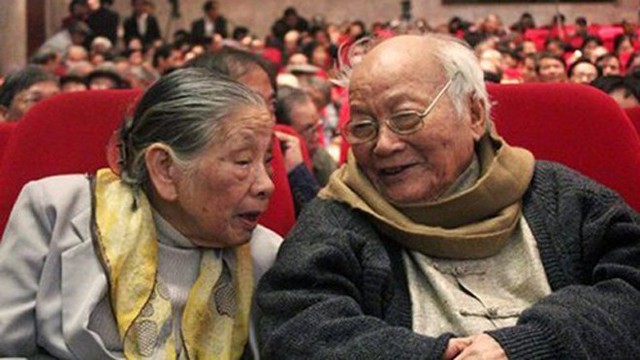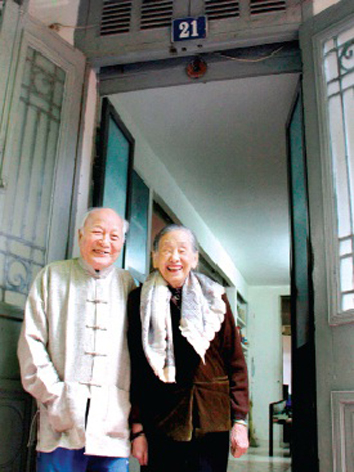 Writer To Hoai and his wife.
It is known that he liked it so much, but writer To Hoai did not dare to confess because his family was too poor and couldn't register for him. As for Mrs. Cuc, although she appreciated the talent of the other party, at that time, the daughter in the family had a strong feudal cult, so she did not dare to ask.
Fortunately, writer Nam Cao knew that Mrs. Cuc and writer To Hoai meant it, so he sought to create opportunities and cultivate them. Writer Nam Cao is a teacher for the children of Mrs. Cuc's family, so he often pretends to quit teaching so that To Hoai can teach instead. This is also an excuse for the two of them to have the opportunity to meet. And then love gradually rekindled from there.
At that time, she also determined that artists and writers had to suffer but liked romance, so she decided to marry writer To Hoai – a truly poor young man.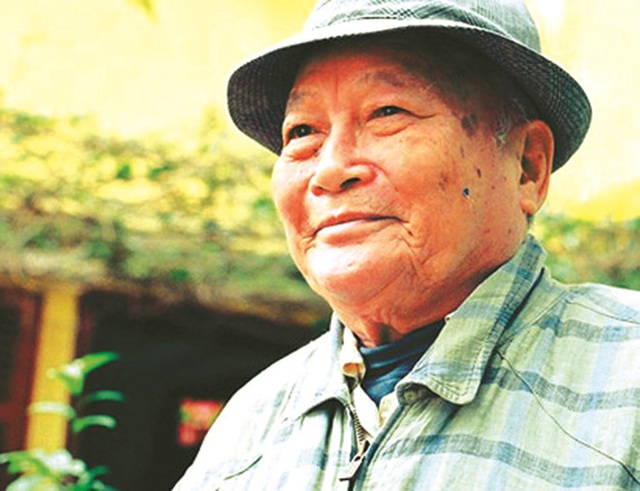 In those years, writer To Hoai was so poor that he only had one set of clothes and white rubber sandals. But with such suffering, he still wrote the book Cricket Adventure at the age of twenty. For this reason, Mrs. Cuc both loved and respected her and was determined to marry despite her poverty.
The wedding took place nearly 80 years ago with only one tray of rice organized by her brother Cuc. The guests were the late Prime Minister Pham Van Dong and his wife, the poet To Huu, and held in Dai Pham forest, Thai Nguyen.
The wedding night of that year, the table was finished, the bride went to bed with her mother-in-law because the situation at that time was evacuating, the village law did not allow the husband and wife to sleep together.
The strength of a woman
After officially becoming husband and wife, writer To Hoai went to the Viet Bac war zone, and Mrs. Cuc stayed in Phu Tho to do women's work and teach.
In 1948, when writer To Hoai returned to visit his wife, they had their first daughter together named Dan Ha.
"Even when I was born, he was not around. At that time, he was still on a business trip with Mr. To Huu. When he arrived at Phu Tho wharf, he just got ashore and asked if I was a boy or a girl. I had to go on again. So did the other children, I alone shouldered and cared for them for many years in the refugee camp of the resistance."Ms. Cuc shared in an interview with Cong An Nhan Dan newspaper.
One-handed young lady took care of the whole house. She takes care of the children, does not mind any work. She went to work during the day, and at night, she plowed the fields to plant cassava. Later, when she returned to Hanoi, she studied traditional medicine while working many jobs to raise her children.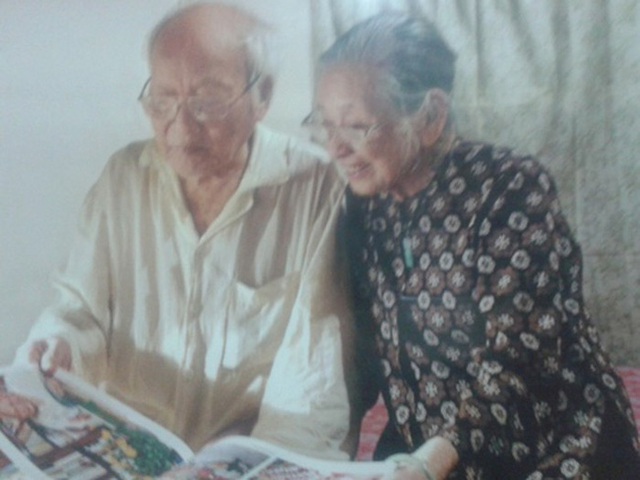 When they are old, the writer and his wife are always wrapped in tangerine together.
In those days, she also accepted to sew army clothes. Many days it takes until 2 am to have dinner.
10 years of marriage, 9 years of separate husband but she never blamed. On the contrary, she trusted her husband completely with the idea that husband and wife should trust each other.
"Someone told me he had a baby with someone else, if I say that, it's fine, I'm less likely to have to give birth."she shared with Tien Phong newspaper.
The great selflessness of a noble woman
Later, when peace was restored, writer To Hoai was still busy with work, away on business trips, and Mrs. Cuc remained at home and continued to raise her children.
It wasn't until later when writer To Hoai retired that the couple had a lot of time together. Mrs. Cuc continued her journey of taking care of her husband little by little and very thoughtfully.
The youngest son of writer To Hoai, Phuong Vu, once told a story about his father's deep love with a girl in Dau Tieng in his twenties. Mrs. Cuc knows her husband's story but has never been jealous and always considers it a beautiful memory in her husband's life.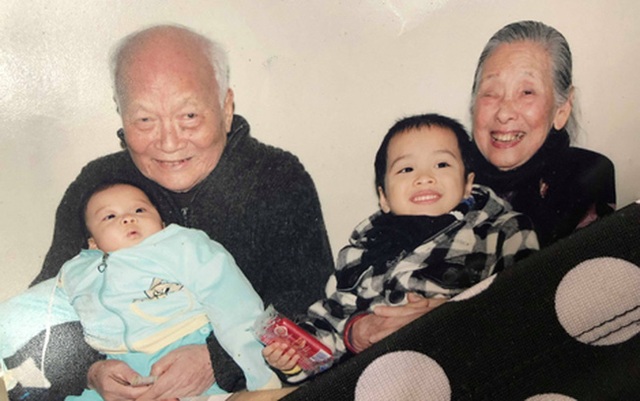 Photo of the writer and his wife with their grandson.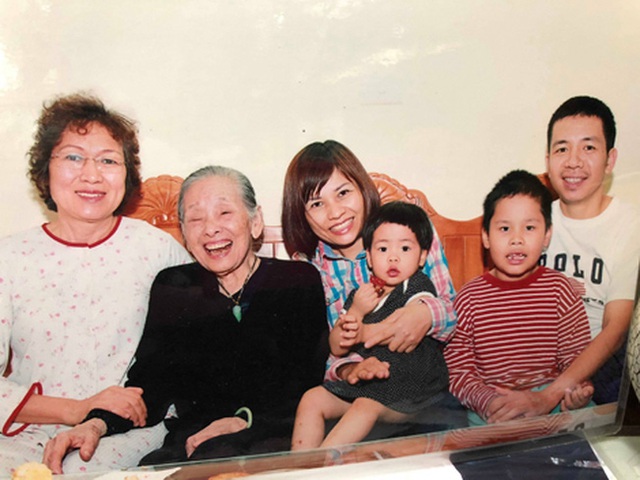 Mrs. Cuc is happy with her children.
It is known that in 1941, after finishing writing "Cricket adventure", writer To Hoai received a royalties of 30 dong and moved to the South. There, he met Ms. Nguyen Kim Phuong and fell in love with lightning. They loved each other passionately, but the day the writer went to the North because of the war, they could not see each other for 40 years. In the early years when they were apart, they still kept in touch through letters, but gradually, the war made them distrust each other.
In 1975, Ms. Phuong followed her family to France and married a Frenchman. Five years later, writer To Hoai received a letter from Mrs. Phuong from France after many years of being lost.
Reconnecting, Mr. and Mrs. Phuong sent letters to each other. Later, when Mrs. Phuong returned to Vietnam, they also had the opportunity to meet again and it was her son Phuong Vu who was an "ally" to help his father arrange.
When she learned about it later, Mrs. Cuc was not jealous, but considered it a profound memory in her husband's writer's life.
synthetic
https://afamily.vn/chuyen-ve-nguoi-phu-nu-ha-thanh-sau-lung-nha-van-to-hoai-dam-cuoi-duy-nhat-mot-mam-com-dem- tan-hon-dac-biet-vali-dap-tra-khi-chong-bi-don-co-con-rieng-20220315192335365.chn
You are reading the article
The only wedding with a tray of rice, a special wedding night and the response when the husband is rumored to have a child of his own

at
Blogtuan.info
– Source:
cafebiz.vn
– Read the original article
here