Khỏe - Đẹp
The whole family was carried to the post-Covid-19 check-up, what did the expert say?
In recent days, information about post-Covid-19 is "boiling" in the community. Everyone is afraid of the post-Covid-19 situation, so they try to get medical attention.
After being infected with Covid-19 for 2 weeks, Ms. Ha (Cau Giay, Hanoi) saw that she was tired, her 12-year-old and 8-year-old children also complained of fatigue and anorexia, so Ha and her husband discussed going to the doctor after Covid-19 .
Because the family's insurance is connected to a private hospital, Ms. Ha went there for post-Covid-19 screening. Ms. Ha was given a blood test and a CT scan of her lungs to assess lung damage.
Ha was quite surprised because her lungs were slightly damaged. Her children have symptoms of upper respiratory infection… Those who went to the screening with Ms. Ha's family, she found that many people had very severe lung damage.
According to BSCK II Nguyen Trung Trung – Deputy Director of the Central Hospital for Tropical Diseases Post-Covid-19 screening is not for everyone. When going to the doctor, there is no general recommendation that everyone with Covid-19 must also have a CT lung scan, but depending on each person, the doctor will examine and have clinical indications for each person, not apply the same recommendation for each patient. everybody.
Currently, the post-Covid-19 situation is becoming an obsession with the community. Dr. Quan The Dan – Former Doctor of Thong Nhat Hospital, Doctor participating in the treatment of Covid-19 patients at the 3rd floor hospital, Binh Duong in 2021 Sharing the current post-Covid-19 situation is making people afraid, it has become a slur.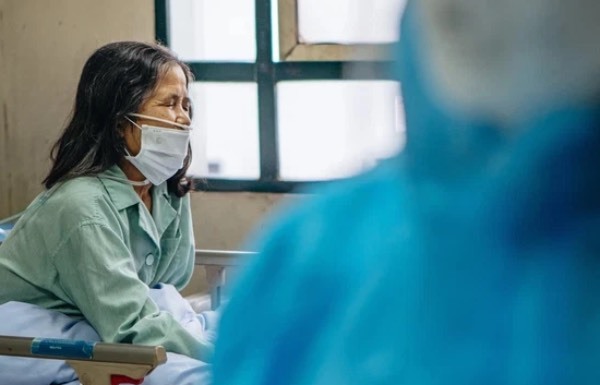 Is post-Covid-19 really scary?
In fact, Doctor Dan thinks that there is post-Covid-19 but not everyone gets post-Covid-19. Even in the case of Dr. Dan who used to treat the patient, he had to breathe HFNC oxygen, his lungs were frozen, but after being discharged from the hospital, the patient gradually recovered and after 6 months his health was almost back to the original state.
Not only Covid-19 even if you have dengue fever or flu, then it will prolong fatigue, cough and the body needs time to recover. Some people have dengue fever 3 or 4 months later, they are still like borrowers, but no one is worried about dengue fever.
People are also afraid to rush to unnecessary Covid-19 check-ups. Young people, who have had 3 doses of the vaccine, most of the time, after being negative, their health gradually stabilizes and goes to work. Patients only need to increase exercise will recover.
Worrying too much after Covid-19 will become a suggestion that you have symptoms yourself. Dan said that instead of sitting there worrying after Covid-19, patients who have recovered from Covid-19 should calm down and understand their health situation to make more effective choices.
According to Dr. Truong Hoang Hung – MD KIDS PEDIATRICS Pediatric Clinic, Irving City, Texas, USA, post-Covid-10 anxiety is very common as a general syndrome. While in Western countries like the US, post-Covid-19 is real, post-Covid-19 treatment is also real. However, so far, no one has given a recommendation or protocol on post-Covid-19 screening because it is not considered important enough to do so.
A small number of sick people after recovering from Covid-19 will have some lasting symptoms, weeks to months, because the virus has damaged the body to some extent, especially the lungs. But most post-Covid-19 symptoms will gradually disappear over time, and treatment is also based on the type of symptom. In addition, patients should eat in moderation, exercise moderately, live optimistically, recover faster.
Dr. Hung said that only when the post-Covid symptoms are severe and prolonged, affecting our quality of life significantly, then we will seek help from doctors.
The post-Covid treatment is mainly symptomatic treatment to improve the quality of life for patients with pain somewhere, weak to practice there, and clinical and subclinical tests only needed in case it is useful for patients. treatment process.
Dr. Hung believes that not all F0s should have a CT lung scan, which is a misconception. Dr. Hung emphasized that there is no one size for everyone, so the treatment is similar.
Dr. Hung said that even if the person has prolonged respiratory symptoms, if the CT scan shows a few small scars or just a chest X-ray, it will not change the treatment course.
Khanh Chi
You are reading the article
The whole family was carried to the post-Covid-19 check-up, what did the expert say?

at
Blogtuan.info
– Source:
infonet.vietnamnet.vn
– Read the original article
here