Tech
Too much trash on the seabed, octopus now prefer to make a home in trash than coral and shells
In a new study published in the journal Marine Pollution Bulletin, scientists reveal a series of shocking statistics and images of the ocean floor.
The photos show a disturbing trend happening on the seafloor, where there is so much human waste there, marine species like octopuses are preferring to nest and lay eggs in the garbage, rather than in the ocean. are coral reefs or shells as they are traditionally inherent.
This octopus would rather choose a plastic cup as a home than a seashell
From beer cans, plastic cups, and glass bottles to rusted cans and batteries that are degrading due to the corrosion of seawater, octopuses are running out of options at some locations. , the overexploitation of shellfish and snails is inadvertently depriving octopuses of the opportunity to find a proper home.
They began to live in the piles of human waste, many of which contained dangerous toxins and heavy metals.
When the octopus considers marine trash as home
The study was carried out by Brazilian scientists. In it, they collected 261 images or videos of octopuses nesting in litter around the world, from the Pacific Ocean in Asia, the Indian Ocean, the Atlantic Ocean in Europe, and the North and South. America.
Most of these images are collected on social networks with the permission of the original author. But some are also recorded in marine biology studies, when scientists use specialized diving robots to reach areas of the ocean floor that no one else can dive to.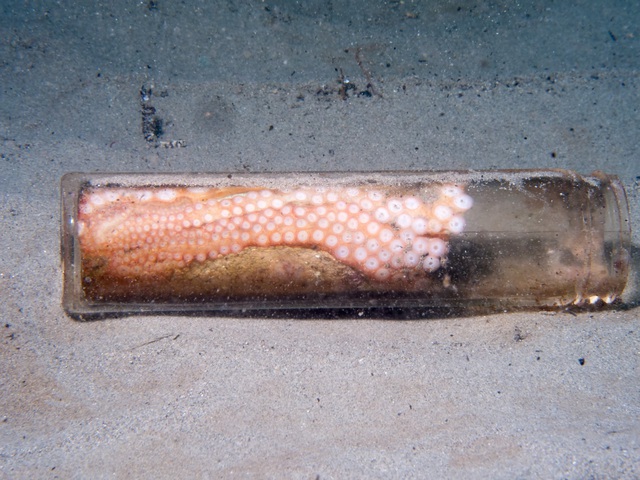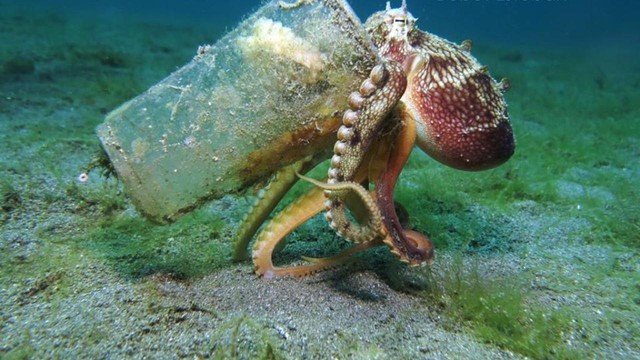 The results identified a total of 24 species of cephalopods (a class of mollusks that includes octopuses, squid, cuttlefish and nautilus) that nest in marine litter.
And this trend has increased strongly in the past 4 years. In part, that is due to the growth and popularity of camera technology, allowing even amateur users to shoot and take pictures underwater:
But the graph also reflects the growing problem of littering on the seafloor, the researchers say. It makes the octopuses, instead of choosing to nest and lay their eggs in coral reefs and empty shells and shells, they turn to collecting glass bottles, ceramic vases, metal boxes or cans, Plastic cups as well as fishing gear were left behind as shelters.
In many locations where shellfish and snails are over-exploited by humans, the octopuses are forced to choose whether to shelter in human waste or expose themselves to prey for eels and otters. fish or seals.
Octopuses are making a home in human waste
Videos and photos also recorded scenes of octopuses having to fight over trash to make shelter. The most common species with this action is the coconut octopus (Amphioctopus marginatus).
Coconut octopuses are famous for their stilt behavior, as they carry their homes around, wrapping them in tentacles ready to use when needed. There have been at least 9 cases of coconut octopus carrying human waste that is plastic houses, while walking on stilts has been observed.
What is the harm of that?
When calculating and classifying the man-made items that octopuses use to hide, the study authors found that plastic only accounts for 24%. The most common houses that octopuses choose are glass bottles and jars, up to 40% of the cases are caught.
They say that's because glass is easier to sink and has a more shell-like texture than plastic. And when swept by water, the glass does not drift far. However, broken glass is very sharp, and octopuses can be injured when they try to get into such a house.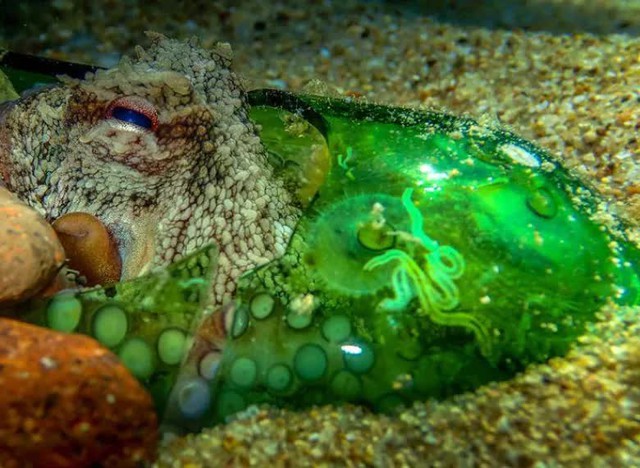 In addition, man-made houses from waste also pose a lot of chemical risks. Rusty food containers can contaminate the octopus or their eggs with heavy metals.
Meanwhile, two images show octopuses that have chosen to nest in an old car battery and a severely degraded battery. Both are classified as super-polluted waste and should not be thrown directly into the environment because of their toxic chemical substances.
Finally, human waste is also changing the behavior of some octopus species. For example, the Brazilian dwarf octopus (Paroctopus cthulu), which has never been recorded before, has a habit of nesting in seashells or conch shells.
But so far, these dwarf octopuses prefer to hide in metal beverage cans, especially beer cans. This is a type of garbage that is often thrown directly into the sea by tourists.
And while Brazilian divers have to collect them, they don't even recognize the octopuses when they hide in these beer cans. As a result, the dwarf octopuses were accidentally caught ashore.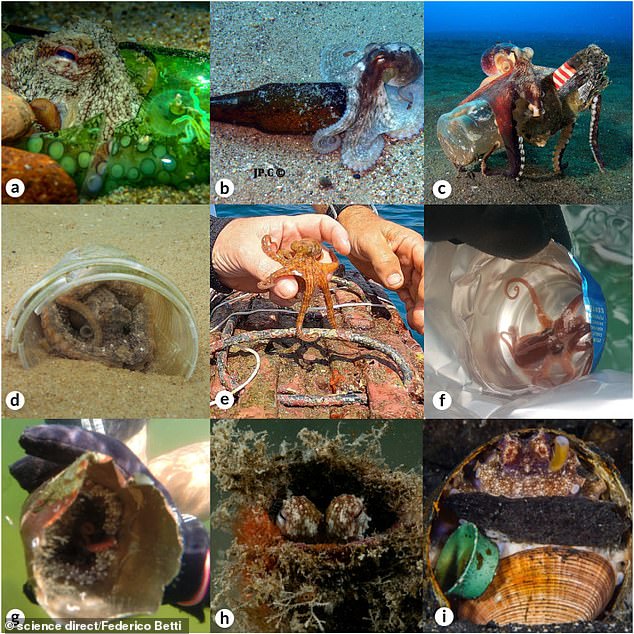 So, at first glance, human waste is providing the octopus with shelters to protect itself from predators. But the effects of habitat change on these marine species are actually more complex than we thought.
"Unfortunately, we are living in a major environmental crisis… not only is climate change, but also pollution in the oceans is a matter of great concern," said Maira Proietti, author of the study. study author, an oceanographer from the Federal University of Rio Grande in Brazil, said.
"We need to stop these sources of waste and collect what's left in the ocean as soon as possible, because their ill effects are increasing."
Refer Sciencealert

https://genk.vn/qua-nhieu-rac-duoi-day-bien-bach-tuoc-bay-gio-thich-lam-nha-trong-rac-hon-la-san-ho-va-vo- oc-20220316010046105.chn
You are reading the article
Too much trash on the seabed, octopus now prefer to make a home in trash than coral and shells

at
Blogtuan.info
– Source:
genk.vn
– Read the original article
here