Giải trí
Two boys in a row had to have their testicles removed due to a disease many parents subjectively ignore-Life Health
Children's Hospital 2 has continuously received 2 boys with testicular torsion but late admission. Doctors had to perform an orchiectomy on the child after unsuccessful attempts at conservative treatment.
On March 16, information from Children's Hospital 2 in Ho Chi Minh City said that the two cases above were transferred to the hospital when they were in serious condition. The first case is a 6-year-old boy, NMT, living in Tien Giang, hospitalized in a state of red swollen scrotum. Taking the doctor's medical history from the family's record, about 3 days before, the baby complained of pain in the private area. The family was subjective that the child's pain would only go away.
However, 3 days later, the baby's condition became more and more serious, the pain appeared more, the private area was swollen. The family quickly transferred the child to Children's Hospital 2 for examination. The doctor's ultrasound results showed that the baby's left testicle was twisted, leading to lack of blood supply. Doctors tried to treat conservatively but failed, so they were forced to remove the testicle to avoid a dangerous necrotic infection to the child's health.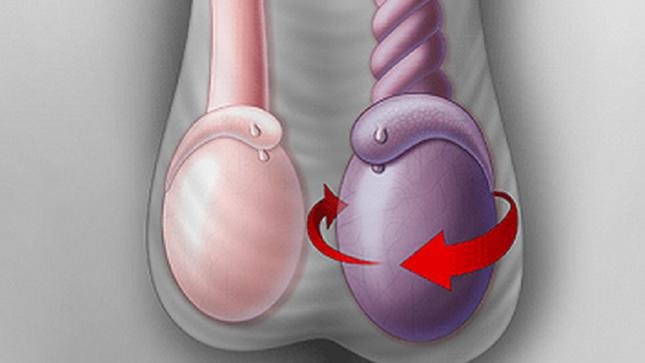 It is necessary to recognize early signs of testicular torsion in children for timely intervention (photo: illustration)
Similar is the case of LVP (5 years old, living in Binh Duong). The patient was taken to a local medical facility for examination after 2 days of swelling and pain in the scrotum. Doctors diagnosed the child with orchitis and gave medication to treat it. However, after many days of taking the medicine, the patient's condition did not improve, the family took it to Children's Hospital 2 to check, the left testicle of the patient was seriously damaged and could no longer recover, forcing the patient to return. must be cut off.
From the two cases above, doctors warn that testicular torsion in children is one of the causes of acute scrotal syndrome. Manifestations in children with testicular torsion are often confused with other causes of scrotal pain such as orchitis, epididymitis, and torsion of the testicular appendage. However, on ultrasound images, doctors can easily detect testicular torsion in pediatric patients.
Testicular torsion can occur at any age but is more common in infancy and puberty. For children with testicular torsion, if detected early, surgical intervention to remove the torsion within 6 golden hours, the rate of complete recovery can reach more than 90%. However, for children with late detection and intervention after 12 hours from the first symptom, the chance of recovery is only less than 10%.
Testicular torsion that must be removed not only affects fertility, but also causes low self-esteem and guilt in children when they reach adulthood. In order to promptly detect and intervene for children, doctors recommend that parents when seeing children with abnormal symptoms such as swelling and pain in the scrotum and testicles, they should quickly take them to a pediatric specialist medical facility. as soon as possible.
You are reading the article
Two boys in a row had to have their testicles removed due to a disease many parents subjectively ignore-Life Health

at
Blogtuan.info
– Source:
24h.com.vn
– Read the original article
here