F0 is afraid of taking tonics after Covid-19, illustration photo.
Rushing to take anti-viral drugs for fear of post-Covid-19
Currently, many people who are afraid of post-Covid-19 symptoms have shared their experiences of taking many tonics and taking antiviral drugs.
BSCKII Nguyen Thu Huong – Head of the Covid-19 Prevention and Control Unit, Thanh Nhan Hospital said that there has not been a study that has confirmed that taking tonics and antiviral drugs will prevent post-Covid-19 infection. For supplements, if used incorrectly, there will be unpredictable effects. Therefore, patients who want to take supplements to strengthen their resistance should consult a doctor. In the process of treating Covid-19 at home, if there are abnormalities, it is necessary to seek medical attention soon.
For antiretroviral drugs used improperly also cause undesirable consequences for F0.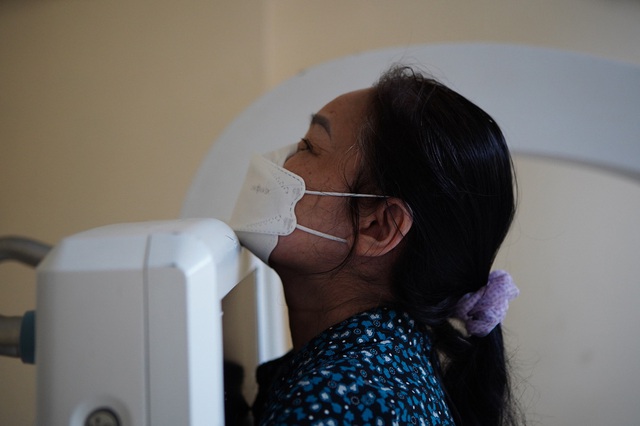 The case of the patient going to the doctor after Covid-19 – Ngoc Minh photo.
Dr. Huong said: "BILLIONAntiviral drug Molnupiravir is not a miracle drug, must be taken with a doctor's prescription. In young patients without underlying medical conditions, it should not be used. Even high-risk cases should only be used when liver and kidney function is normal.
People sharing drug use Molnupiravir to combat post-Covid-19 is just a rumor. There are no studies that prove taking the drug Molnupiravir post-Covid-19 can be prevented.
However, patients with Covid-19 who used molnupiravir exactly as indicated, their symptoms improved quickly and became negative faster.
According to Dr. Huong, the subjects that are often affected by Covid-19 are the elderly and those with underlying medical conditions. There are also cases of very young patients with severe respiratory failure.
Use antiretroviral drugs according to the indications
The Ministry of Health said that the drug containing Molnupiravir is a new drug, licensed with conditions, is a prescription drug, needs to continue to be monitored for the quality, effectiveness and safety of the drug during circulation. The use of Molnupiravir drug requires examination, prescription and guidance of doctors and medical staff.
People should not worry, hoard and arbitrarily use drugs, because the use of drugs that are not prescribed will affect the treatment of diseases and potentially have a direct impact on health due to the risk of adverse drug reactions.
To ensure safe and effective drug use, the Ministry of Health (Drug Administration) recommends that people pay special attention when using Molnupiravir to treat Covid-19 as follows:
Molnupiravir is used to treat mild to moderate Covid-19 in adults who are positive for a diagnostic test for SARS-CoV-2 and have at least one risk factor for severe disease progression.
Molnupiravir is used in patients with symptom onset less than 5 days.
Molnupiravir must not be used for more than 5 consecutive days.
Molnupiravir should not be used for post- or pre-exposure prophylaxis against COVID-19.
The Ministry of Health recommends that Molnupiravir is not recommended for use during pregnancy. Women of childbearing potential should use effective contraception during treatment and for 4 days after the last dose of Molnupiravir.
Based on the potential for adverse reactions in the neonate from Molnupiravir, breastfeeding is not recommended during treatment and for 4 days after the last dose of Molnupiravir.
Children and adolescents: Molnupiravir is not authorized for use in patients under 18 years of age because of possible effects on bone and cartilage development.
Men: Molnupiravir can affect sperm, although the risk is considered low. Therefore, men who are sexually active with women of childbearing potential should use a reliable method of contraception during treatment and for at least 3 months after the last dose of Molnupiravir.
The Ministry of Health (Drug Administration) recommends that people only use Molnupiravir with a doctor's prescription in accordance with the indications, usage limits and warnings and cautions of the above drug. During the use of Molnupiravir, if you encounter any adverse drug reactions, you should immediately notify your doctor or pharmacist for advice and timely treatment.
https://soha.vn/f0-dua-nhau-dung-molnupiravir-de-phong-tranh-hau-covid-19-bac-si-canh-bao-khan-20220316103410778.htm
You are reading the article
Urgent warning doctor

at
Blogtuan.info
– Source:
cafebiz.vn
– Read the original article
here