Business
Why should not be mistaken as a vaccine, should not be abused?
Evusheld should not be mistaken as a "super vaccine"
According to Dr. Truong Huu Khanh – Vice Chairman of Ho Chi Minh City Infectious Association, there are many people who also call and text to ask the doctor with the desire to inject the monoclonal antibody Evosheld. They are the people who are qualified and willing to spend money. But in fact, Dr. Khanh thinks it's not necessary, so it should be reserved for those who need it.
Dr. Khanh explained, the monoclonal antibody Evusheld is not a "super vaccine". In essence, Evosheld is not a vaccine, people think it is a super vaccine which is a misconception.
This is passive antibodies injected into the body, antibodies are not produced by the body itself. That helps figure out who should be injecting Evesheld.
Evusheld is the world's first monoclonal antibody approved by the US Food and Drug Administration (FDA) to prevent SARS-CoV-2 virus, especially in high-risk and weak people. However, those who are immunocompromised, the group of people who are not able to produce antibodies despite being vaccinated with a full dose of the Covid-19 vaccine, or those who cannot receive the vaccine. This is also a group that is prone to severe disease, hospitalization and death when infected with Covid-19.
Evusheld is similar to serum against rabies, tetanus, diphtheria, chickenpox, or prevention of hepatitis B virus transmission from mother to child (1 injection given to the baby right after birth). In 2020, people have thought of a way to transfuse the plasma of recovered Covid-19 patients to save severe Covid-19 patients, which is also a form similar to using this monoclonal antibody.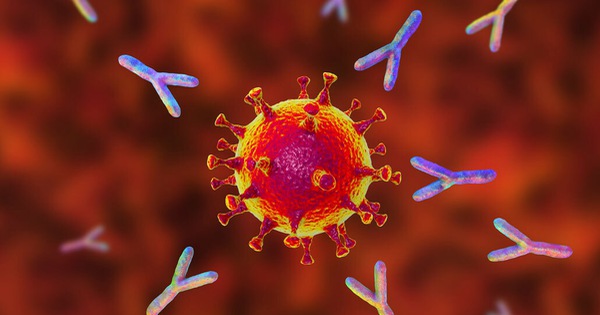 Monoclonal antibodies are the option for many people who cannot be vaccinated and develop antibodies from the Covid-19 vaccine.
Since it is a monoclonal antibody, it will certainly be expensive and not readily available. Dr. Khanh said, Evusheld is only for those who cannot receive the vaccine or who cannot produce antibodies after receiving the Covid-19 vaccine. For example, people with anaphylaxis with vaccines, immunocompromised people even though they are vaccinated, still cannot produce the desired antibodies.
"The injection of Evusheld is similar to taking antiretroviral drugs that are only necessary for the elderly, with underlying medical conditions. You should not mistake it as a "super vaccine" but try to find a way to inject it." – Dr. Khanh said.
The difference of Evusheld compared to a vaccine
The same opinion, Assoc. Prof. Do Van Dung – Dean of Faculty of Public Health, University of Medicine and Pharmacy, HCMC, Evusheld is a monoclonal antibody, it is not a vaccine. Compared to vaccines, Evesheld has the following differences:
In terms of effectiveness, Evusheld is about 77% effective, while the Covid-19 vaccine is 77-95% effective. For people with underlying diseases, weakened immune systems, the effective rate of 77% of Evusheld is acceptable.
Another difference of Evusheld compared to vaccines is that it does not affect the immune system of the injector to save memories. Evesheld is passive antibodies, injecting Evusheld means injecting a pre-synthesized amount of antibody into the body and it will wear down over time. It is estimated that the time of antibody depletion is after 3 months, the protective effect is within 6 months.
In the Covid-19 vaccine, when the antibody is reduced, there is still a T-cell immune system, that is, memory immunity. If a person is infected with the virus when the antibodies are gone, the body will produce new antibodies against the virus based on memory immunity. Active immunity. Passive immunity is not as good as active immunity.
According to Assoc. Prof. Dung, currently, the monoclonal antibody Evusheld should only be given to immunocompromised people such as HIV, lupus erythematosus, organ transplant recipients, bone marrow transplant recipients, and cancer patients undergoing chemotherapy who cannot receive the Covid-19 vaccine. 19. Because these people, if they have Covid-19, are at very high risk of becoming seriously ill. They may choose monoclonal antibodies as a way to protect themselves against the pandemic. As for healthy people, the body can create immunity, they should be vaccinated because of the benefits mentioned above, should not abuse Evusheld.
https://soha.vn/sieu-vaccine-evusheld-vi-sao-khong-nen-ngo-nhan-la-vaccine-khong-nen-lam-dung-20220316095339165.htm
You are reading the article
Why should not be mistaken as a vaccine, should not be abused?

at
Blogtuan.info
– Source:
cafebiz.vn
– Read the original article
here