According to CBS News, Texas congressman Dan Crenshaw said in a tweet on February 23 that the Keystone XL project will produce 830,000 barrels of crude oil per day. "Stop importing from Russia, start producing more," he said.
South Dakota Governor Kristi Noem said in her February 24 speech that when he stopped the Keystone XL pipeline, Biden told the world that American energy independence was no longer a priority.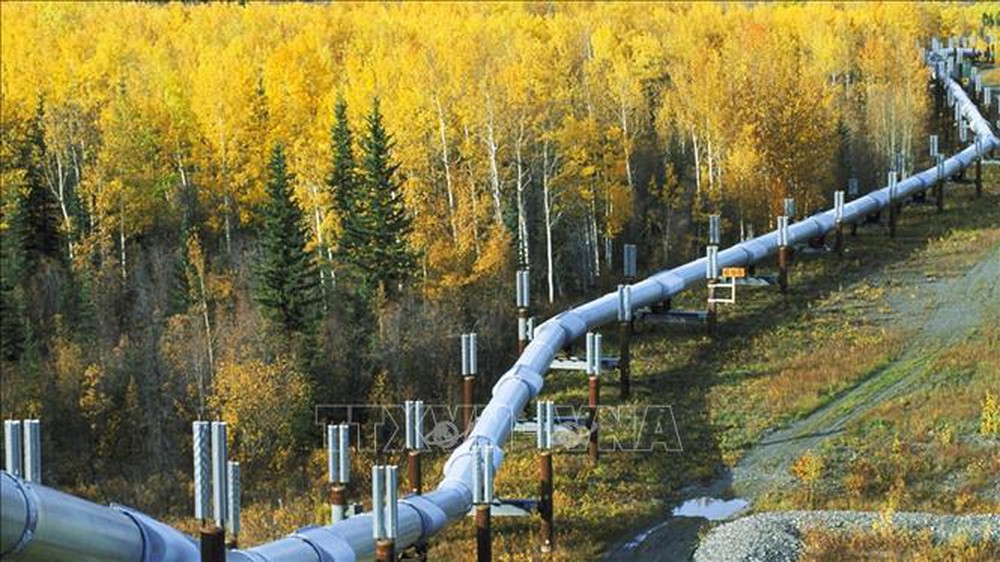 The Keystone XL pipeline system transports oil from the province of Alberta to refineries in the Midwest region (USA). Photo: HBR/VNA
After Russia launched a special military operation in Ukraine and suffered sanctions that sent oil prices up even further, many wondered if expanding the Keystone XL project would help lower gas prices.
It's important to understand what contributes to high oil prices in the first place, said Gregory Nemet, a professor at the Wisconsin Energy Institute at the University of Wisconsin-Madison. He pointed out that the price of oil has increased steadily since the fall of 2021 when it was around $70/barrel, rose to more than $130 last week, and then stabilized again at around $100/bbl on March 15. The spike in crude oil prices was initially driven by the ongoing economic recovery, boosting consumer and business demand in the wake of the COVID-19 pandemic.
"As there is more travel and more people fly, the demand for oil will increase," he said. Supply doesn't always quickly meet that demand."
The war in Ukraine also played a role, although it was not the main driver of gasoline prices. "Every time there is political turmoil in places that produce a lot of oil, the markets react," said Prof Nemet. That doesn't mean there isn't enough oil, it doesn't mean there's more risk than before."
The US imports an average of 209,000 barrels of crude oil per day from Russia in 2021 and another 500,000 barrels of petroleum products per day. This amount accounts for 3% of US crude oil imports and about 1% of crude oil processed at US refineries.
Keystone XL, an existing pipeline expansion in North America, will transport 830,000 barrels of crude oil from Alberta (Canada) to Nebraska each day at peak times. At the time Mr. Biden paused the project, Keystone XL was only about 8% complete.
However, many experts believe that continuing the project will not prevent gasoline prices in the US from rising to record highs. They argue that the Keystone XL expansion would increase global oil production by less than 1%, an almost negligible amount.
Professor Nemet said that in terms of gasoline and global oil prices, the Keystone XL project has no impact. He said that even if the project is completed, it will not help reduce gas prices. The US has doubled its oil production in the past 15 years. However, the price of oil is still 100 USD/barrel.
As inflation spiked, gasoline prices rose for months and averaged $4.33 a gallon on March 11. According to Mr. Nemet, the US is not the whole story related to oil. It is a global market with 8 billion consumers and many producing countries.
David Kieve, chair of the advocacy group Environmental Defense Fund Action, also told CBS News that building the Keystone XL pipeline would not reduce the impact of the Ukraine crisis on fuel prices. According to Kieve, if licensed, the Keystone XL project will not be able to operate until 2023.
In contrast, the US decision to release 30 million barrels of oil from the Strategic Petroleum Reserve could put downward pressure on gasoline prices in the short term. The United States will release a total of 60 million barrels of crude to help alleviate some of the supply disruptions caused by the war in Ukraine. Mr. Kieve said that this move could have some impact on gasoline prices in the US.
In the long term, the best way to prevent gasoline prices from skyrocketing in the US is to accelerate the shift from fossil fuels to renewable energy. Unlike oil, renewables depend less on limited natural resources. Energy from solar panels, wind turbines and other low-carbon technologies also tends to be cheaper as more widely used.
You are reading the article
Will the Keystone XL pipeline help reduce record-high gasoline prices in the US?

at
Blogtuan.info
– Source:
Soha.vn
– Read the original article
here