In order to maintain a beautiful appearance, as well as contribute to making this year's journey more complete and worthwhile than ever, the girls' association must immediately "keep" the following 4 secrets of healthy white skin and complete fragrance:
1. Eat plenty of "healthy and balanced" foods
The quest to conquer perfectly fragrant white skin can only be very effective when she knows how to "double the sword" between skincare from within and skin care from without. So, apart from using safe whitening products, don't forget to add foods rich in vitamins and antioxidants to your daily diet, such as green vegetables, citrus fruits, tomatoes, potatoes, asparagus… These are all rich sources of nutrients. which helps improve skin pigmentation, stimulates collagen production, slows down the aging process, repairs damage, etc. Which whitens and nourishes the skin from within.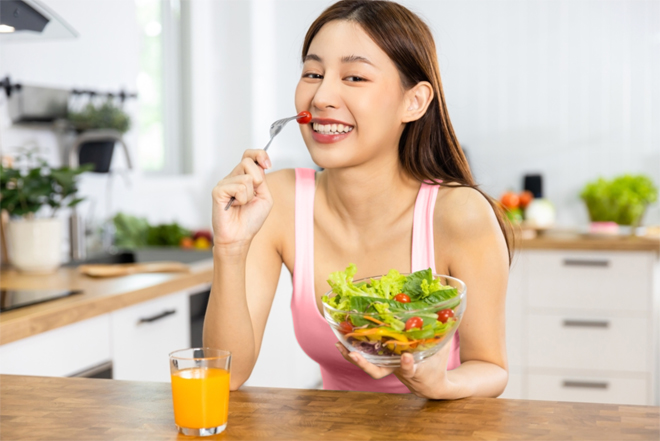 Healthy eating habits are not only good for health, but also nourish naturally healthy white skin, thereby enhancing the beauty inherent in the association of girls.
2. Don't forget to exfoliate your skin regularly!
Not only facial skin, the skin of the entire body also needs to be pampered and cleaned regularly, girls!
The habit of exfoliating 1-2 times a week with special products will limit acne and black spots on the skin, keeping the skin smooth and bright. At the same time, regularly removing dead skin also helps open pores, creating favorable conditions for the skin to better absorb nutrients from other skin care products, thereby supporting healthy skin.
If you don't have time to exfoliate with a special product, you can also use a bath towel or loofah to gently exfoliate your skin every day in the shower.
3. "Make friends" with standard skin whitening shower gel
One more secret to helping girls associations to maintain healthy white skin and delicate fragrances is changing the daily bathing routine with scented whitening lotion.
And one of the important criteria for deciding whether body whitening is safe and effective is based on the list of ingredients. Until now, Vitamin B3 has always been the "golden name" mentioned by beauty experts in the field of skin whitening because of its amazing effects such as:
– Reduces the impact of UV rays to help prevent aging and fade dark spots, leaving skin bright and smooth.
– Promotes the synthesis of collagen and fatty acids, and prevents the appearance of melanin cells, thereby balancing skin pigmentation, helping skin become more even and brighter.
In addition to the list of harmless ingredients, the scent of whitening shower gel is also a factor that girls need to pay attention to to nourish white, healthy and fragrant skin. Therefore, fragrances extracted from floral essential oils, such as lily, have always been favored by beauty connoisseurs for their pleasant, long-lasting aroma and bringing a feeling of relaxation and comfort.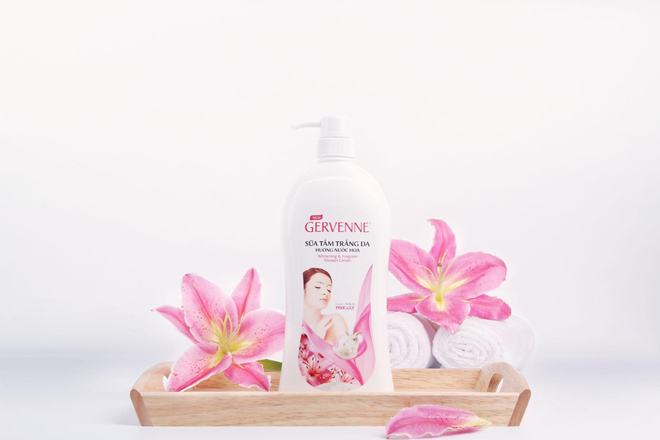 If girl groups haven't thought of a name that meets all of the criteria for the standard whitening shower gels mentioned above, then try referring to the Gervenne scented skin whitening shower gel.
With the main ingredient Vitamin B3 mixed with the scent of Lily flower, Gervenne promises to give her healthy and fragrant white skin, contributing to enhance her beautiful appearance and self-confidence when standing in front of her every experience in life.
4. Sun protection, sun protection, sun protection – Need to repeat 3 times!
Having spent a lot of effort on whitening the skin, the association of girls should not skip the step of sun protection with special products with an SPF from 30 to 60 and protective items such as hats, coats, masks. , sunglasses… This habit not only contributes to enhancing the whitening effect, but also protects the skin from harmful agents from UV rays, polluted environment, dust… thereby reducing the risk of skin cancer, acne, dark spots…
Does her current skin care routine match the secrets of healthy and fragrant white skin care mentioned above? Otherwise, hurry up and "update" today to keep your skin white and fragrant for summer, confidently glowing in all the youthful experiences!
You are reading the article
A comprehensive secret of fragrant white skin care that the association of girls should not ignore!
at Blogtuan.info – Source: Eva.vn – Read the original article here