Game Online
Games
Changing advertising strategies, Genshin Impact and many games increased revenue significantly during the holidays and Tet
Tet is one of the most important traditional holidays in Asia, being a holiday that lasts for more than 7 consecutive days, the relaxed festive environment and vibrant festive atmosphere make people more willing to spend time together. The game and its impact are reflected as follows: The average time spent online by users has increased significantly and their willingness to pay has also increased significantly. Therefore, Tet also becomes a battleground for many advertisers. Showing ads, posting activities and celebrating Tet, big game companies eagerly wait to win users.
1. Game revenue increased significantly during Tet
Affected by epidemics and traditional customs, people prefer to stay at home and play with their phones during Tet holiday. Compared with the family gathering to watch the Spring Festival Gala, most players are more willing to meet friends to play the game.
Game has become an indispensable entertainment activity during Tet. Because for young people, they are more willing to kill time through games than mahjong and poker. When browsing through the App Intelligence section of SocialPetaI found that at the beginning of the Tet holiday in January, downloads and revenue of mobile games increased significantly, of which [Genshin Impact] Mainland China and overseas versions have increased by 81.9% and 59.7% respectively, which is amazing.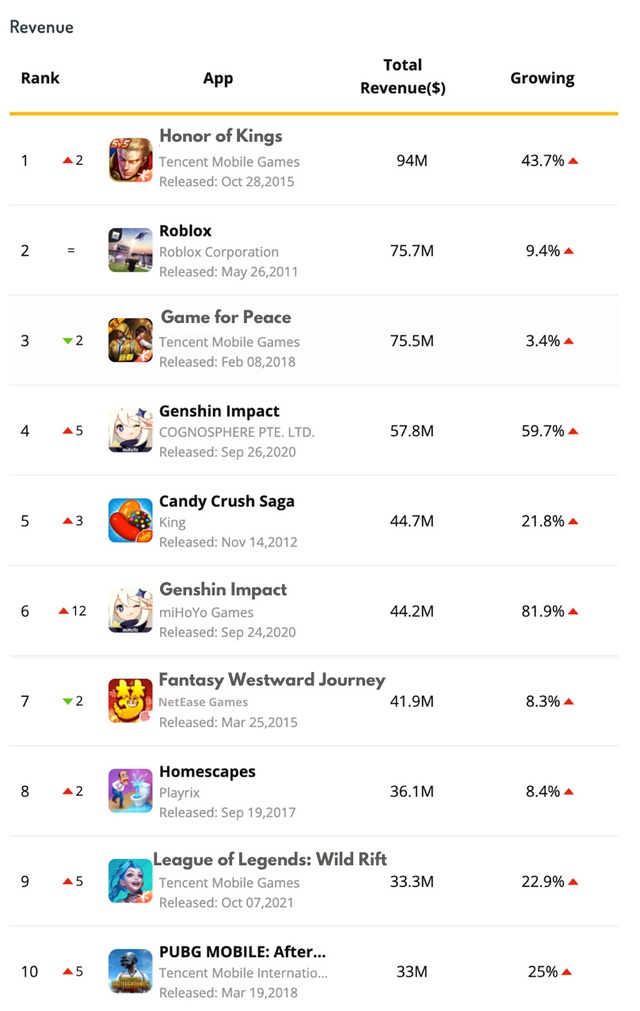 Not only is the popularity of Genshin Impact increasing, but other games are not to be outdone. Take for example download and revenue data of [Peace Elite (PUBG Mobile phiên bản Trung Quốc đại lục)] in January 2022: started to warm up Tet activity on January 26, and its revenue skyrocketed after officially launching the skin gift welfare interaction on January 28, its downloads in January also increased by 131.3% month-on-month, and downloads in February officially started to skyrocket along with the holiday on January 31. It can be seen that the holiday effect of Tet plays a role. very important in driving mobile game revenue.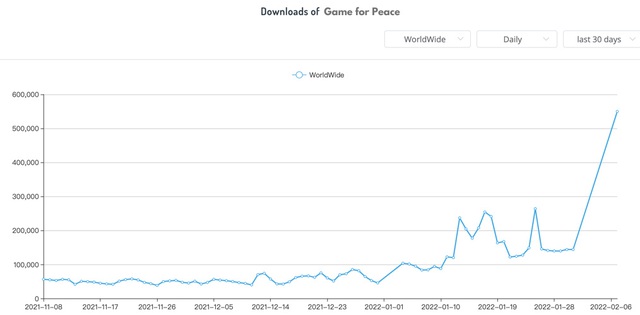 (Chart from SocialPeta)

2. The number of ads shown has been reduced

However, unlike the welcome increase in mobile game revenue, advertisers seem to be very indifferent to advertising screening during Tet. During a long holiday that combines many resonances such as New Year's Eve and Lunar New Year, the total amount of data shown during Tet in 2022 is only 101,000, a slight decrease compared to previous years.
Most of the data is projected as images + videos, accounting for 81%. At the same time, there are also some games that have achieved growth when showing Tet ads. Role-playing and casual mobile games accounted for the majority of advertising during Tet and became the dominant game on the list of advertising screens during Tet. The strategy, puzzle and card categories are among the top three, four, and five respectively in the leaderboard.
3. Tet marketing is more diverse

Tet is an important marketing button for mobile games. When most advertisers choose to cool down the ad projection, the reverse revenue effect is better. This is enough to see that the pure traffic purchases have gradually withdrawn from the Tet stage, the most popular at this time is general marketing, with more diverse ways of advertising!
For example, in China, the 2022 mobile game Tet event keyword added the WeChat red envelope and the game Tet Gala.
Various game red envelopes have been released this year, some are company images, some are game character images, and some are also equipped with animation effects. Red envelopes of many games have a limit to receive, and popular games like [Genshin Impact], [Tomorrow's Ark], [Dawn Awakening], [Sword and Expedition], [The Awakening of Nations] attracted so many players waiting to win, that it was difficult to get a lucky money.
Red envelopes and Tet Gala are nothing new, but this year's "Tet Game Gala" organized by Tencent has aroused the curiosity of many players.
The guests of the Tet Game Gala include [Honour of Kings], [Peace Elite], [League of Legends Mobile Games], [Call of Duty Mobile Games], [Happy Landlords], [Happy Mahjong], [QQ Speed] , [Cross Fire]], [Tianya Mingyue Knife Mobile Game], [Genshin Impact] a total of 14 featured mobile games. The "Live New Year's Eve" activity is co-hosted, and the NPCs collectively orchestrate fun storylines, engage players for commentary and interaction during the live broadcast, and a plethora of props The game is dropped, which really stimulates the player's passion. The author believes that, taking 2022 as an example, the annual Tet Game Gala will also become an event that is extremely expected by players.
In addition to the WeChat lucky money envelopes and the Tet Game Gala, the manufacturers also added special features to the game, where there are tiger head decorations everywhere, the Tet atmosphere is almost overflowing. Witnessing the Tet promotion efforts made by game makers, players were excited to invest more money resulting in game revenue doubling.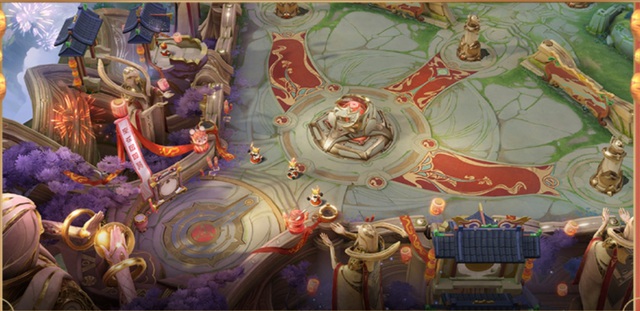 Buying traffic in conjunction with Tet has become a new trend, so has the traditional data advertising show stalled?

The answer is no!
4. Data optimization with Tet characteristics
If marketing variety Tet popular. Why are there still casual and role-playing advertisers going against the trend? This is enough to show that traditional advertising is not outdated.
Therefore, how to optimize ads to stand out from the competition has become a top priority, greatly challenging the creative ability of advertisers in buying traffic. In the following, the author will conduct a specific analysis of some Tet advertisements, and at the same time study how the ads that attract attention during that Tet end up attracting users.
Optimize narration, add new year flavor
The words "red envelope" and "Happy New Year" often appear in the narration, the culture of the 12 animals has also been deeply rooted in people's hearts. ?? has become Emoji's new favorite symbol. When the author used SocialPeta to search for citations, found Emojis such as ???????? also regularly appear in Tet advertisements of games.
These Emojis can grab the user's attention in long text, draw the user to keep watching and also create a relaxed and playful atmosphere. Traditional elements such as red envelopes, lanterns, firecrackers, etc. are even more festive during Tet, making it easier to interact and engage with players.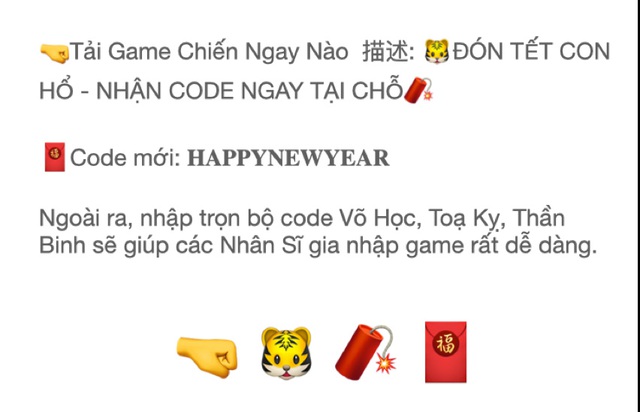 Tet elements adorn the screen

Not only the quote is rich in festive elements, but also the advertising photos can not be missed. The most important thing in holiday communication is to create a warm and festive atmosphere. For example, most ads about Tet are red, and other festivals also have their own representative color, choosing the right representative color will help the ad attract users' attention at first sight. Firstly. These conspicuous Tet-specific elements and customs can be combined to create advertisements designed that are truly close to life and resonate with users.
Exclusive data specially crafted to attract attention
The narration and visuals are both optimized for the New Year, so how could there not be a custom video for the holiday!

[Honour of Kings] while rolling out a limited skin for the Year of the Tiger, it also introduced CG shorts and exclusive props for the Year of the Tiger. [Genshin Impact] Although it is an elevated worldview, the Sea Lantern Festival is launched synchronously with real time, bearing the sound of Tet. [Liên Minh Huyền Thoại] specially produced a promotional video 2 minutes 49 seconds long "Tiger Tiger Sinh Uy CG – The Way Back", beautiful video, lively and lovely characters, menu full of Tet elements, five heroes stepping on the baby the way home together, start a new story.
summary
No matter how the form of marketing changes, the most important thing is to stay close to the user's point of interest. Tet keywords and hot topics will be different each year, but we can see changes in recent years: the awareness of traditional culture and atmosphere among young generation Z is increasing. up year by year. With the growth of the metaverse and VR, perhaps we can really experience the original Tet Gala in the future in-game.
You are reading the article
Changing advertising strategies, Genshin Impact and many games increased revenue significantly during the holidays and Tet

at
Blogtuan.info
– Source:
gamek.vn
– Read the original article
here