Recently, social networks, apart from the entertainment activities of veteran stars, have also seen a lot of "child squad" performances. Children born into families of A-list stars immediately receive special attention from internet uncles and aunts. Girls and boys are all "built" by their parents on instagram and receive hundreds of thousands of followers for their cuteness and beauty.
Daughters are often beautified and refined by their mothers with funny stories that get great interactions. 3 families with the most famous daughters in social networks of the same age call Lisa – Ho Ngoc Ha, Suchin – Dam Thu Trang and Winnie – Dong Nhi.
The weather is gradually turning into summer and the children have been allowed to visit the sea by their parents. Immediately, as girls wearing swimsuits flaunted their bodies received countless hearts.
Lisa – daughter of Ho Ngoc Ha
The child is the crystallization of love from a talented Vbiz couple: entertainment queen Ho Ngoc Ha and actor Kim Ly. With classy visuals from 1m72 long legs and an amateur dad, Lisa and Leon are mixed blood, so it's no surprise that in their red days, the twins, especially Lisa, are highly expected.
Lisa and Leon may be the smallest, but most travelling, new couple. Since the beginning of the year until now, Lisa has been making her uncles and aunts go wild with swimsuit looks that show off her mother's genes time and time again.
From the days when her mother took pictures and posted them on Facebook when she was just a few months old, Lisa has clearly revealed the potential of beauty with millions of people in the future. The kid doesn't have a chubby personality like his brother, that's why he's even prettier and taller like Ha's mother.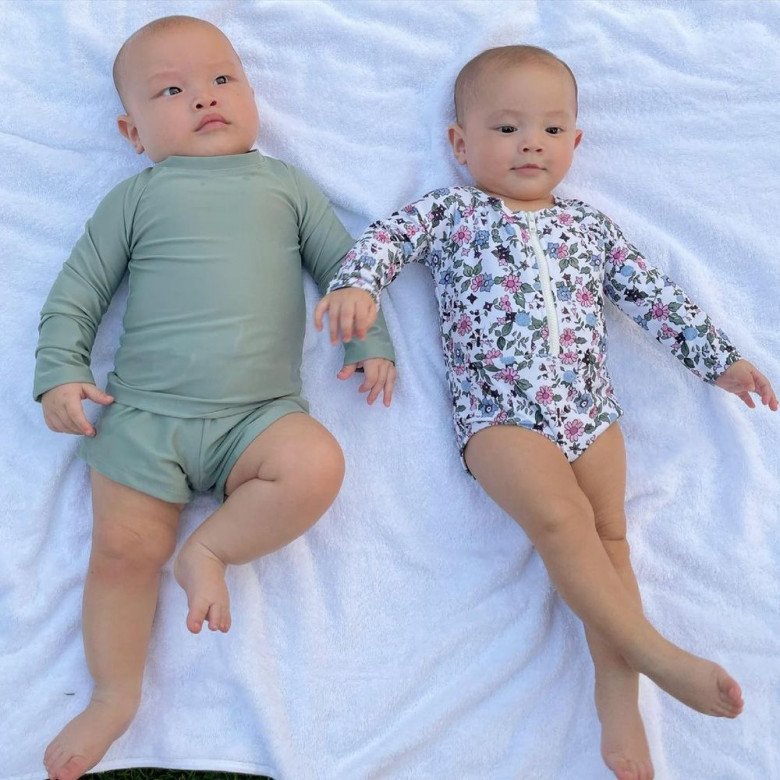 From her infancy when she couldn't walk until she started walking and running, Lisa was like a copy of her mother. Many even comment that, every time the child takes a picture with his famous mother, his mother's aura is filled with the charisma of the little superstar.
Suchin – daughter of Dam Thu Trang and Cuong Do La
Ho Ngoc Ha is pregnant with twins and was born just a few weeks after the Dam Thu Trang family. 2 famous families with very standard lifestyles and upbringing are always the focus of media attention. Baby Suchin is not only the son of a rich person with a myriad of luxury brands, but also a beautiful and adorable child.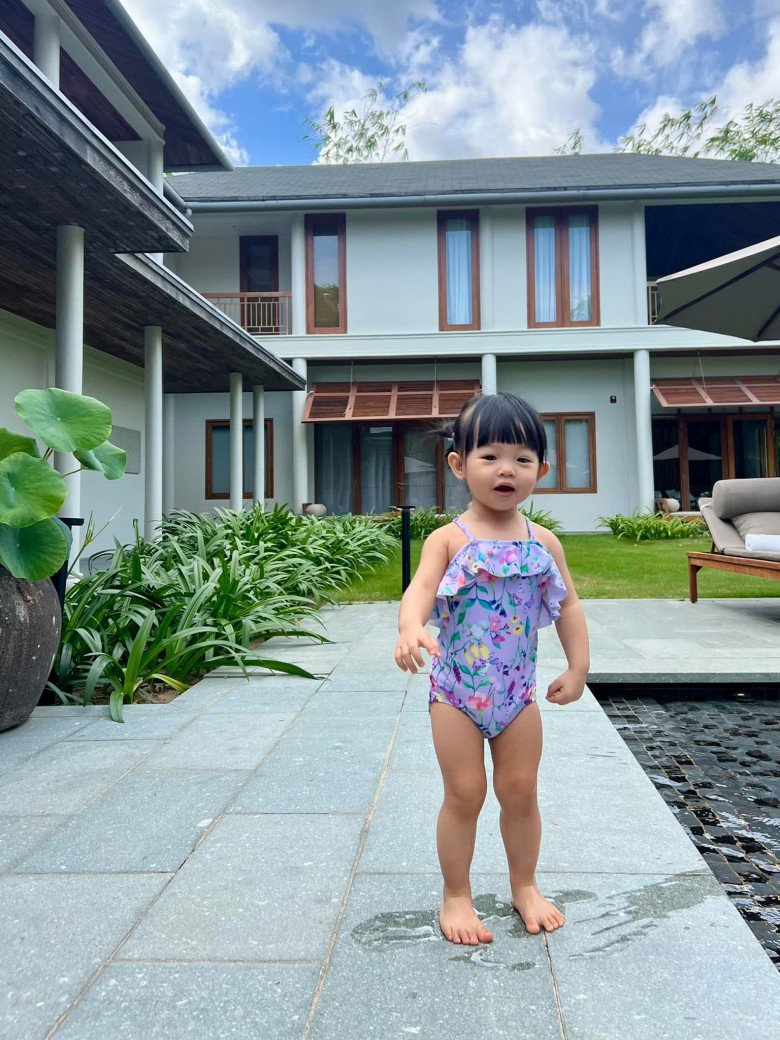 Suchin from the home of Dam Thu Trang and Cuong Do La is also the "child squad" that is causing a social networking storm. This is a rare child whose mother flaunts a face-to-face photo taken while wearing a one-piece swimsuit. Her 1-year-old daughter's feet are getting a lot of praise.
Lang's first daughter, who is famous for long legs, has beautiful hair and of course the dominant gene from her model mother. The child is often taken by his parents for swimming and Suchin seems to be enjoying his swimming lessons too.
Princess Cuong Do La's legs have excellent joints, and her shins are also very straight.
However, unlike Lisa from the Ha Ho family, Suchin looks more like a future model and fashionista. The child in any outfit flaunts the brand legs inherited from his mother as well as the naughty and beautiful features of Cuong's father.
Winnie – beloved daughter of Dong Nhi and Ong Cao Thang
If the daughters of Ha Ho and Dam Thu Trang have a fairly slender body, with a slender waist, Winnie of Dong Nhi and Ong Cao Thang brings a breath of fresh air. The baby was greeted enthusiastically by the media from the days when her mother had the good news, to the time she gave birth and her mother turned around.
Winnie always appeared with the same bright smile as Thang's father. Apart from having a mother who is a female singer with the sexiest and most attractive body, Suchin is sure to be a preschooler with high hopes.
The girl has skin as white as a peeled egg with a super round triple body. Winnie is sometimes likened by her parents to be a super round 3 or Vietnamese girl with S-shaped curves.
Dong Nhi's mother is also quite naughty when she often buys her daughter a super sexy swimsuit. Her belly is round, but when she's wearing a clam bikini, her orange blossom is still pretty and adorable.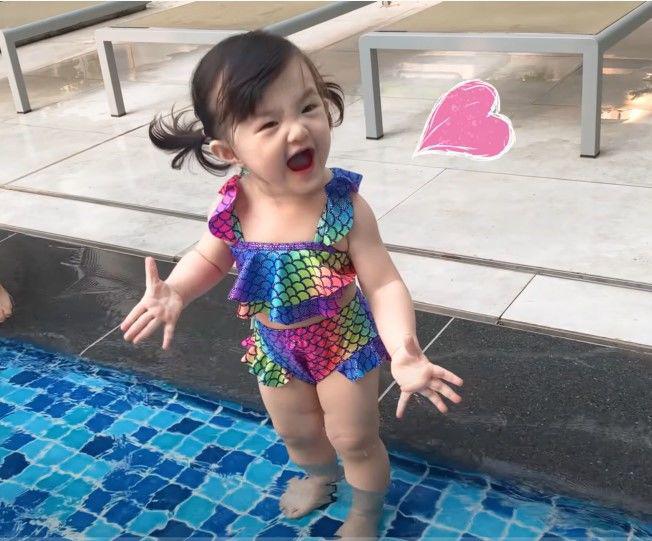 Like Lisa and Suchin, Winnie loves to swim. The boy was as happy as a fish when he saw the water. He also expressed the same potential as a swimmer since his childhood when his mother let him wear a swimsuit. However, with the good singing genes from his parents, he is also very likely to be a fiery dance singer.
You are reading the article
Ha Ho and Dam Thu Trang's son is dominant, the Dong Nhi family likes to faint
at Blogtuan.info – Source: Eva.vn – Read the original article here