No affordable apartments have been offered to the Ho Chi Minh City market in the past year, while 73% of the units offered for sale are in the high-end to super-luxury segment.
Race to break the price record
For many days, market members have been talking about the Grand Sentosa project (Nha Be district) when they think that the selling price of apartments in this project will set a peak for the South area of ​​Ho Chi Minh City.
Grand Sentosa, originally named Kenton Residences, is invested by Tai Nguyen Company with a total investment of 300 million USD. In early 2010, this unit opened for sale 100 apartments in phase 1 with the price of about 1,560-2,250 USD/m2. However, by mid-2010, the project was forced to suspend due to the freezing of the whole market.
By May 2017, Kenton Residences "revived" with a new name of Kenton Node with an increased investment capital of more than 1 billion USD. The project now has more construction items such as apartments, hotels, theaters, schools, international clinics… At that time, two banks BIDV and MSB poured more than 1,000 billion VND of capital, so but the project was again discontinued a year later due to financial problems.
Up to now, after handing over to Novaland, the project continues to be renamed Grand Sentosa, expected to come into operation in 2024. With a total area of ​​more than 8.3 hectares, it is expected to supply more than 2,000 to the market. With standard resort apartments, commercial townhouses, etc., Novaland positions this project as a commercial-service complex, high-class housing and a symbol at the gateway to the South of Ho Chi Minh City. The selling price that investors whisper to each other will not be less than 100 million VND/m2. Although it is not the highest price in the current Ho Chi Minh City apartment market, it has never appeared in the South City area.
If the southern area of ​​Ho Chi Minh City was set to a new peak by the Grand Sentosa project, the Ba Son area – which is known as the "expensive piece" of HCMC, has continuously broken the top for many years in a row. . In 2016, when Vinhomes Golden River Ba Son was launched, the opening price of 3,500 USD/m2 (equivalent to more than 82 million VND/m2) was classified as super luxury. By 2019, also in this area, Alpha King introduced to the market 2 projects with prices ranging from 10,000-12,000 USD/m2 (equivalent to 235-282 million VND/m2) – a price that is "shocking" at the time. that point.
However, less than 2 years ago, when Alpha King transferred the project to Masterise Homes with the name Grand Marina Saigon, the new peak price increased by nearly 100%, reaching 423 million VND/m2, breaking all the price records of the company. previously established projects, becoming the project with the highest selling price in the history of the apartment market in HCMC.
As for the old district 2 area (now in Thu Duc city), according to data just released by Rever, Thu Thiem's ​​"rich street" is currently leading in terms of apartment ceilings with the milestone of 210 million VND/m2. Meanwhile, apartments in An Phu, Thao Dien and Thanh My Loi wards also recorded the highest prices, respectively, at 75 million VND/m2, 85 million VND/m2 and 95 million VND/m2.
In Thu Thiem, the apartment project with the highest selling price is The Opera Residence in phase 3 of The Metropole Thu Thiem project at 210 million VND/m2, expected to be handed over in 2023, followed by Narra Residences project. Phase 4 of the Empire City super project costs nearly 200 million VND/m2. The highest price increase in this "rich street" was 112-118% recorded at the Sadora and Sarica projects (both handed over) in Sala Urban Area.
Considered as the West street (many foreigners live) of the East area, Thao Dien ward has a ceiling price of 90-95 million VND/m2, belonging to The Nassim and Thao Dien Green projects, both projects are is a new apartment. Meanwhile, the highest rate of house price growth in this area fell into the old project group including Tropic Garden and Masteri Thao Dien handed over in the period 2015-2016, with price growth of 92 and 106% respectively.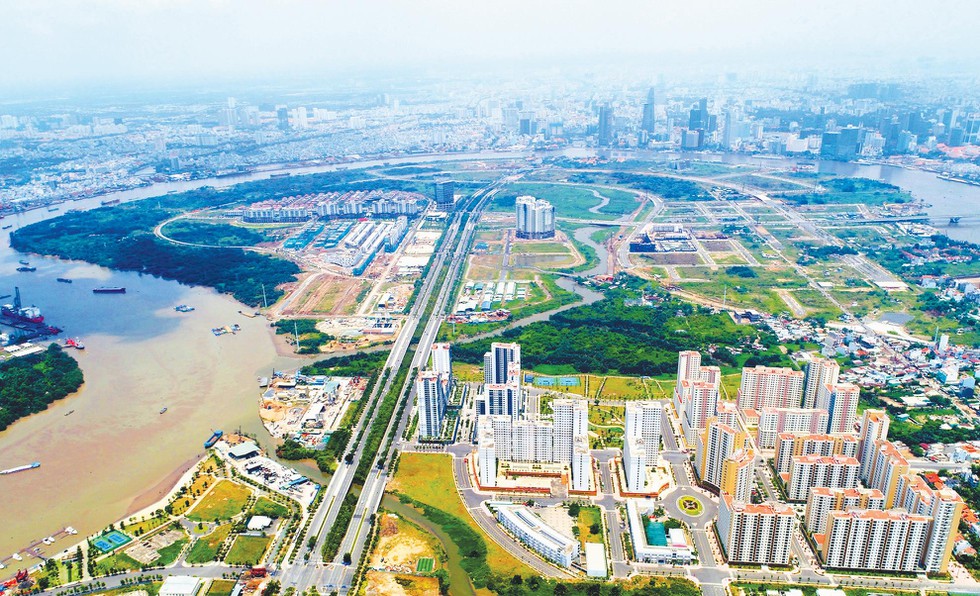 Apartment in Thu Thiem area has a ceiling price of 210 million VND/m2. Photo: Le Toan
Need to accelerate the development of low-cost housing
The real estate market assessment report in 2021, trends in 2022 of the Ho Chi Minh City Real Estate Association (HoREA) said that in recent years, the HCMC real estate market (including the rights market) land use) shows more and more clearly the supply-demand mismatch, the product phase difference, which is an excess of high-class apartments and a very lack of affordable housing products, low-priced commercial and residential housing. society.
Specifically, in the total number of project houses in the period 2016-2021, the proportion of high-class apartments (prices over 40 million VND/m2) has 58,241 units (accounting for 37.2% of the total number of housing projects in the project). ), mid-end apartments (prices from 25-40 million VND/m2) have 69,899 units (rate of 44.6%), affordable apartments (price under 25 million VND/m2) only 28,295 units (rate 18 %).
Alarmingly, from 2020, the rate of affordable apartments has plummeted, accounting for only 1% of the total number of houses put on the market in Ho Chi Minh City. In 2021, out of a total of 14,443 apartments, there will be no more affordable apartments (rate of 0%) and vice versa, there will be 10,404 high-class, luxury and super-luxury houses (rate of 73.98%), the rest are middle-class housing (rate 26.02%).
According to Mr. Phan Cong Chanh, General Director of Phu Vinh Group, at present, the value of a real estate is not established by the formula of selling price equal to input price plus profit margin as before, but calculated as before. based on location and potential future value.
"This explains why in the same segment, the later projects are always higher than the previous ones. Previously, new projects were usually sold at 5-10% higher than old projects, now they increase to 30-50%", said Mr. Chanh, adding that the investor offered a high selling price to compensate for inflation. development, the price of raw materials and labor increased…
In the same opinion, the general director of a business specializing in developing mid-range projects in Ho Chi Minh City acknowledged that the demand for high-end real estate is actually there, but due to the limited supply, the investor pushes the price "climbing up" ladder", instead of previously expected profit margin at 15%, now pushed up to 30-40%.
According to this position, if real estate prices increase according to demand, an annual increase of about 10-15% is appropriate, a sudden increase of 30-40% in a year threatens the growth momentum of the following years.
"Currently, the real estate supply is in the direction of serving investment needs rather than real demand. However, pushing prices to invest should not last 2-3 years because it will cause many consequences for the market. It is increasingly difficult for people with real housing needs to access houses when apartments of VND 40 million/m2 gradually become low," said the general director, adding that when the supply in the market is limited, Enterprises tend to choose the segment with high profit margin. Therefore, in addition to removing obstacles from project legal procedures, low-cost housing development policies need to be accelerated to increase supply and reduce the current phase difference.
According to Stock Investment
You are reading the article
Super luxury houses "cover" the market

at
Blogtuan.info
– Source:
infonet.vietnamnet.vn
– Read the original article
here