TuanVietNam
The war in Ukraine, sanctions and economic consequences
Russia is encircling Ukraine on all sides, the US and the West are isolated and surrounded on all sides by Russia with a series of sanctions. How does the Russian economy and the world economy wobble?
Unprecedented punishments
When Russia sends troops into Ukrainethe US and the West quickly imposed a series of draconian sanctions with large scale covering many key sectors of the Russian economy such as finance, banking, energy, high technology, enterprises. , organizations and individuals.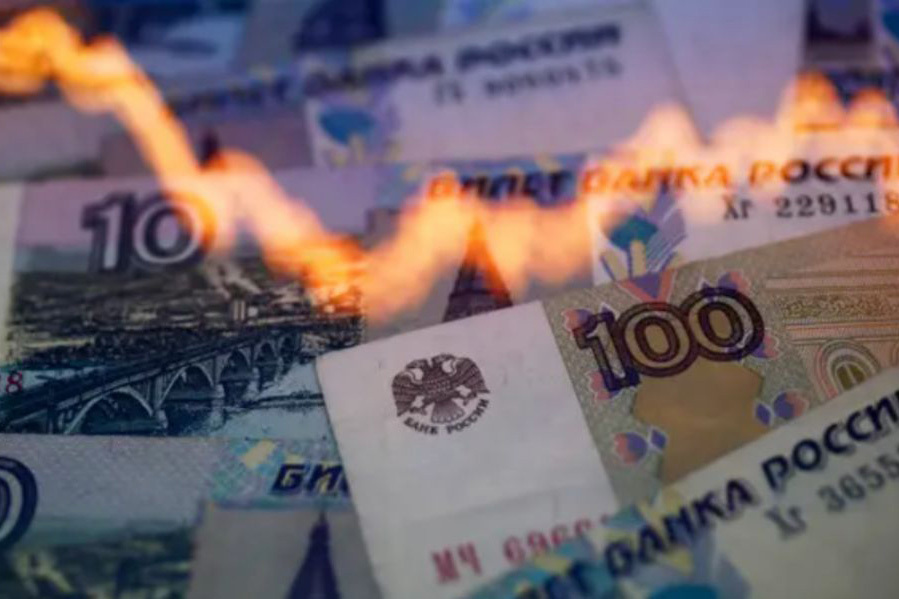 Russia becomes the most sanctioned country in the world
There are countries that rarely participate in sanctions now also implement measures. Even sports, scientific organizations, even those that are not legally responsible for sanctioning, do this. Russia became the most sanctioned country in the world with more than 5,530 sanctions designations.
To date, Russia's central bank's $640 billion worth of foreign exchange reserves have been frozen, and the country has been excluded from the SWIFT global payment system. The announcement of the US and UK not to import crude oil and gas from Russia on March 8 is the most severe blow, directly attacking and undermining the two main pillars of stability, foreign currency reserves and surplus. Russia's current account balance, attacking the "lifeline" of this country.
The Russian economic fortress is in jeopardy
Russia Despite being too familiar and prepared in advance, building an economic fortress ready to withstand sanctions since 2014 when annexing Crimea. They implemented a series of measures such as reducing dependence on the US dollar, limiting public spending, increasing foreign currency hoarding, doubling gold reserves, strengthening the National Wealth Fund, and boosting domestic production. ..
However, the sanctions were still too strong a blow, shocking the Russian economy, creating immediate consequences, the ruble lost more than 33% of its value, the stock market crashed, investors fled. Out of Russia, people massively withdrew money, commodity prices skyrocketed, Russia's credit rating quickly dropped to "junk" status…
Despite having huge foreign exchange reserves worth up to 640 billion USD, due to the blockade, most of them are inaccessible. In fact, Russia holds about 12 billion USD in cash, 84 billion USD in Chinese bonds, about 2,300 tons of gold worth 142 billion USD. Russia can trade Chinese bonds for yuan to buy goods from the mainland. However, it will be difficult to use to trade with other countries.
Russia can also sell gold but it is not easy to sell in such large quantities. Therefore, Moscow seems to be "tied up" and does not have enough hard currency to save the ruble and stabilize the currency market.
Russia was forced to take a series of urgent measures to save the ruble and avoid the financial system from collapsing.
Specifically: Increase the basic interest rate from 9.5% to 20%, temporarily close the stock market, require export companies to sell 80% of their revenue in foreign currencies to banks, and prohibit people from extending the extension. foreign loans in cash, banning people from transferring foreign currencies into accounts or depositing money at foreign banks;
Temporarily suspending the withdrawal of foreign investments from the country, prohibiting the transfer of foreign currencies exceeding 10,000 USD abroad, taxing foreign currency purchases of 30%…
But such contingency measures can only prevent a financial crisis, and the damage to the Russian economy is irreversible. In fact, the ruble still plunged to a record when it lost 90% of its value against the dollar.
The blow to exclude Russia from the SWIFT international payment system greatly increases the time and cost, causing major disruptions and disturbances in international interbank transactions.
In fact, some banks specializing in energy payments are exempt. Moreover, Russia has been developing its own payment system since 2014 but this system is mainly internal because by the end of 2020 there are only 23 foreign banks involved. Russia can also use the "manual" method of payment, but this is less efficient and expensive…
Great damage
Banning Russian energy imports is a fatal blow because it hits the country's "life source". Energy accounts for more than 59% of Russia's exports and 43% of budget revenues. America and Britain have announced that they will not import Russian crude oil and gas.
Of course, the level of impact and consequences depends on the level of European response because nearly 50% of Russian oil and 40% of gas exports to Europe. The question is whether Europe dares to accept pain to punish Russian energy.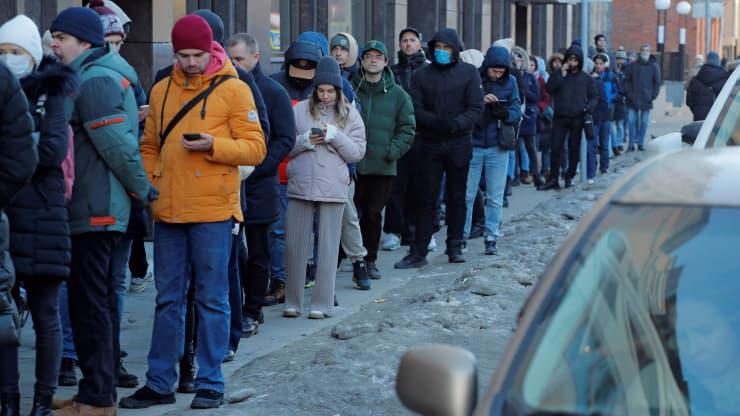 People queue to withdraw money at an ATM in St. Petersburg on February 27. Photo: Reuters
Not only that, Russia also faces a series of other dilemmas such as sanctions restricting technology exports, industry disruption, lack of advanced semiconductor chips, lack of input production materials…
A series of foreign companies have announced the suspension and termination of operations in Russia, spanning the fields of transport, transportation and supply; oil, gas, energy and industry; telecommunication; finance; engineering, Internet; clothes; restaurants, coffee, sports, entertainment… This leads to many job losses, increased unemployment (currently about 3 million workers are working for foreign companies), scarcity of consumer goods. use, service interruption.
The world's three largest shipping lines, MSC, Maersk, and CMA CGM, on March 1, announced a temporary suspension of cargo transportation to and from Russia, causing congestion in the country's import and export cargo. discontinuity…
One bright window is that Russia is collecting a lot of money due to high energy prices, the EU is paying about 722 million USD for gas to Russia every day, 3 times higher than before the war in Ukraine. However, with the US and UK announcing bans on Russian oil and gas imports, it is possible that some European countries will follow suit. Therefore, Russia faces the risk of losing a large revenue from energy.
In fact, in recent days, about 70% of Russia's crude oil trade has been frozen, although the price of Russian oil is 25-30 USD/barrel lower than comparable oils in other countries.
Sanctions are causing the Russian economy to face unpredictable consequences and there are not many options to effectively neutralize it. The currency and commodity markets, production and business activities of enterprises, and people's lives suffered great damage and losses.
The world faces an energy crisis
Conflict Ukraine and sanctions also have great consequences for the world economy, creating a storm of food and energy prices. Oil prices skyrocketed, sometimes reaching more than 139 USD per barrel, the highest in the past 13 years, can exceed 150 USD/barrel, gas prices rose above the threshold with 3,600 USD/1,000m3.
Grain and food prices simultaneously surged to new highs. Wheat prices traded in Chicago (USA) to the highest level since 2008, corn prices climbed to the highest level since May 2021, possibly up to 50%.
This is a "headwind" to the global economic recovery.
The Russia-Ukraine conflict also promotes a faster and deeper decoupling of the world economy. Russia is increasingly separate from the West, closer to and dependent on China, especially in trade, finance and goods. The flow of energy and food from Russia to China is enhanced. Russia imports high-tech goods from China to partially replace imports from the West.
The EU, which is trying by all means to get rid of its dependence on Russian energy sources by 2030, has set a goal to cut gas imports from the country by nearly 80% this year.
In short, no one is sure where the Ukraine crisis will go, only seeing that Ukraine is being destroyed by bombs and bullets, Russia's economy is isolated and surrounded, it is difficult to "look up" and the world economy is lost. recovery momentum.
>>> The situation of war in Ukraine
Pham Manh Hung
You are reading the article
The war in Ukraine, sanctions and economic consequences

at
Blogtuan.info
– Source:
vietnamnet.vn
– Read the original article
here