There was once a quite hot opinion on social networks: "Gen Z is the generation of employees who will fire their boss". According to a survey by recruitment website Zhaopin, traditional employment relationships are being turned upside down in the world's No. 2 economy, as Gen Z becomes the dominant force in the labor market and The pandemic promotes digitization in the work environment.
The most obvious thing is that Gen Z is gradually changing in the way they work and company culture. Instead of devoting for too long, young people are commented that they "get bored quickly" and easily change jobs.This is also considered as the generation that works freely, is open and knows how to self-study through the Internet more. .
As the CEO of the professional recruitment company TopCV – Mr. Tran Trung Hieu (Under 30 Forbes Vietnam in 2022) shared with us about how the working culture of young people has changed from the current world. The first generation 9x and now Gen Z. Having more than 10 years of experience in the recruitment field, Mr. Hieu said this is the time when every company needs to change the way it works and the operating process to be able to. retain talent.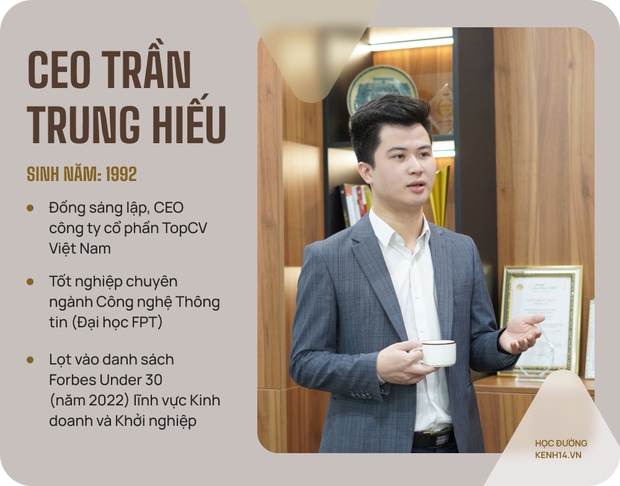 Interview with CEO Tran Trung Hieu – Forbes Under 30 member in 2022
In your opinion, how do young Gen Zers look for jobs now than in the past?

Much different! My generation is the early 9x and has a lot of intersections with the 8x generation. When looking for a job at that time, Facebook was still not popular, I almost always looked for work through my predecessors, went to the same school, asked acquaintances or referred to this company. At that time, it was difficult for me to grasp how companies were recruiting, what their working culture was like. And now young people can go to social media to find work a lot. Chances of getting a job are much easier now than in the past. There are also more jobs in the industry and there are many choices. However, today's jobs also require more candidates in terms of skills to compete for a good position in the company.
What about work inspiration? Are young people increasingly confident, they have a high sense of self-worth, so they are somewhat "arrogant" in choosing work and working environment?
Everyone who goes to work wants to have a good environment, good boss, learn a lot of things, high income, capacity worthy of income. I think that's normal, companies as well as candidates have the desire to balance the above factors. So saying that today's young people tend to be demanding is not really objective.
To be more precise, young people are now more forthright and clear in expressing their desires and identifying themselves. Looking at it from a positive perspective is also very good for companies' policies when recruiting the right people. Young people will also make adjustments so that the environment and companies that create better benefits will attract people to work.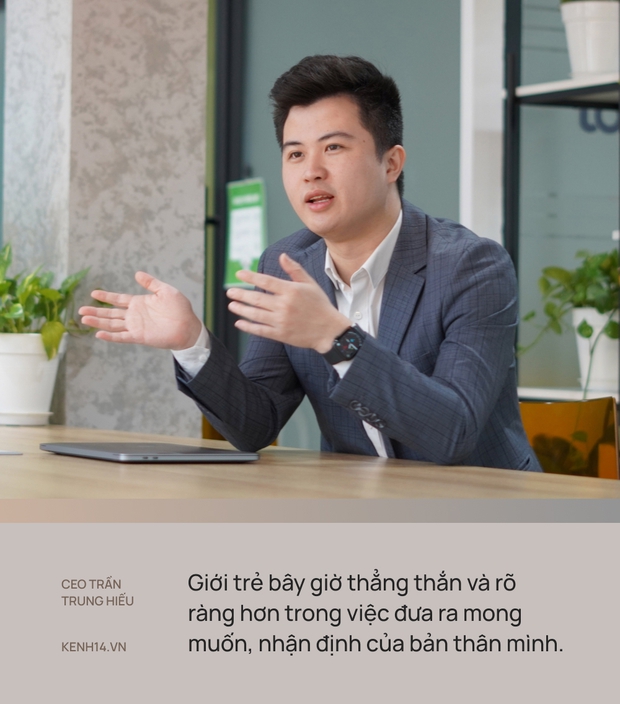 I emphasize here the story that young people want an environment to learn and develop more, not just about a good income. Many young people now want to learn, develop, have a roadmap at the company for 1 year, 2 years, 3 years … how to develop. This is a clear "requirement" that I appreciate very much. Because when I have that, you will see what kind of person I want to be in the future, what I'm working for… But just looking at the story of where the salary is high, the office is beautiful, that's not enough. does not help you stick with a company and help yourself develop well enough.
After a period of Covid-19 epidemic, many employees massively quit because of the feeling that "it is not necessary to live like this forever". Especially in Gen Z, they are often judged as "both hungry and bored", having difficulty is easy to give up. How do you think companies need to inspire this generation of employees even in difficult times?
Talking about inspirational stories, not every Gen Z but every company at this time needs to change. Changing in the corner of self-renewal, there are more internal activities such as rewarding, organizing minigames… Also need to be flexible in working from home or working at the office to create inspiration and appropriate support for groups personnel.
Especially the Gen Z group needs those things more. Because you have the ability to use online tools, self-study and discover new things better than the previous generation, Gen Z is the generation of the Internet. When you have the ability to approach like that, the company that knows how to exploit and create conditions for you, the better for the development of both personnel and the business.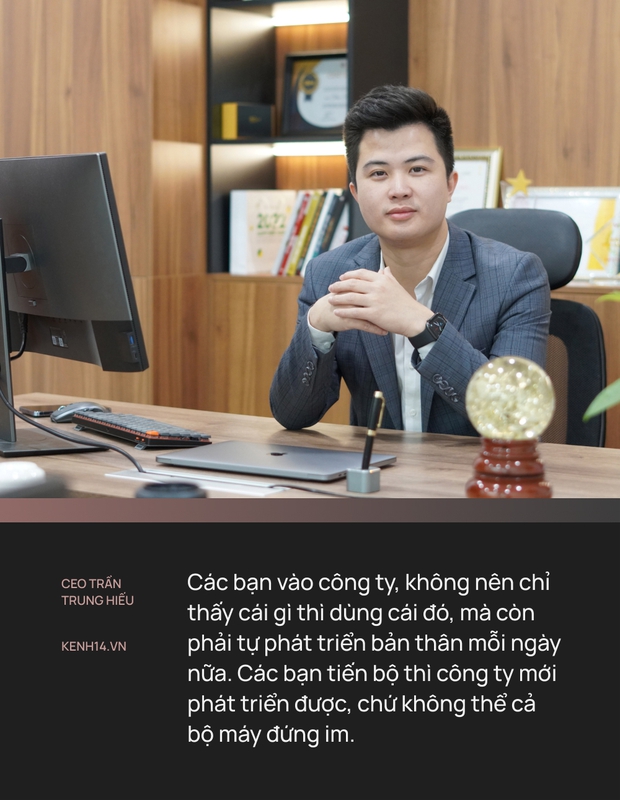 He once shared that now recruitment is no longer focused on the employer but back to the candidate center. How do you see this being applied in your company?
Firstly, my opinion and the company's leadership always consider candidates as talents, bright spots, and people to be attracted to in any position (not only the senior leader position). As we consider all positions equally important, the way we approach finding the same person will be consistent. I follow candidates, take good care of them no matter what position they are in, they all need to make a good impression.
Secondly, after you are interested in the company, have passed the interview and go to work, TopCV needs to build a professional environment. It is from the office experience, seating, common space, interactive area… that need to be suitable for generations of 8X – 9X – Gen Z. Internal training programs are also focused. That's the story of young people who come here, not only see what to use, but also have to develop themselves every day. If you make progress, the company can grow, but the whole machine cannot stand still.
When coming here, personnel also need to learn professional working culture. From very small things, such as how to get in and out of the office to tidy up slippers, how to fix tables and chairs after a meeting… This is not something that every young person needs to learn and pay attention to. As you know, the spirit of successful entrepreneurship is to know how to start and complete from the smallest things.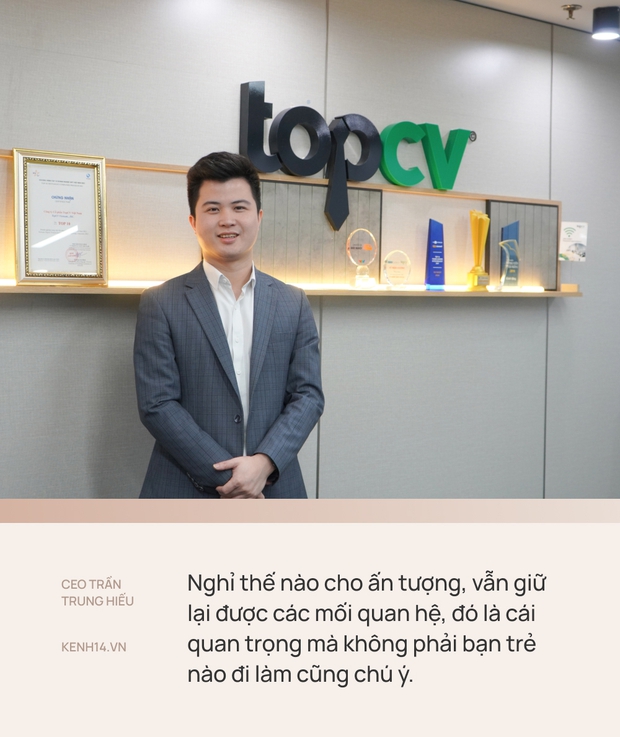 Having been a boss for many years, have you witnessed an unprecedented case of resignation?
It is quite normal for employees to quit their jobs when they find this environment is not suitable or it may be because of changes in themselves or their family circumstances that lead to their leaving. There are two contrasting cases that impress me the most.
In the first case, there are also employees who accept the job. Received a job in the morning, asked permission to go out at noon to eat, disappeared in the afternoon, could not be contacted by calling. After a few days, you reported that your family had a problem, had to go somewhere for a week, so you were no longer in Hanoi. This is probably the fastest case of leaving the company ever and also leaving no information behind. Fortunately, there were no problems, everyone was just surprised, because they had not yet gotten to know each other.
The second case is in a trainee. She worked for a while then resigned. She also organized a farewell party by herself, inviting the confectionery office. Even though you're just a trainee, you also wrote a handwritten letter thanking the brothers and sisters and the company for helping you all the time. That's the case I was really impressed. Because in addition to professionalism, you also have an attitude of gratitude before and after an employee. With that approach, I believe, she will also leave a good impression with the new company.
It is normal for employees to quit their jobs, but the way you leave will reflect who you are. How to leave an impression, still retain relationships, that is the important thing that not all young people who go to work also pay attention. Once you have started submitting your leave application, you still need to comply with the labor principles and regulations set forth by the company.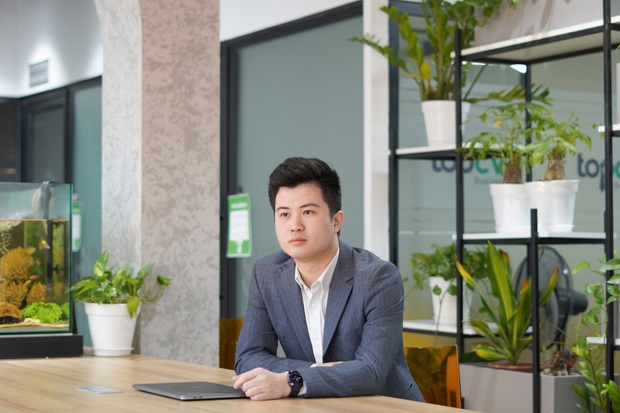 In your opinion, in the next few years, which industry or job will take the throne?
With the current trend, especially after Covid-19 happened, everything has almost turned online. Since then, the concept of digital transformation or digital economy has appeared more. We order, buy and sell online, even have meetings via Zoom… Businesses are well aware that when they want to go online from offline, they must have digital conversion tools and technology support products to help them. can interact and work normally. Companies that apply digital transformation for businesses will be born more.
Many businesses develop more online business models, which will create a very strong digital economy in the near future. The digital economy including Fintech, Medtech… will thrive. The fields related to information technology, where there will be a lot of programmers, BAs, Testers… a lot of positions are in high demand in the near future, especially in 3 big cities Hanoi, Ho Chi Minh City. and Da Nang. I believe this is also a long-term trend in the field of information technology. The software industry will develop very strongly.
In the old days, 9x used a thousand dollar measure to talk about success after graduating from school. But Gen Z is different, they seem to have no limits, even buying a house, buying a car, billions at the age of 20. What do you think about this?
With today's young people, when going to work, for me, you need to have a spirit of curiosity, and be fully dedicated to the assigned work. I don't know if I like it or not, but when assigned, I have to do it with the most serious spirit. If you keep that spirit, whether you earn 10 million or 100 million/month, you can completely "increase" yourself. Because of that working spirit, there is commitment and focus, serious about the work they are assigned. If you earn a lot, you must learn how to keep money and invest effectively. It is essential for anyone.
Thank you for this conversation!
https://kenh14.vn/ceo-cong-ty-cong-nghe-nhan-su-hang-dau-viet-nam-1-cong-viec-quen-thuoc-nay-nhat-dinh-se-len- noi-in-as-nam-toi-20220312181959667.chn
You are reading the article
This familiar job will definitely "take the throne" in the next few years!

at
Blogtuan.info
– Source:
Kenh14.Vn
– Read the original article
here