Business
Why does billionaire Tran Dinh Long need 8 banks to "finance syndicated credit" for the Group's largest scale Hoa Phat Dung Quat 2 project?
According to information announced by Vietcombank, on the morning of March 17, 2022, the signing ceremony of credit granting contract for Hoa Phat Dung Quat 2 Iron and Steel Complex Project between Hoa Phat Dung Quat Steel Joint Stock Company took place. (a member of Hoa Phat Group) and 8 banks participating in co-financing, of which Joint Stock Commercial Bank for Foreign Trade of Vietnam (Vietcombank) plays the role of the focal bank.
8 banks participating in this syndicated loan, besides Vietcombank as the lead bank, there are also VietinBank, BIDV, Agribank, MB, VPBank, TPBank and MSB co-financed.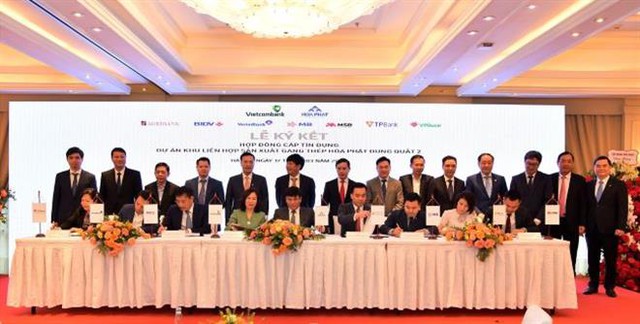 Mr. Mai Van Ha – Director of Hoa Phat Dung Quat Steel JSC and representatives of 8 banks signed a credit contract. (Source: Vietcombank).
Speaking at the signing ceremony, Mr. Tran Dinh Long – Chairman of Hoa Phat Group emphasized: Hoa Phat Dung Quat 2 Iron and Steel Complex Project is the largest project of Hoa Phat Group, with a designed capacity 5.6 million tons of hot rolled coil (HRC)/year and total investment 85,000 billion VND.
It is expected that when the project is completed and put into operation, it will bring Hoa Phat's steel output to 14 million tons/year and employ more than 8,000 local workers. With the implementation of Hoa Phat Dung Quat 2 Iron and Steel Complex Project, Hoa Phat Group aims to produce high quality hot rolled coil (HRC) to become the largest domestic HRC steel producer. in Viet Nam.
Representatives of banks participating in capital financing spoke at the signing ceremony, Mr. Pham Quang Dung – Chairman of the Board of Directors of Vietcombank affirmed: As the leading bank, Vietcombank has successfully arranged the loan commitment. credit value 35,000 billion VND for the project with 7 competent and reputable credit institutions in Vietnam.
Credit syndication is a form of credit extension quite popular with large projects, implemented by 2 or more banks, in which 1 bank acts as the focal bank to arrange loans, Other banks participating in the grant of credit are known as co-financing banks.
Stemming from the fact that there are businesses in a number of specific fields such as Electricity, BOT,… or some key national projects that have a need for large credit, exceeding the credit limit of 1 The Bank, if the loan is divided into different independent banks, does not guarantee the collateral and loan management, so the banks will jointly extend credit with the customer, called the credit extension. syndicated credit.
Currently, regulations on granting syndicated credits are prescribed in Circular No. 42/2011/TT-NHNN of the State Bank of Vietnam – Regulations on granting syndicated credits by credit institutions to customer.
In which, Article 5 provides: Cases of granting syndicated credit
1. The client's demand for credit for project implementation exceeds the credit limit of a credit institution as prescribed by law.
2. The financial capacity and capital source of a credit institution cannot meet the credit granting needs of the project.
3. Credit institution's need to spread risks.
4. Customers need to be granted credit from many different credit institutions to implement the project.
5. Credit institutions shall grant syndicated credit for important projects under the Government's direction.
In fact, in Vietnam, some fields such as BOT, electricity, heavy industry, … always need the "handshake" cooperation co-financing of banks.
For example, most recently, on February 12, Nghe An newspaper reported, at the headquarters of BIDV – Nghe An branch, a consortium of investors Component project of North – South expressway section Dien Chau – Bai Vot and the banks participating in financing the project have signed a capital financing contract for the project.
This project has a total investment of about 11,157.82 billion VND, of which investors mobilized about 5,090.09 billion VND, participating state capital is about 6,067.73 billion VND. The construction period is 36 months, and the operating time, payback is about 16 years, 6 months and 8 days.
There are 4 banks participating in granting credit for this project including BIDV, Agribank, Vietcombank, Bac A bank with approval to finance the project with a limited amount of credit. 3,560 billion VND.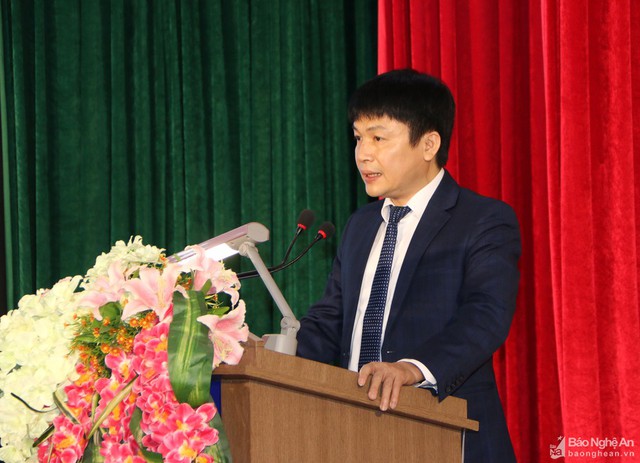 Mr. Tran Minh Tinh – Director of BIDV Nghe An branch hopes that with his capacity and experience, investors will implement the project in the most effective way. Photo: Tien Dong
Or as in October last year, many newspapers reported that a project of the Vietnam Oil and Gas Power Corporation (PV Power) is Nhon Trach 3 Project and Nhon Trach 4 Project of PV Power co-sponsored by Techcombank and MBbank.
Nhon Trach 3 and Nhon Trach 4 power plants are the first and largest liquefied natural gas (LNG) projects in Vietnam, which are expected to bring clean energy of international standards. and create a turning point for the national energy security policy. Two power plants play the role of load centers of the South, with three large load areas being Ho Chi Minh City. Ho Chi Minh City, Dong Nai and Ba Ria – Vung Tau.

The project has a capacity of 750-800 MW each with a total investment of about $1.4 billion.

Previously, Techcombank and MB had arranged finance for many power projects of PV Power such as Nhon Trach 2 Power Plant, Dakđrinh Hydropower Joint Stock Company, Hua Na Hydropower Joint Stock Company…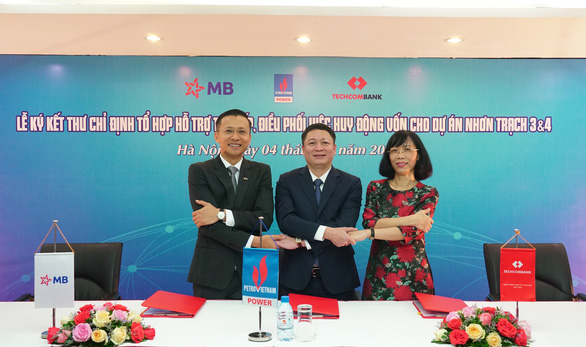 Techcombank and MB arrange $1.4 billion for PVPower's gas power project – Photo: TCB
https://cafebiz.vn/tai-sao-ty-phu-tran-dinh-long-can-toi-8-ngan-hang-cap-tin-dung-hop-von-cho-dai-du-an- hoa-phat-dung-quat-2-quy-mo-lon-nhat-cua-tap-doan-2022031718132723.chn
By Business and Marketing
You are reading the article
Why does billionaire Tran Dinh Long need 8 banks to "finance syndicated credit" for the Group's largest scale Hoa Phat Dung Quat 2 project?

at
Blogtuan.info
– Source:
cafebiz.vn
– Read the original article
here