Automotive industry There have been fundamental changes as global countries move towards emission reduction targets. At the COP26 summit (November 2021), many countries and leading car manufacturers committed to phasing out electric vehicles. fossil fuel in 2040.
Southeast Asian countries prepare for revolution tram. Southeast Asia has the advantages as a low-cost manufacturing hub and has a very promising market. At the same time, governments in the region are soon planning to have an edge in grabbing a slice of the market. The goal is to create various opportunities for the car industry to export as well as serve the domestic market.
Thailand is the country with the most developed car industry in the region. The country produces about 2 million vehicles a year and is aggressively transitioning to electric vehicles. Last year, Thailand announced a roadmap to bring 30% of car production to electric vehicles by 2029 with many policies to promote and attract investment for this industry.
Southeast Asian countries are racing to gain an advantage in the electric vehicle market
Indonesia, the world's largest producer of Nickel – a key ingredient in Lithium batteries – aims to become a hub for the production and export of electric vehicles.
To its advantage, Indonesia has made battery production a core part of its own electric vehicle strategy based on its huge resource of Nickel ore.
The country banned nickel exports in 2020 to protect its industry by attracting large battery manufacturers to invest. Battery manufacturer CATL (China) committed to invest 5 billion USD; LG Chem will enter an alliance with Indonesia Battery Corporation (IBC) and Foxconn also announced that it will produce electric vehicles and batteries in Central Java (Indonesia).
Meanwhile, Vietnam is developing with VinFast, a new car company that is eager to conquer the US and European markets. Vietnam also has policies to "cope" with the wave of electric cars. Significantly, there are incentives to waive registration fees for electric car buyers or reduce excise tax on electric cars to encourage investment and production.
Business Time commented, the shift to traveling by electric vehicles is necessary to protect vehicle production in the region. However, consumers in the Southeast Asian market and also existing car manufacturers do not seem ready to adapt and exploit the market opening. This can open up opportunities for domestic businesses to participate.
Currently, Japanese OEM manufacturers still have a leading position in the region. But automakers like VinFast are also finding a foothold. Major global automakers have set ambitious emissions targets for themselves and plan to launch hundreds of new battery electric vehicle models by 2025. So they're very interested in making it. assist Southeast Asian countries in their transition from internal combustion engines.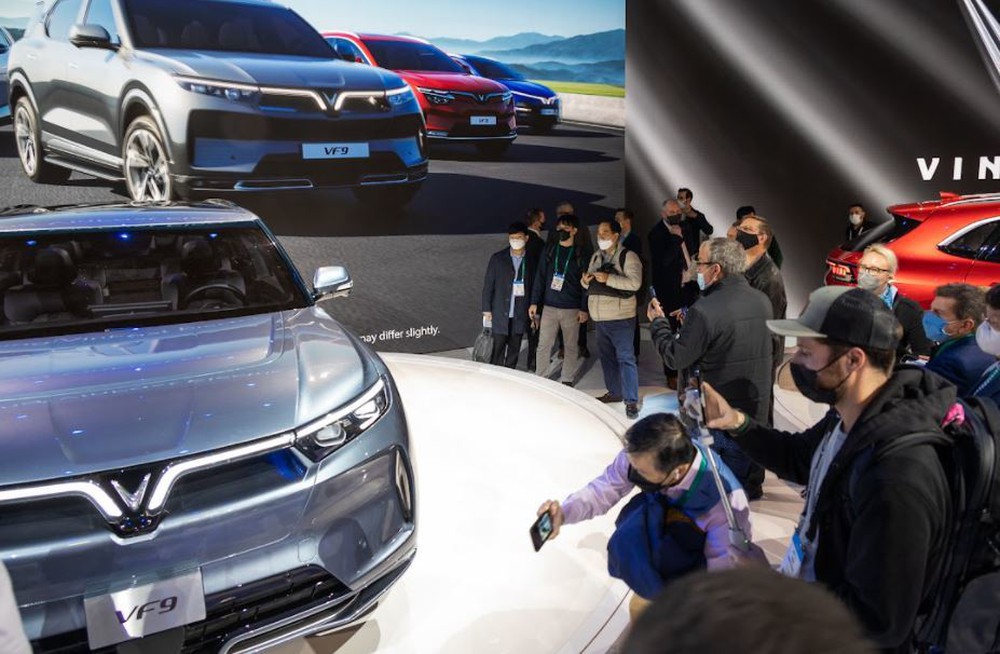 New car companies like VinFast can gain a foothold in a new market. Photo: VF
For at least the next five years, these large international players will continue to dominate the manufacturing sector in the region, before domestic players can take control. As sales and marketing of electric vehicles evolve, the focus must be on the value chain and the network. This will give local businesses an advantage over foreign competitors.
Southeast Asia is considered a potential new market when the car ownership rate is still below 20%. According to experts, products that are affordable, equipped with many technologies and attractive designs will have better access. This is the strength of Chinese automakers, or new firms like VinFast can enter the market.
The Vietnamese brand was founded in 2017 by Vingroup and started producing cars in 2019. Very quickly, VinFast introduced its first two electric car models at the LA Auto Show last November and expected plans to sell cars in the US at a competitive price thanks to a battery rental model.
VinFast also announced plans to open production facilities in the US by 2024 and Germany by 2025. In Vietnam, the automaker is also building a $174 million battery factory, which will initially produce 100,000 sets. battery and can reach capacity up to 1 million.
You are reading the article
Electric vehicles are creating a new wave in Southeast Asia

at
Blogtuan.info
– Source:
Soha.vn
– Read the original article
here