Since the Hung Kings Commemoration Memorial is a public holiday specified in the Labor Code, employees are entitled to take time off from work and receive full pay.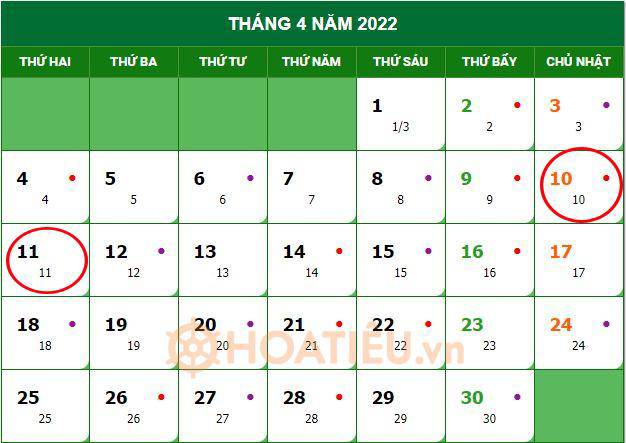 The 10th of the third lunar month of this year (2022) falls on Sunday (10 April 2022 solar calendar) which is a weekly holiday, so on the occasion of the anniversary of King Hung's 2022 death, cadres, civil servants, civil servants, employees will be compensated on the day Next Monday (11 April 2022).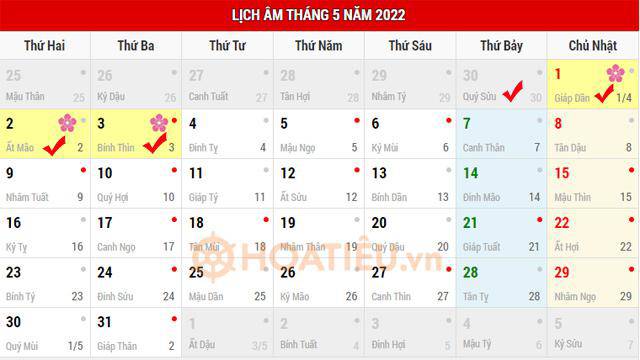 The 30 April and 1 May 2022 holidays fall on Saturdays and Sundays. Therefore, according to the regulations, employees will be compensated because the vacation schedule coincides with 2 weekends. Thus, during the 30 April and 1 May 2022 holidays, employees still get 4 consecutive days of leave, starting from 30 April to the end of 3 May 2022.
The vacation schedule applies to officials and employees. Break times are subject to change, by some organizations due to job-specific requirements.
The Ministry of Labor, War Disability and Social Affairs encourages companies to provide employees with Tet holidays as a general schedule and notify employees at least 30 days in advance.
Employees who work overtime or work nights on national holidays and New Year's Eve are entitled to a minimum salary of 300%, excluding wages for working today. Foreign workers working in Vietnam in addition to the 11 holidays above are also entitled to one more traditional New Year's Day and one National Day in their country.
Establishing vacation days and compensatory leave will help employees and their families plan to serve their families and themselves.
According to the Ministry of Labor Safety (Ministry of Manpower, Persons with Disabilities and Social Affairs), public holidays and New Year's holidays are regulated in the Manpower Act 2019 and take effect from 2021. In particular, according to Article 112 of the Manpower Amendment Code in 2019, from In 2021, employees have 11 public holidays and New Year's holidays and receive their full salary.
According to Article 112 of the 2019 Labor Code, starting in 2021, employees have 11 public holidays and New Year's with full pay, in particular: New Year's Day: One day off, January 1; Chinese New Year: 5 days off; King Hung's death anniversary: ​​1 day off (March 10 lunar calendar); Southern Liberation Day, National Reunification: 1 day off (April 30 solar calendar); International Labor Day: 1 day off (May 1 in the solar calendar); National Day: 2 days off (2 September in the solar calendar and the first day before or after).
You are reading the article
Holiday schedule for King Hung Memorial, Victory Day 30/4 and International Labor Day 1/5
at Blogtuan.info – Source: Eva.vn – Read the original article here