Life Style
Sức Khỏe
In addition to perilla porridge, here are 4 porridge dishes that help F0 cut fever, increase resistance and recover quickly, and also reduce post-Covid-19 risks.
For a long time, perilla has been a spice used in many daily dishes. Not only that, eating perilla also has medicinal uses.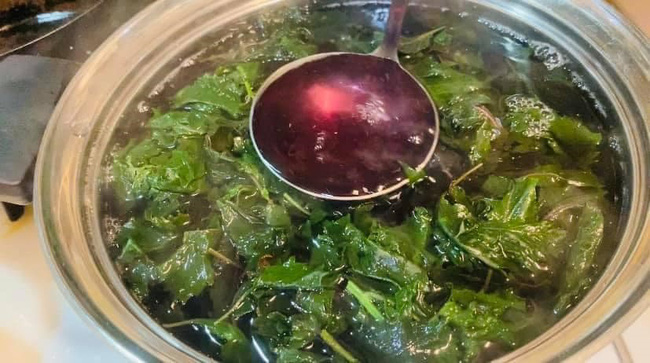 Former colonel, general practitioner Bui Hong Minh (Former Chairman of Ba Dinh Oriental Medicine Association, Hanoi) affirmed, in Oriental medicine, this is a precious medicine, especially for colds, cough with phlegm, F0 for home treatment. use will be very good. Eating perilla porridge helps F0 cut fever, relieve colds, and recover faster.
However, not only perilla porridge, in fact, in traditional medicine, there are many delicious and nutritious porridge dishes that help F0 get stronger faster. If a Covid-19 patient feels bored with the familiar perilla porridge, it can be changed to eat better and increase resistance.
5 porridge dishes to help F0 cut fever, relieve colds, increase resistance and heal quickly
1. Egg porridge, perilla, scallions
In Eastern medicine, chicken eggs have a sweet taste and are often used to improve health. Research by modern medicine shows that chicken eggs are rich in vitamins A, D, E, B1, B6, B12; calcium, magnesium, iron, zinc… and many kinds of amino acids needed to strengthen immunity.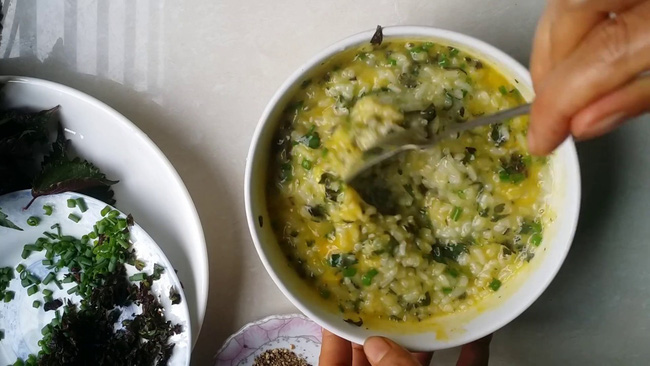 Lecithin in eggs is very good for the digestive process, supports the functioning of the liver, limits the risk of arterial blockage due to increased cholesterol.
According to Oriental medicine, scallions are spicy, mild, non-toxic, in the two meridians and tastes, have the effect of clearing heat, making the body sweat, diuretic, digestive and antibacterial very well.
Therefore, cook white porridge, add eggs, add a little perilla and spring onions, mix well, eat hot will help F0 increase resistance, heal faster.
2. Chicken porridge
Many people do not dare to eat chicken porridge for fear that their cough will become worse. But this is a misconception. Herbalist Bui Hong Minh commented that chicken porridge is very good for F0 treatment at home.
In Eastern medicine, chicken meat has a mild temperament, an orange taste, and is non-toxic and has many different healing effects. Experts advise, when using chicken to cook porridge for F0, you should choose rooster with red feathers to supplement the lungs, good for people with weak qi, to help increase resistance.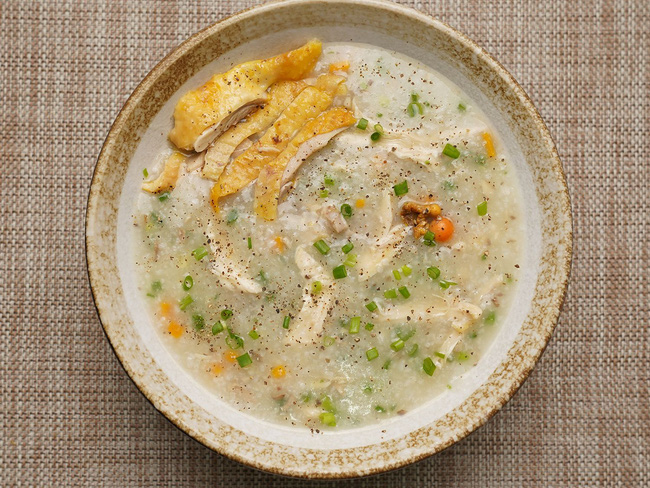 When cooking chicken porridge, do not forget the accompanying vegetables and spices to provide more vitamins and minerals. You can add carrots, lotus seeds, shiitake mushrooms… as you like.
Especially remember to add spices such as red onion, perilla, basil… In Eastern medicine, red onion has the effect of clearing colds, easy digestion, and detoxifying the body.
Meanwhile, basil is very good for cough, sore throat, stuffy nose, headache, expectorant. Adding basil to a bowl of chicken porridge will help Covid-19 symptoms quickly subside.
3. Pumpkin Porridge
According to Master – physician Vu Quoc Trung (Division of Traditional Medicine, Vietnam Association of Oriental Medicine), pumpkin has warm properties, regulates the spleen and stomach, tonics energy, and laxatives, so it is still used to treat headaches. , headache, dizziness, neurasthenia, lung abscess.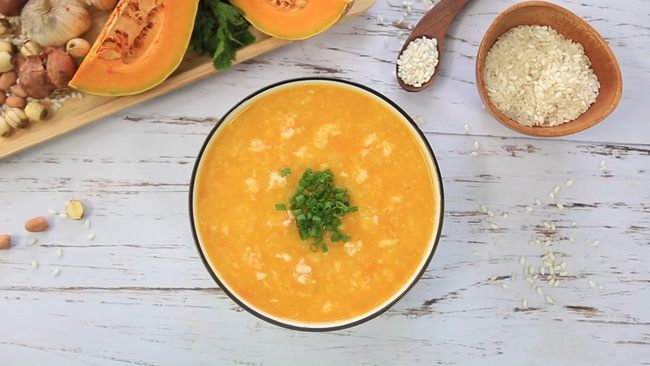 Pumpkin is very nutritious. Therefore, F0 eating pumpkin porridge will recover faster, and also nourish the lungs, very good post-Covid-19 prevention.
When cooking pumpkin porridge, you should cook more minced meat, simmered bones… to sweeten the water, add a little coriander to make the dish more delicious.
Not to mention, coriander also helps reduce symptoms of anxiety, restlessness, helps F0 sleep, anti-inflammatory. Thereby quickly recovering health, minimizing risks after Covid-19.
4. Green bean porridge
Green bean porridge helps to fight inflammation, reduce fever, and detoxify, so it is also very good for Covid-19 patients. According to Oriental medicine, green beans are sweet and cool, in the heart, in taste, non-toxic, replenishing energy, clearing heat and cooling the liver, eliminating hundreds of poisons.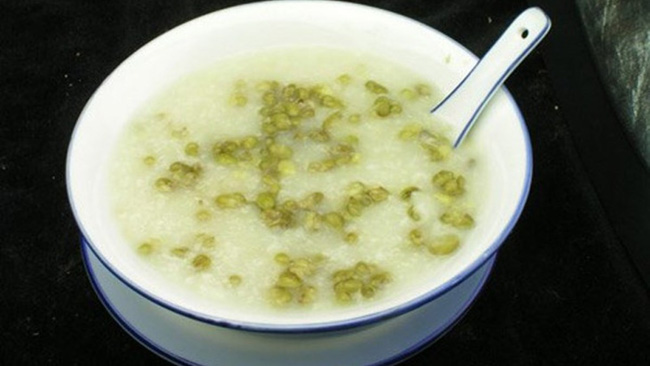 In particular, this bean is very effective in treating coughs, sore throats, hoarseness, and loss of voice. If F0 appears these symptoms should eat mung bean porridge to change meals.
When eating green bean porridge, do not forget to add green onions and enjoy while it is still hot to promote the best healing effects.
5. Black bean porridge
This porridge helps F0 recover health after fever, which is highly appreciated by Oriental medicine experts. Especially, F0 has no fever but has a lot of fatigue, poor appetite, difficulty sleeping, discomfort, restlessness, rashes, and pimples.
In Eastern medicine, black beans taste sweet, calm the spleen and kidneys, cure insomnia, people are tired a lot. When using porridge, black beans add a little lotus seeds, using the whole lotus heart is better. F0 will feel better faster, sleep better and deeper. This porridge is also very suitable for people who have recovered from illness but have insomnia after Covid-19.
What should F0 not eat to quickly recover from illness?
Experts recommend that F0 should not eat the following 3 food groups to quickly recover from illness and limit post-Covid-19 symptoms:
1. Animal organs, brain…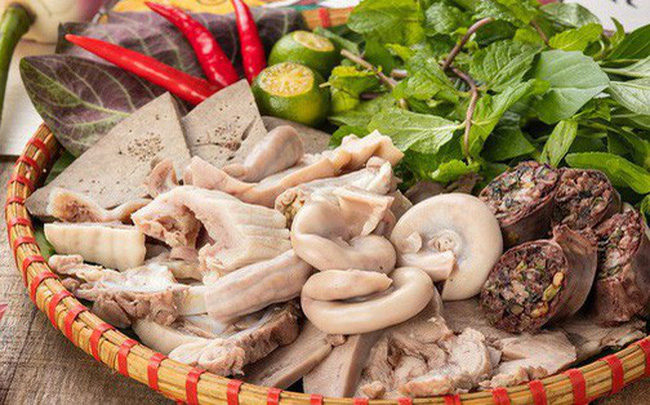 Many people like to eat animal organs such as pig intestine, heart, pig liver…, pig brain, but F0 while being treated for disease should be limited as much as possible.
These foods have high cholesterol, which is not good for health. Even makes F0 feel more tired and uncomfortable.
2. Foods with a lot of salt
Foods with a lot of salt such as sausages, canned goods, dry foods, pickled pickles… make F0 load a lot of salt into the body. When the body is already weak and tired, eating more foods that are not good for your health will make you heal longer.
3. Carbonated drinks
The carbonated drinks that make F0 can fall into a state of fullness, bloating, discomfort. Not to mention, taking a lot in a certain time also increases the risk of cardiovascular disease, diabetes.
Therefore, it is best to avoid when it is F0. You should maintain drinking warm filtered water, drinking water from fresh fruits and vegetables such as citrus juice, coconut water … will increase resistance, quickly recover from illness.
https://afamily.vn/ngoai-chao-tia-to-day-la-4-mon-chao-giup-f0-cat-sot-giai-cam-tang-de-khang-va-nhanh-khoi- beh-jam-rui-ro-hau-covid-19-20220317112016393.chn
You are reading the article
In addition to perilla porridge, here are 4 porridge dishes that help F0 cut fever, increase resistance and recover quickly, and also reduce post-Covid-19 risks.

at
Blogtuan.info
– Source:
Kenh14.Vn
– Read the original article
here