This is a new case admitted to Hung Vuong General Hospital (Phu Tho).
The doctor said that the child was admitted to the hospital with a high fever of 40 degrees, lethargy, prolonged convulsions, cyanosis, 1st degree abdominal burns. The results of the rapid test were positive for the SARS-CoV-2 virus.
Doctors quickly provided emergency care, intubated the child, placed the child on mechanical ventilation and used vasopressors, sedation, and antibiotics. After receiving intensive care, the child has passed a life-threatening stage. After that, the pediatric patient underwent the necessary laboratory tests. Doctors conduct consultations and agree on a diagnosis: Monitoring of encephalitis, meningitis, septic shock, SARS-CoV-2 infection.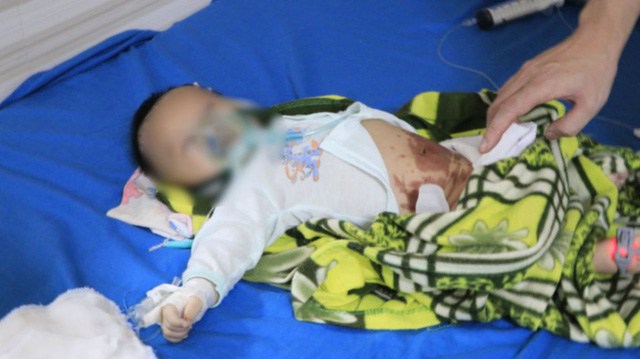 Baby has low fever, stomach blisters after applying garlic to treat COVID-19. Photo: Hung Vuong General Hospital.
According to the division of the family with the medical staff, the child was infected with Covid-19 on the 4th day, had a high fever, and did not eat enough. Because giving a child's fever-reducing medicine didn't help, the family put garlic on the child's stomach to treat Covid-19 and put leaves on the crown to reduce fever. However, the baby's condition worsened, the fever was low, the stomach was blistered, so the family took him to the ER.
The doctor who immediately provided emergency treatment and treatment said that the patient was being treated at the hospital in a very critical condition. Newborns infected with COVID-19 are particularly susceptible to severe changes if not monitored and treated promptly. Currently, the child's condition is more stable and is receiving special treatment
Doctors recommend that when a child is exposed to COVID-19, if the high fever does not respond to fever-reducing medication, parents need to take their child to the hospital for examination and treatment. In addition to febrile seizures, children are susceptible to superinfection with bacteria that cause septic shock, or the SARS-CoV-2 virus itself can attack many organs such as the heart, lungs, nerves… Especially the elderly. Do not use garlic, leaf medicines or drugs others that are not prescribed by doctors to cover or given to children.
Take your child to the hospital as soon as F0 has the following symptoms:
– Continuous high fever unresponsive to antipyretic drugs, seizures due to high fever alone.
– Fast breathing rate.
– Nervousness: tiredness, giving up or unable to eat or drink, irritability, crying, decreased consciousness, difficulty getting up.
– Other signs: profuse diarrhea, vomiting, marked dehydration: sunken eyes, dry lips, crying without tears.
You are reading the article
Newborn baby Phu Tho burns his stomach, in danger when he is covered with garlic to treat COVID-19
at Blogtuan.info – Source: Eva.vn – Read the original article here