Giải trí
Xem ăn chơi
Special with unique taste but very rare, only people with money dare to eat, 600,000 VND/kg
Blue grouper (also known as blue star grouper) belongs to the grouper family, widely distributed in the waters of the Indian Ocean and Pacific Ocean. They live in coral reefs, with an average weight of 1-3kg/head. They have the following characteristics: long body; the eyes are black, between the 2 eye sockets there are small concave scales; dorsal fin with spines; skin with small blue spots extending from the sides of the body to the tail, evenly spaced spots; the most timid of life, will be silent and disappear when it detects danger.
In Vietnam, blue grouper is caught naturally in well-known marine areas such as Con Dao, Phu Quy, Truong Sa… Primarily, they are considered a rare fish species in our country.
In Vietnam, blue grouper is caught naturally in familiar waters such as Con Dao, Phu Quy, Truong Sa…
Tan Truong (35 years, Binh Thuan) – who specializes in the seafood business said: "Live blue grouper is quite expensive, around 590,000 – 600,000 VND/kg, so it is chosen as a menu in a large and luxurious restaurant. Important. Their meat has flavor strange and unique, so it is always the choice of many visitors with money."
The reason why blue star grouper is expensive is because apart from its juicy and chewy flesh, it also contains many important nutrients such as protein, vitamins B2, E, PP, fat and many other substances. Moreover, people who just woke up, thin people and weak people can be fed blue star grouper.
"Blue star grouper is expensive but all parts of it can be made into a unique dish. From the head, tail, bones, skin to the meat is steamed, fried with vegetables…
The head can be used to cook hot pot, the body is steamed or fried with vegetables, and the tail is fried. In particular, grouper meat is white, tender and fragrant, perfect for sashimi. Those who can't eat raw food can steam soy sauce, grill, hot pot, … because the meat is very sweet," said Pak Tan Truong.
Here are some dishes made from blue grouper that often have to be served in restaurants or hotels of the gods:
Steamed green star grouper with ginger and onions
Steamed dishes always have a simple way of processing but help keep the ingredients at their best. The ginger and onions will help the food smell good, the grouper, which is basically sweet with onions, will be tastier and richer in taste.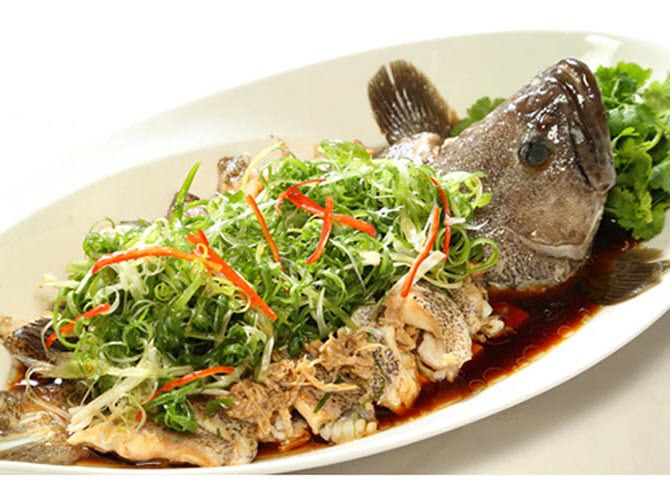 Blue star grouper cooked with sour sauce
This is a very good dish. The grouper is juicy, tough, and the gravy is full of sweet and sour flavors, perfect for summer.
Grilled blue star grouper with lemon butter and foil
If you like rolls, don't miss the grilled green grouper with lemon butter and foil. Grouper meat is sweet by nature, roasting in foil helps to preserve the full flavor of the meat.
When the fish is just cooked, put it on a plate, serve it with raw vegetables, lettuce, tomato, cucumber, … add a little rice paper and a cup of sweet and sour sauce, roll it where you want it to go, the sweetness of the meat mixes with the freshness of the raw vegetables.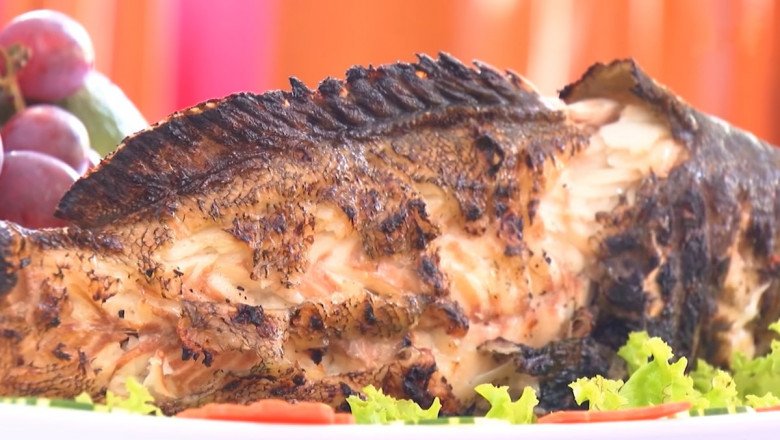 Steamed blue grouper with soy sauce and steamed grouper in Hong Kong
The soy sauce steamed grouper and steamed grouper in Hong Kong will have an attractive aroma typical of soy sauce, especially the soft fish flesh and retain its natural sweet taste. Mixing a cup of spicy sweet and sour fish sauce for dipping fish with raw vegetables and vermicelli is standard.
You are reading the article
Special with unique taste but very rare, only people with money dare to eat, 600,000 VND/kg
at Blogtuan.info – Source: Eva.vn – Read the original article here