Games
"They played like they wanted LSB to have a lesson to remember"
On the afternoon of March 18 (Vietnam time), T1 had an encounter with Liiv SANDBOX within the framework of the last week of the group stage LCK Spring 2022. This is the hinge match before entering the historic battle against DRX. But even so, this encounter is also extremely important because if you lose to LSB, then your chance to make a historic record. Faker and teammates will also disappear. LSB is a weak opponent, but at the moment, they are not under any pressure when the fate of the team in this Spring 2022 has been decided.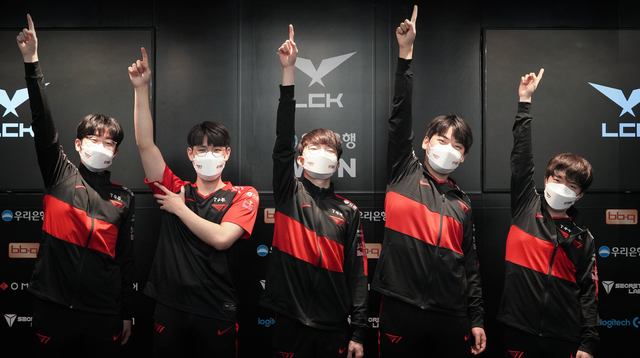 T1 had a tough encounter with LSB
LSB has also proven that they are not at all "easy to eat" as the community predicted before the game League of Legends. Even witnessing T1's sporadic performance in game 1, many people were concerned that Faker and his teammates' record winning streak would be stopped. However, there were no surprises. Faker and his teammates proved that the defeat in game 1 was only due to subjectivity. Through the next 2 games, T1 completely destroyed LSB and continued to raise the unbeaten streak to 17.
Highlights T1 vs LSB – Game 1 _ Week 9 Day 3 _ LCK Spring 2022
Highlights T1 vs LSB – Game 2 _ Week 9 Day 3 _ LCK Spring 2022
Highlights T1 vs LSB – Game 3 _ Week 9 Day 3 _ LCK Spring 2022
Witnessing the two different extremes of the players in game 1 compared to game 2 and 3, the League of Legends community is both excited but equally… chilled. Obviously, T1 was completely out compared to LSB, but they played game 1 in a "blind audience" fashion. And the defeat in that game was like a wake-up call so that in the next 2 games, Faker and his teammates were serious and played overwhelmingly from beginning to end. There is an opinion that, T1 played games 2 and 3 "as if they lost because of LSB's fault".

Every time T1 loses the first game, they play the rest as if they lost because of their opponent's mistake and teach their opponents a lesson they will never forget.

Dove won game 1 so T1 wanted him to have a miserable streak

"How dare you win when we're testing the lineup?"

Typical T1. Play for fun 1 game, lose it and destroy the rest
But there are also many people who pointed out, LSB probably no longer has the motivation, so they are quite… subjective. LSB allows T1 to easily have 3 strong champions on the upper wing while Nautilus is also a champion that Keria uses quite often. Gumayusi also has strong ADCs. This is a big taboo and perhaps because LSB has run out of goals, it is only possible for T1 to be able to "unleash" like that.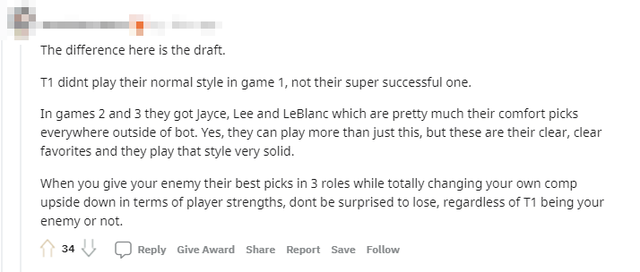 Some comments pointed out that the problem lies in the stage of banning. And T1 can easily destroy the following games thanks to more forehand champions compared to game 1. And it's not too surprising for LSB to let T1 have such good picks.
Anyway, T1's win is completely convincing. Even in game 1, if the Croco, Clozer… don't play too well in the decisive teamfights, chances are the LSB won't even win the game. But the LSB players tried their best and really surprised the "lonely and defeated" T1.
The journey to history for Faker and his teammates is still 1 match away and DRX still has goals to strive for. Therefore, the confrontation between Faker and Deft It will definitely be extremely attractive and T1 will not be as subjective as in game 1 against LSB anymore, because DRX will definitely know how to punish even the smallest mistake of the opponent.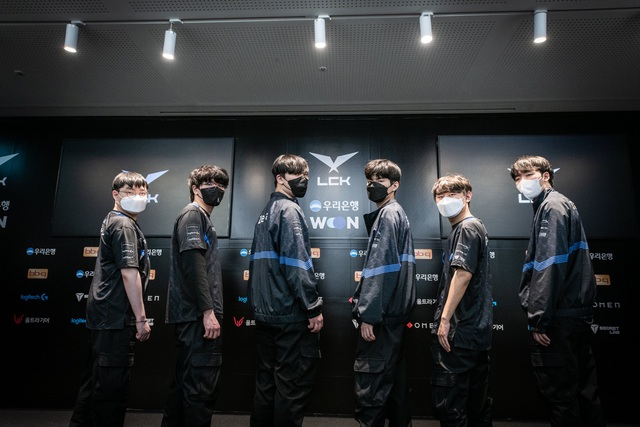 But DRX is not an easy opponent to play when Deft and his teammates still have enough goals to try
You are reading the article
"They played like they wanted LSB to have a lesson to remember"

at
Blogtuan.info
– Source:
gamek.vn
– Read the original article
here