Tech
Borrowing money online, the young girl was scammed 4 times in 2 days, even sent a depraved clip
The girl was cheated 4 times in 2 days
Linh, 25 years old, in Tuyen Quang City, contacted a money lender via Zalo. The lender introduced Hai's name, title is "Appraisal for approval", working at a large bank.
On March 14, Hai asked Linh to send her phone number, take a photo of her citizen's identity card and household registration book for loan procedures. After checking, Hai reported the approved loan was VND 50 million.
"Now it is agreed that I will borrow 50 million VND, pay in 24 months, 2,483,000 VND per month", Hai messaged and asked Linh to pay 1,500,000 VND in loan fees for people with bad debts.
Trusting, Linh sent Hai 1,500,000 VND through the bank, the beneficiary's name is Le Van Tu, in the hope of receiving a loan of 50 million VND soon.
Hai then sent Linh a credit contract, specifying the amount, term, loan purpose and disbursement conditions. According to the contract, the disbursement condition is "the borrower must buy insurance at VND 4,250,000". This insurance amount will be returned along with the loan amount of 50 million.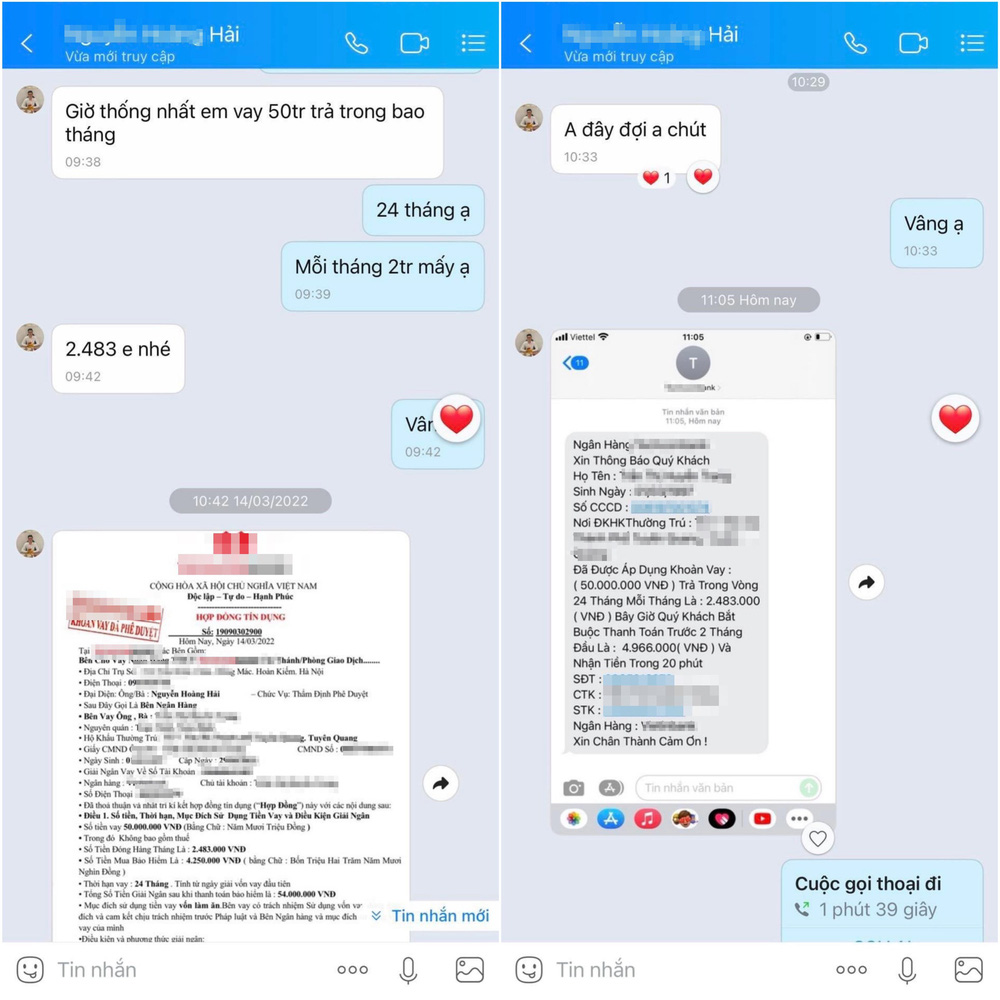 Hai impersonated a banker, sending credit contracts and loan confirmation messages.
Linh at this time began to panic because she did not have money to buy insurance. "I told Mr. Hai to subtract from the disbursement, but he disagreed. He promised to transfer this money back, so I borrowed a little from each of them and transferred to Hai 4,250,000 VND," Linh said.
After that, Linh received a message containing the OTP code and a call from the "banker", checking the personal information to see if it matches or not. The "banker" said that Linh has a bad debt of 5,900,000 VND, as long as Linh transfers 5,100,000 VND, it will support bad debt cancellation, convenient for disbursement.
Linh continued to send VND 5,100,000 to an account number named Le Van Tu. But she has not yet been disbursed. The "bank side" continued to send a message, asking "to make payment in advance for the first 2 months, the amount of 4,966,000 VND. Payment will be disbursed after 20 minutes.
"Hai said this money to make sure he could afford to pay. Two months after the disbursement, the new payment must be continued. He made sure to pay this time and finish it, no more. If the money is not disbursed, he promises to return it all with honor," Linh said.
The girl from Tuyen Quang continued to send Hai 4,966,000 VND. But after moving, she called Hai and didn't answer, texted and didn't answer. Linh expressed frustration, threatened to report to the police, he sent 2 clips with depraved content. Up to now, he has locked the account, Linh lost nearly 16 million after being cheated 4 times.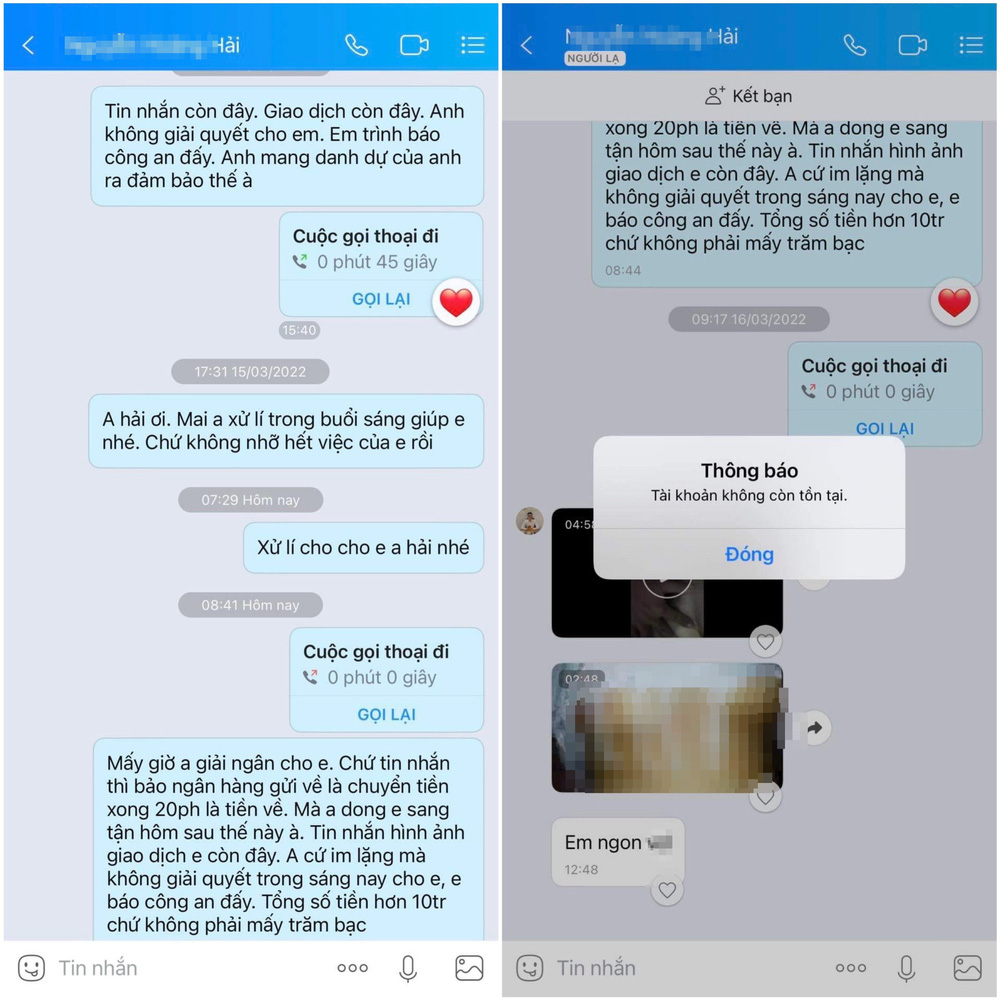 Hai, after receiving the money, did not reply to messages, sent Linh a depraved clip and then locked the account.
Losing 400 million because of borrowing 40 million online
Police of Long An province on March 13 informed about the case of a woman named N. (in Long Cang commune, Can Duoc district, Long An province) borrowed money online and was scammed 400 million VND.
According to the investigation, the fraudsters posted on social media articles about lending money without collateral, with a link. Ms. N. access this link and leave a contact phone number. After that, a person claiming to be a customer service officer appraised the application of the loan support company ECB LTD to advise and guide to make a loan application for the amount of 40 million VND.
After the application was approved, this person asked Ms. N. to provide her personal account number and forced her to advance 10% of the loan amount (4 million VND) to the company's account. As promised, when disbursing, the above amount will be repaid together with the borrowed amount.
When Ms. N. requested to be disbursed, the "document appraisal officer" gave reasons such as: providing incorrect account information, wrong ID number; SMS transfer syntax incorrect; money transfer to the wrong account number specified in the transaction of the day; frozen account; improve the reliability of customer accounts and lost records, to request Ms. N. to transfer in advance the amount of 20 million dong, 40 million dong, 79 million dong, 129 million dong, respectively. After Ms. N. transferred the money, the scammer cut off all contact.
On March 3, Ms. N. had transferred more than 400 million VND to her bank account following the instructions of the scammer.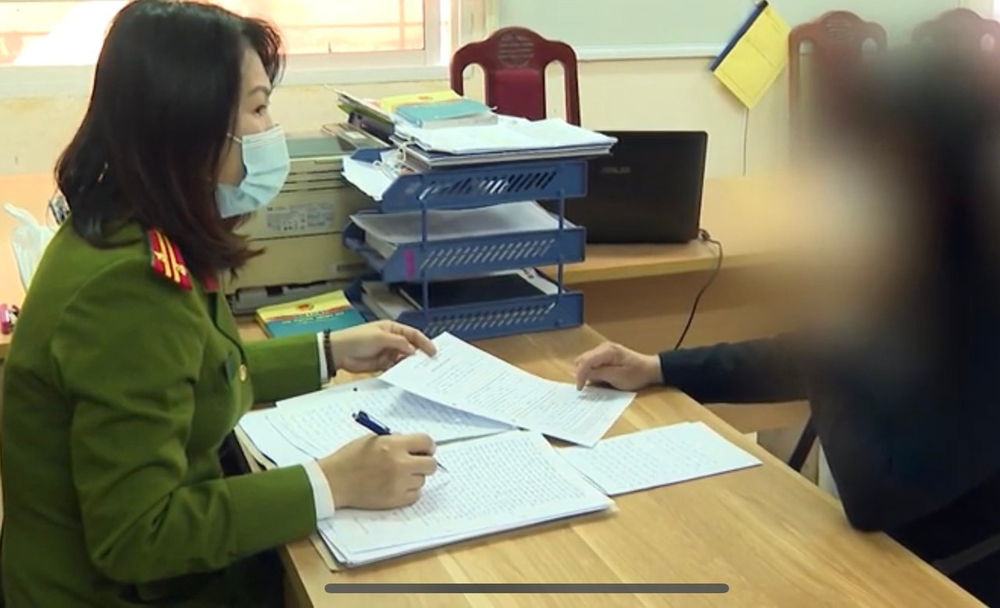 People go to the police station to report after being scammed online. Photo: Hanoi City Police.
With this trick, Mr. H. (29 years old, in Ha Dong district, Hanoi) was also scammed 65 million dong. Information from Ha Dong District Police said that on March 11, the police of this district received a report from Mr. H. about having registered for an online loan of 30 million VND.
After completing all the procedures, Mr. H. was requested to pay a bank guarantee fee by a person requesting a money transfer to be able to disburse the loan. After that, Mr. H. transferred about 65 million VND to the account provided by this person but did not receive the loan.
They asked him to continue transferring 50 million dong, citing the wrong registration of the withdrawal account. At this time, Mr. H. knew that he had been cheated and went to the police station to report. Currently, Ha Dong District Police are coordinating with functional agencies to verify and investigate the above scam.
Exposing the "trap" of fraud
Regarding this behavior, the Hanoi City Police said that the offers to borrow money with quick procedures, only need to pay a guarantee fee for disbursement, could be a "trap" of scammers. If there is a need to borrow money, people should learn carefully and go directly to the headquarters and branches of banks for advice and instructions on loan procedures to protect their interests before the law.
The Hanoi Police Department recommends that people be wary of the types of advertising that are advertised as quick and easy loans, disbursed within the day through social networking sites.
In order not to fall into scams, people need to be wary of strange phone numbers, especially foreign numbers. Absolutely do not provide personal information to any organization or individual without knowing who they are and for what purposes. Do not access the links attached in the content of strange messages, do not perform operations on the phone according to the syntax instructed by strangers.
In addition, people should not make money transfer requests through messages of social networking sites, including relatives and friends. Absolutely do not give OTP codes to others, do not believe in online reward tricks with requests to recharge via phone card or transfer money via bank account.
When the account suddenly receives a "mistakenly transferred" amount, it is not allowed to use that money, only contact the bank to solve it.
How to handle if cheated?
Lawyer Tran Tuan Anh, Director of Minh Bach Law Firm, said that such scams have appeared in the past few years. Although there have been warnings, but so far, many people are still in the situation of losing money.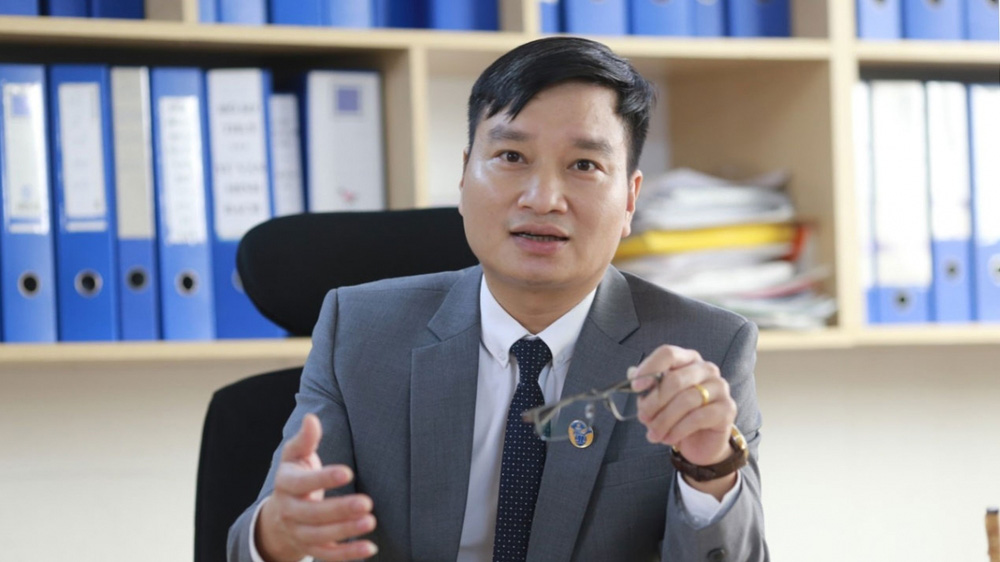 Lawyer Tran Tuan Anh, Minh Bach Law Firm.
After that, the victim immediately reports to the nearest commune/ward/township or district-level police office to investigate, verify, clarify and protect his/her interests.
At the same time, the victim can request the bank or financial institution to cooperate with the police agency to investigate, verify, and help the victim quickly recover the appropriated money.
To prevent being cheated, people need to filter information about loans from official channels. Usually, the official websites of financial institutions, banks are registered domain names (.vn) or (.com.vn). And other registration websites like (.vip), (.top), (.cc), (.com-xxx)… are all fake.
When in need of a loan, people should contact the nearest bank branch where they reside to do loan procedures, absolutely do not work with people claiming to be bank employees through Facebook, Zalo or websites.
When being offered an online loan service, you should carefully check and verify the websites and applications (apps) in the messages that users receive, including brand messages, messages from different numbers. short; absolutely do not access websites, applications of unclear origin and content.
*The victim's name has been changed
https://soha.vn/vay-tien-qua-mang-co-gai-tre-bi-lua-4-lan-trong-2-ngay-con-bi-gui-ca-clip-doi-truy- 20220319012143087.htm
https://cafebiz.vn/vay-tien-qua-mang-co-gai-tre-bi-lua-4-lan-trong-2-ngay-con-bi-gui-ca-clip-doi-truy- 2022031990408297.chn
You are reading the article
Borrowing money online, the young girl was scammed 4 times in 2 days, even sent a depraved clip

at
Blogtuan.info
– Source:
genk.vn
– Read the original article
here