Giải trí
Can COVID-19 re-infected with the second drug Molnupiravir? -Life Health
Molnupiravir is a drug widely used in the treatment of COVID-19. The first F0 can use Molnupiravir, so can the second F0 continue to use it?
Molnupiravir is considered a specific drug COVID-19 most commonly used today. The Ministry of Health warns that not all positive cases with SARS-CoV-2 are allowed to use Molnupiravir. So those who can use Molnupiravir as prescribed can use Molnupiravir for the 2nd time and many times after if unfortunately re-infection or not?
The effect of molnupiravir
Molnupiravir is a drug capable of inhibiting and preventing the replication and growth of the SARS-CoV-2 virus. This is also a drug that has been approved by the US Food and Drug Administration (FDA) for emergency use to treat mild to moderate COVID-19 in adults.
As a specific antiviral drug, the Ministry of Health stipulates that only 800mg of Molnupiravir can be taken every 12 hours for 5 days. Absolutely do not use Molnupiravir as a preventive medicine before and after infection. Only use Molnupiravir when prescribed by medical institutions or qualified doctors based on the actual condition of each case.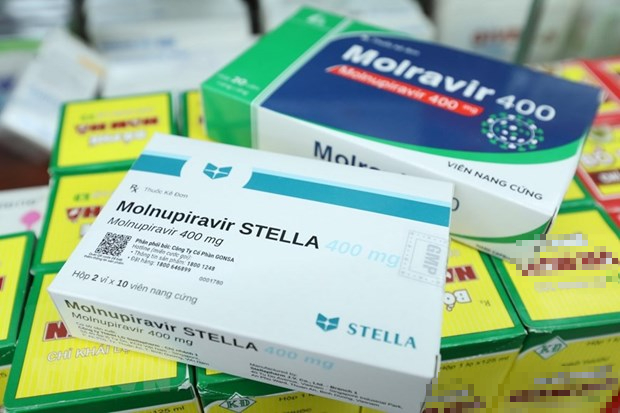 Molnupiravir drug to treat COVID-19 is manufactured in Vietnam.
Can I continue to use Molnupiravir for COVID-19 reinfection? This is a question that has received a lot of attention recently.
To answer people's questions, Assoc. Prof. Dr. Do Van Dung – Dean of the Faculty of Public Health, University of Medicine and Pharmacy in Ho Chi Minh City, said that the recent re-infection of COVID-19 (within 60 days) is very rare and the use of molnupiravir in subsequent reinfection is quite possible.
The use of Molnupiravir in distant reinfections does not cause adverse effects on the body. However, when using the drug for 5 consecutive days, we should stop taking it because most of the virus has been destroyed by this time, and the body has also created antibodies to completely destroy the remaining virus in the body. body.
To achieve the best treatment effect of COVID-19, we should use Molnupiravir as soon as the test is positive and there are symptoms, it does not matter whether it is positive in the morning or afternoon, when full or hungry.
What should I do if I take the full dose of Molnupiravir but still be positive?
As recommended, Molnupiravir should not be used for more than 5 consecutive days. But in fact, there are many cases of COVID-19 infection who have used full-dose special drugs, but PCR test results are still positive.
Assoc. Prof. Dr. Do Van Dung said that patients should not worry or look for other drugs to replace Molnupiravir because when using the full dose of Molnupiravir, it means that their body will lose weight. patient got the best treatment and the body was able to produce natural antibodies to destroy the remaining virus in the body.
There have been studies of the use of Molnupiravir but still positive for COVID-19, the results showed that the viruses when given for culture were not viable. It means that Molnupiravir can kill and inhibit the growth of viruses and what is left is only their corpses.
You are reading the article
Can COVID-19 re-infected with the second drug Molnupiravir? -Life Health

at
Blogtuan.info
– Source:
24h.com.vn
– Read the original article
here