Life Style
COVID-19 may "create conditions" to cause epidemics in the near future
Talking to Tien Phong, Assoc. Prof. Dr. Tran Dac Phu, former Director of Preventive Medicine Department (Ministry of Health) said: "Group A infectious diseases include particularly dangerous infectious diseases with the ability to spread very quickly and spread widely, with high mortality rates or unknown pathogens. With this group of diseases will require total medical isolation.
Regarding control of exit and entry into epidemic areas, the Ministry of Health stipulates: restricting entry and exit to epidemic areas for people and vehicles; necessary cases for medical examination, supervision and treatment. It is forbidden to bring out of the epidemic area articles, animals, plants, food and other goods capable of transmitting the disease.
When detecting the environment with infectious agents of group A, people suffering from group A infectious diseases, people suspected of having group A infectious diseases, carriers of group A infectious diseases, medical facilities Health authorities must notify competent state agencies in charge of health and implement cleaning, disinfection, sterilization and other measures to prevent and control infectious diseases.
If a person infected with an infectious disease or suspected of having a group A infectious disease dies, the body must be disinfected and buried within 24 hours. Persons suffering from group A infectious diseases immediately after being discharged from the hospital must register for health monitoring with the health department of the commune, ward or township where they reside.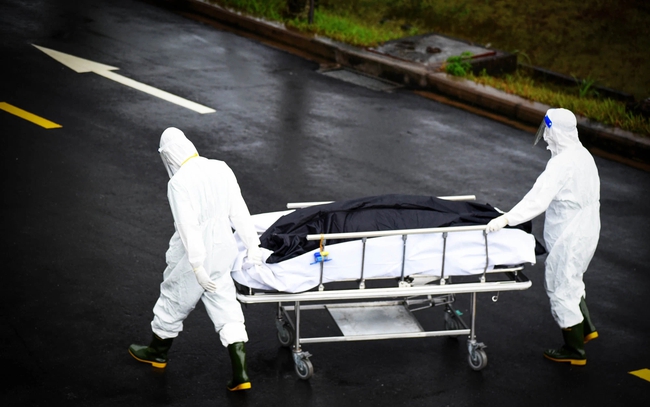 Group B infectious diseases include Zika virus disease, adenovirus disease; viral disease that causes acquired immunodeficiency syndrome (HIV/AIDS); diphtheria; flu; rabies; whooping cough; tuberculosis; swine streptococcal disease in humans; Amibe dysentery; bacillus dysentery; mumps; dengue fever (Dengue), dengue hemorrhagic fever (Dengue); malaria; typhus; Measles; HFMD; anthrax; chicken pot; typhoid fever; tetanus; Rubeon's disease (Rubeon); viral hepatitis; meningococcal disease; viral encephalitis; spirochete jaundice; diarrhea caused by rotavirus.
Assoc.Prof.Dr. Phu assessed: "The resolution making such a point is very right and reasonable… We need to study and base on the epidemic situation as well as the ability to respond in both science and practice to build a develop a plan to convert group A diseases to B in order to both control the epidemic and restore the economy, and ensure social security on the basis of putting people's health and life first."
Mr. Phu also emphasized that when changing disease groups, it must be formed together with responsive policies to ensure both economic development, disease control, and social security for the people. are the poor, the vulnerable group.
According to Mr. Phu, the development of the roadmap needs the participation of many ministries, not only the Ministry of Health. Therefore, it is necessary to establish research groups with the participation of sectors and levels, especially the Ministry of Health and the Ministry of Finance.
"The Ministry of Health researches on epidemics, while sectors and levels must jointly study policies. Research and policies need to be closely related to each locality because each province has different economic conditions and responses. The Ministry of Health alone cannot do it."
Mr. Phu further analyzed: "When moving to group B disease, which is considered a seasonal flu, the health sector does not announce the number of daily cases anymore, just like influenza, it only monitors, not records daily cases, at the same time. Not testing as much as we're doing with COVID-19 right now."
COVID-19 is still a worrisome disease for young children
Sharing the same opinion with Dr. Phu, Assoc. Prof. Dr. Tran Minh Dien said: "Switching the disease group from A to B is related to the number of cases and deaths, if the rate is still high, the level is still dangerous. For young children, the rate of serious illness and hospitalization is low. In lower-level units, doctors are often worried that they should hospitalize many children, but in fact, according to the hospital admission standards that are applied by other countries, there must be injuries and treatment interventions by doctors. Currently, some provinces in our country are still concerned, so they send children to the hospital a lot."
At the National Children's Hospital, about 300-400 children are examined but only 2 or 3 children are admitted to the hospital.
"Currently, the second floor of the treatment area does not actually wait for the child to be negative, as long as the child has a high fever but the child responds to fever-reducing drugs, it is better to send the child home for monitoring and care," advised Dr. .
Compared with other infectious diseases in young children, Dr. Dien said that at the moment, COVID-19 is still a worrisome disease, so it cannot be transferred to group B. The reason is that there is currently no vaccine for young children. Especially children under 11 years old. Next, the incidence rate is still very high, there are still children dying related to the disease. Local health systems must be ready, have COVID-19 treatment units, have careful admission standards to be able to meet medical supplies well.
According to Vanguard
You are reading the article
COVID-19 may "create conditions" to cause epidemics in the near future

at
Blogtuan.info
– Source:
Afamily.vn
– Read the original article
here