Business
Dai Lu traditional vermicelli village survives over time
Delicious, hot noodles have just been brought out from the steamer (Photo: BHT).
About 20km north of Ha Tinh city center, we are present in Dai Lu traditional noodle making village. Visiting the house of Mrs. Dang Thi Lam (64 years old, Dai Lu village) with 46 years of experience in the profession, it was also the afternoon when Mrs. Lam had just returned from making vermicelli, she said:
"Because I was born in a vermicelli village, when I was young, I was exposed to the noodle making scene often, so when I was 17 years old, I started making vermicelli. Listening to the elders in the village, the traditional vermicelli making profession in the village existed. hundreds of years ago. Thanks to making vermicelli, my life is stable, my income is good, my children are successful in school, thanks to the job of making vermicelli."
Lam said that in order to make delicious noodles, it is impossible to ignore the selection of rice and the process of making the finished product. Rice selection is also very careful, the rice selected must be Xuan Mai rice, delicious, white rice, but flexible rice cannot do it. Rice is imported from Nghi Xuan district, Ky Anh district.
The first stage to make the finished product is that the rice is washed with water and then soaked in water for a day to help the rice expand, so that when grinding the flour, it will be smooth, not big and hard. After the rice is soaked, it is taken out to drain and then put in a blender to grind it into a powder. At this time, the rice water is used by people to raise cows and pigs. Next, the dough is loosely dried, then taken to a flour filter and steamed to produce delicious noodles.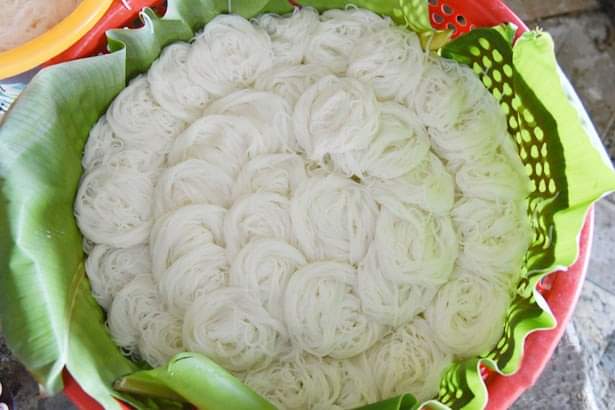 Noodles are neatly arranged for consumption (Photo: BHT).
The production of vermicelli is almost handmade, so when it comes to making it, there are no obstacles for the people here, anyone can do it. Noodles are mainly vermicelli and vermicelli; In particular, vermicelli, to make fresh vermicelli into vermicelli requires skillful hands, to shape the vermicelli into a circle. Because it takes ingenuity to make vermicelli that is both beautiful and delicious, it is mainly women who make vermicelli.
According to research, Dai Lu traditional vermicelli making was very developed in the past, almost all households in the village earn their livelihood by making vermicelli. Over time, noodle making is not as flourishing as before. But now, many households still cling to other occupations to earn extra income, they want to keep the culture that their fathers have left behind for many generations.
Products of the craft village are cleaned to ensure safety and hygiene, both delicious and of good quality, so the consumption of vermicelli to the market is very convenient and used by many places. Vermicelli is now consumed inside and outside the village; mainly markets in Loc Ha, Can Loc, Ha Tinh city… Besides, it also supplies a number of shops, restaurants doing business in the province.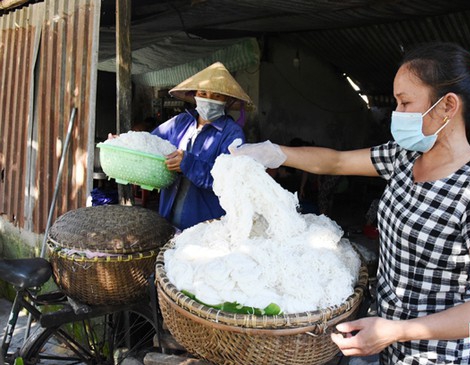 People are happy when they finish making vermicelli early, in time for the afternoon market trip (Photo: BHT).
According to Ms. Nguyen Thi Thu (58 years old, Dai Lu), who has 40 years of experience in making vermicelli, on average, she earns about 300,000 VND per day. The selling price in the market falls from 10,000 VND – 15,000 VND / kg, a month excluding expenses, the income is about 5,000,000 VND.
"If you want to sell all the vermicelli, you have to get up very early every morning to sell vermicelli in time, whether it's summer or winter. Besides, going to sell by bicycle, going early and coming back late is inevitable for everyone. But in return, the investment capital is small, creating a stable income, so there are still many households who are following the profession."Ms. Thu added.
Especially, most of the people here are still using bicycles to consume noodles like in the old days. In order to shorten the time and effort when bringing vermicelli to distant places, very few people in the craft village have switched to using motorbikes for transportation.
"In the past, I used a bicycle to sell noodles at rural markets in Can Loc district, because the road is too far, now I have switched to using a motorbike to facilitate selling vermicelli and importing vermicelli. at restaurants… Dai Lu vermicelli is delicious, flexible, and of good quality, so it sells out very quickly." Ms. Tran Thi Lai (45 years old, Dai Lu village) shared.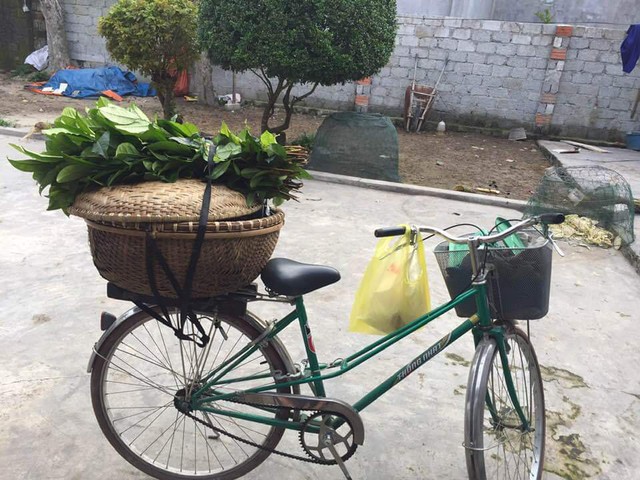 A traditional bicycle, followed by a basket of vermicelli when going to the market of people (Photo: Vu).
According to research, currently in the village, there are 60 households engaged in the production of vermicelli, the number of people involved in activities in the profession is 103 people. However, the number of households participating in making vermicelli is not as busy as before, but the households in the traditional village of Dai Lu making vermicelli are still working hard every day to preserve the village's traditional identity so as not to be lost. one. Besides, constantly developing to improve the quality and position of the noodle village in the market.
With the long-standing formation of the vermicelli village, besides the contribution and preservation to the development of the craft village of the people here. Recently, the village was honored to be recognized by the People's Committee of Ha Tinh province as a traditional village of making vermicelli on October 29, 2021.
https://cafebiz.vn/lang-bun-truyen-thong-dai-lu-ton-tai-theo-thoi-gian-20220318124759025.chn
By Business and Marketing
You are reading the article
Dai Lu traditional vermicelli village survives over time

at
Blogtuan.info
– Source:
cafebiz.vn
– Read the original article
here