Sức Khỏe
How will Vietnam fight the epidemic if Covid-19 is no longer particularly dangerous?
According to experts, when switching to group B infectious diseases, measures to respond to the Covid-19 epidemic will change a lot, from surveillance, case management, testing, etc.
On March 17, the Government issued a Resolution on the Covid-19 epidemic prevention and control program. In particular, it said that it will study, evaluate and base on the epidemic situation to switch measures to prevent and control the Covid-19 epidemic from a group A infectious disease to a group B infectious disease.
According to the Law on Prevention and Control of Infectious Diseases, group B infectious diseases are dangerous diseases, capable of spreading quickly and causing death. Currently on this list are diseases such as HIV, adenovirus disease, diphtheria, Denge hemorrhagic fever, influenza, rabies, whooping cough, etc.
Meanwhile, group A infectious diseases include particularly dangerous diseases with the ability to spread very quickly and spread widely, with high mortality rates or unknown pathogens.
In addition to Covid-19, group A infectious diseases include polio; influenza A-H5N1; plague; smallpox; Ebola, Lassa or Marburg viral hemorrhagic fever; West Nile fever, yellow fever; Cholera; Severe acute respiratory infections caused by viruses and new dangerous infectious diseases with unknown causative agents.
Thus, if it turns to a group B infectious disease, Covid-19 will turn from a particularly dangerous disease to a dangerous one.
Exchange with VietNamNetAssoc. Prof. Dr. Tran Dac Phu, former Director of the Department of Preventive Medicine (Ministry of Health), Senior Advisor of the Center for Emergency Response to Public Health Events of Vietnam, expressed his views, to switch from infectious diseases group A to group B infectious disease, it should be based on many factors.
Firstly, how is the epidemic situation in reality; How contagious is the circulating virus strain, causing serious illness; To what extent are the effectiveness of treatment drugs and vaccines available? The second is Vietnam's responsiveness, including the ability to control the epidemic and the responsiveness of the health system as well as financial issues.
"Based on the epidemic situation and the response level of Vietnam, both from the scientific and practical arguments, a decision can be made to switch from a group A infectious disease to a group B infectious disease.
When moving, it must be formed together with responsive policies to ensure both economic development, disease control, and social security for people, especially the poor and vulnerable groups. For example, there is a policy on expenses for medical examination and vaccination for the poor", emphasized Assoc. Phu.
Mr. Phu also said that when doing research, it is necessary to establish research groups with the participation of sectors and levels, especially the Ministry of Health and the Ministry of Finance. The Ministry of Health studies epidemics, while other sectors and levels must study policies together. Research and policies need to be closely related to each locality because each province has different economic conditions and responses.
According to Assoc. Prof. Dr. Tran Dac Phu, when switching to group B infectious diseases, the measures to cope with the epidemic will change a lot, from monitoring, case management, testing, etc.
"For example, for seasonal flu, we are still monitoring but not reporting daily cases. The monitoring is only "points" for the epidemiological unit to understand, from which to calculate and evaluate the situation. We also don't test as widely as we do with Covid-19 today," Phu said.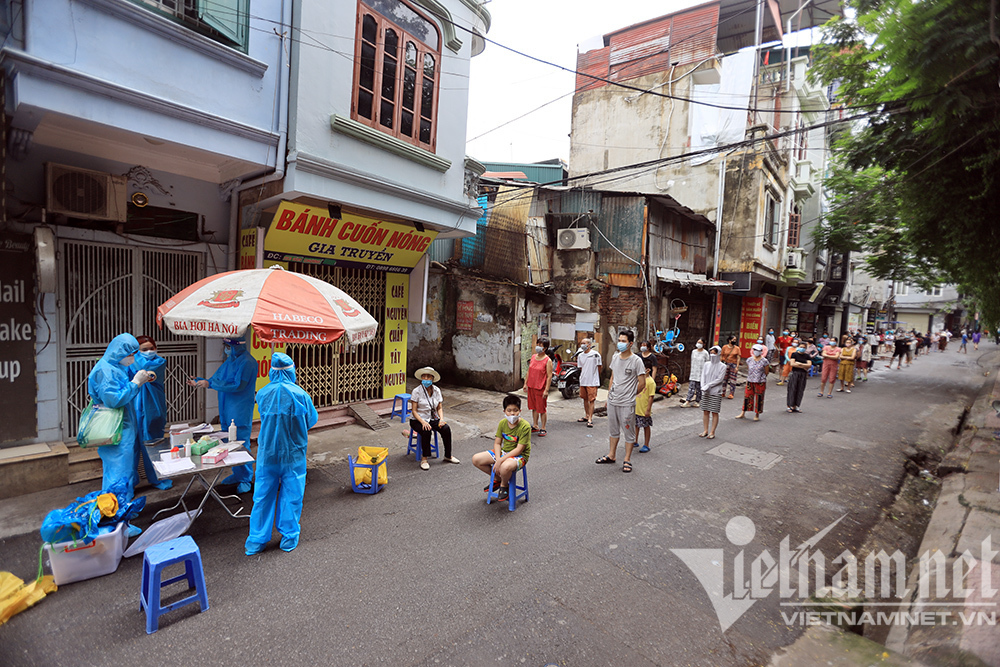 Large-scale Covid-19 test in a neighborhood in Hanoi, photo taken in August 2021 – Photo: Pham Hai
TS.BS Pham Hung Van, chairman of the Ho Chi Minh City Joint Branch of Clinical Microbiology Association, said that he fully supports Vietnam's research to remove Covid-19 from the list of group A infectious diseases and switch to group B. .
"It's okay for people to worry too much, but it's also okay to belittle it. Covid-19 is still a dangerous disease, still spreading quickly and causing death, but not as dangerous anymore. I completely agree that Covid-19 should be removed from the list of particularly dangerous diseases as soon as possible."
According to Dr. Pham Hung Van, at this point, Covid-19 is no longer the cause of society having to shut down everything, especially economic development. He said that Australia and some countries did not consider Covid-19 to be particularly dangerous. At the same time, there are many economic and social opening-up policies as well as epidemic prevention policies.
Meanwhile, MSc Do Cao Van Anh, Pham Ngoc Thach University of Medicine, informed that Vietnamese and international scientists are still wary of monitoring variations of SARS-CoV-2 even though this disease is a group. A or group B.
"We continue to monitor whether the virus has added new variants, because if so, it is often accompanied by a change in the clinical picture of the disease. From an expert and scientific perspective, we will have a disease surveillance system that cannot let go of Covid-19 completely. In parallel, managers will study policies for economic development and social stability.
Van Anh added, at this point, Vietnam is more secure in dealing with Covid-19, because there is a vaccine and adequate treatment medicine.
According to TS.BS Pham Hung Van, when Covid-19 is mainly a mild disease, it can be considered as a circulating disease like many other diseases such as common cold, seasonal flu, etc. At that time, even though there are no more measures, epidemic prevention as before, but the solution of vaccinating every year needs to be maintained. Vaccination is given every year to keep up with the virus's evolution with new strains.
He emphasized, no matter what, each person needs to protect themselves and their families against the new wave of Covid-19 epidemic.
Most importantly, if you haven't been vaccinated, you need to get two shots to get immunity and avoid a cytokine storm when you have Covid-19. People need to avoid getting sick and spreading the disease. This requires maintaining a mask and washing hands, avoiding mass gatherings if not necessary, and avoiding contact yourself if you are infected.
In case of Covid-19 infection, patients should improve their health through nutrition and should only take antiviral or anticoagulant drugs as indicated. In addition, solutions such as masks and protective gear increase waste into the environment, so it is necessary to pay attention to environmental protection.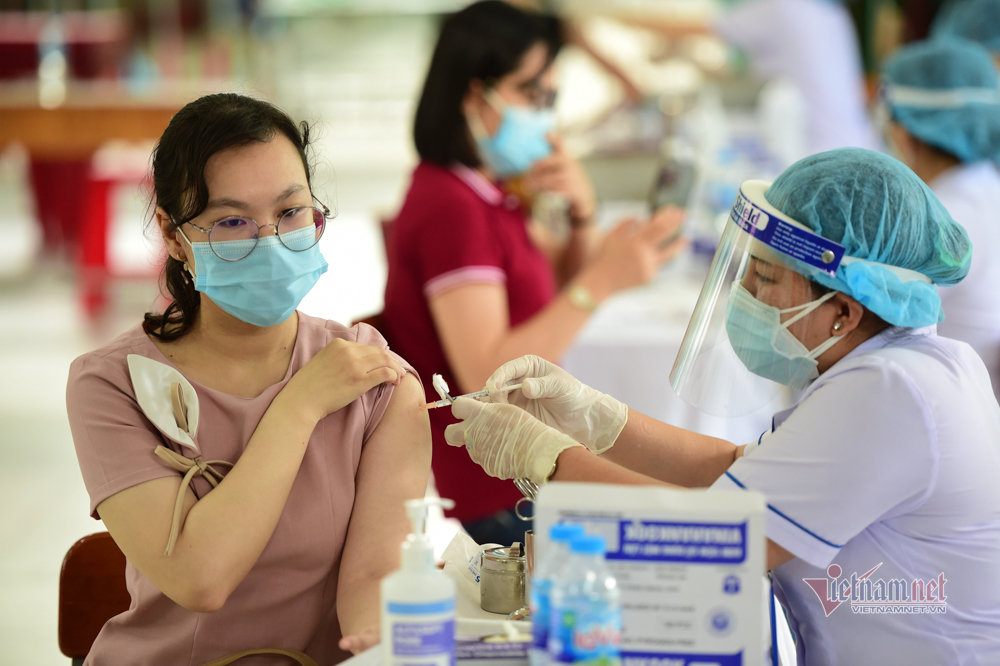 Covid-19 vaccination for people in Ho Chi Minh City – Photo: Thanh Tung
The Covid-19 prevention program promulgated by the Government on March 17 outlines the policy of fighting the Covid-19 epidemic according to the method of risk management. However, units need to be ready for scenarios for all situations, even when the epidemic breaks out on a large scale, exceeding the capacity of the health system; situations with new strains are more dangerous.
The specific goal is to ensure the coverage of Covid-19 vaccine: by the end of the first quarter of 2022, complete the 2nd injection for people aged 12 to under 18 years old, the 3rd dose for people aged 18 years old. above; ensure adequate vaccines and complete vaccination for children from 5 years old to under 12 years old by September 2022.
Regarding the control of the spread of the Covid-19 epidemic, the goal is for all levels of government to have a scenario for the prevention and control of the Covid-19 epidemic; all people comply with appropriate epidemic prevention and control measures; all agencies, organizations and enterprises carry out the infection risk assessment and update and report the assessment results.
Have a flexible surveillance and detection strategy for SARS-CoV-2 infections, suitable to the epidemic situation in each period; reduce the Covid-19 death rate per million population to a level lower than the Asian average.
Improve the capacity of the health system, especially preventive medicine and grassroots health; to increase investment in medical facilities' equipment and facilities, to have appropriate remuneration policies and regimes for those in charge of preventive medicine and grassroots health care; enhancing the quality of first aid and active resuscitation at medical examination and treatment establishments at all levels.
All vulnerable groups such as the elderly, people with underlying medical conditions, people with disabilities, pregnant women, helpless people, orphans, ethnic minorities, and migrant workers in urban areas… all have access to health services.
Linh Giao – Nguyen Lien
You are reading the article
How will Vietnam fight the epidemic if Covid-19 is no longer particularly dangerous?

at
Blogtuan.info
– Source:
vietnamnet.vn
– Read the original article
here