The old man picked up the bottle and the little dog
On a corner of Hung Vuong and Ngo Gia Tu streets (HCMC), passers-by often encounter an elderly man with a small stature, tan skin, deep eye sockets and always a smile on his lips when Stop to pat, talk to the little dog.
Every day, from early morning until late at night, the old man and his pet dog roamed around picking up bottles and ticks all over the streets of Hung Vuong, Hong Bang, Ngo Gia Tu… (District 10).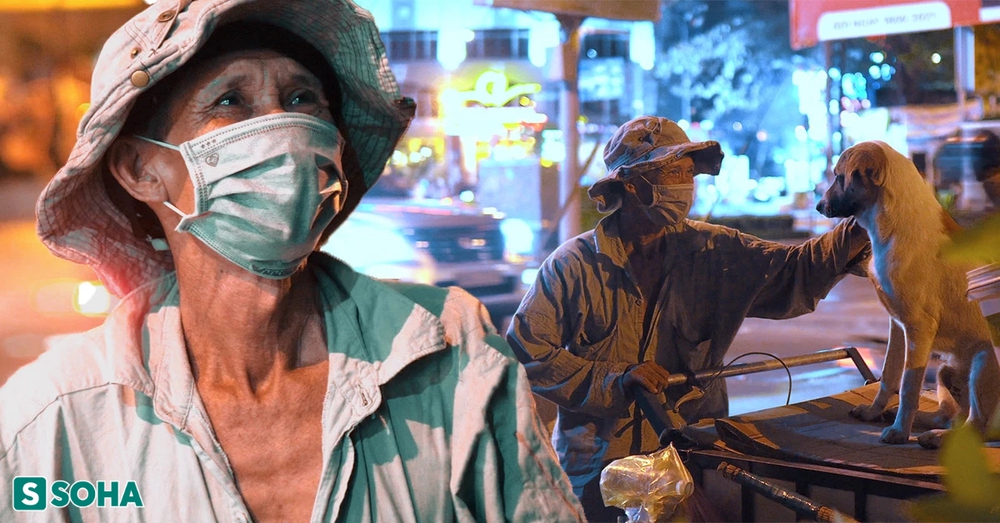 The old man picked up the bottle and caressed his dog.
When asked to know, his name is Nguyen Hoang (66 years old) working as a collector of bottles. The dog was adopted by him during the recent Covid-19 epidemic. The old man took care of that dog from the day it was small, black and abandoned by people on the side of the road.
Mr. Hoang recounted, when he was young, he also had a wife and children, but then the marriage broke down so no one was around. His son is 43 years old this year, but his situation is not good, he has to live on social allowances and the benefactor's philanthropy.
23 years ago, the old man picked up the bottle and went down to Ben Luc to find his son, but only received a cold statement. "It told me never to come back, so I didn't come," he said. Therefore, until now, Mr. Hoang has no news about his children.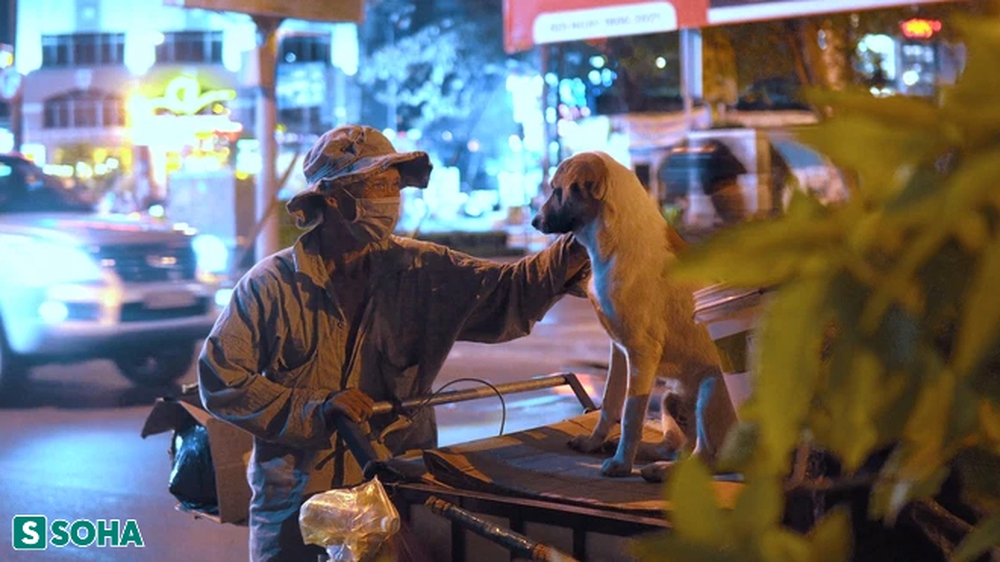 Mr. Nguyen Hoang takes care of the small dog.
Living alone in a foreign land and then getting used to it, he choked up when he saw people his age having fun with his children and grandchildren. The miserable life made his father and son like strangers in life.
At the age of 66, Mr. Nguyen Hoang looks older than his peers because of the fine lines and wrinkles on his dark face. With no home, no children, he wandered along the streets of Saigon to make a living. At night, he curled up to sleep in front of a certain restaurant, rain or shine, only the awning covered his head.
Sometimes you have to eat less to give the dog rice
Mr. Dinh Trung, who accidentally knew about his situation, was very touched. He said: "I met the old man on Hung Vuong Street, District 5 on a weekend evening. The old man pushed the cart to pick up the bottles, and in the car was a pet dog lying obediently."
Mr. Hoang said: "During the epidemic, people were afraid of getting infected and did not dare to keep dogs, so they took them away. I feel so bad that I want to adopt. At that time, he still drank milk, when I came back, I cooked rice and meat for him to eat."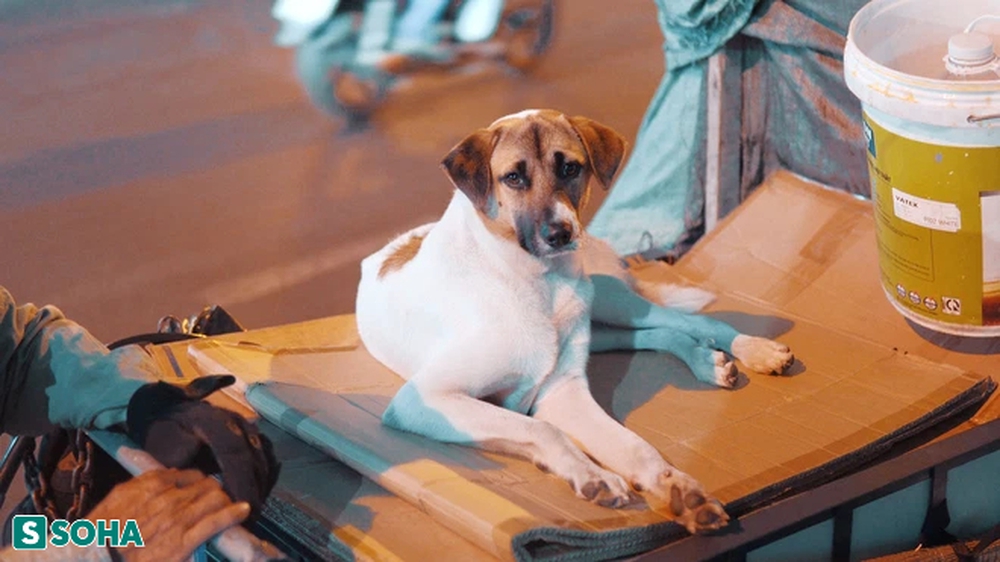 The old man picked up the bottle and raised the dog he picked up on the street from an early age until he became a close friend, protecting him on the street.
Mr. Hoang said that he himself was still very poor, so raising an extra mouth to eat was sometimes too much. Sometimes he had to eat less to make room for the dog. Hoang said while looking at the dog attentively: "It is very hard to raise it, but if it happens, try to keep it. Having him with you also makes me less sad."
One day, he collected quite a bit, one day he didn't sell much, but having a companion dog also made him feel a little less miserable. "Looking at it, it's not very smart, if anyone comes close and pats me on the shoulder, it barks immediately, because it's afraid of people hitting me," Hoang shared.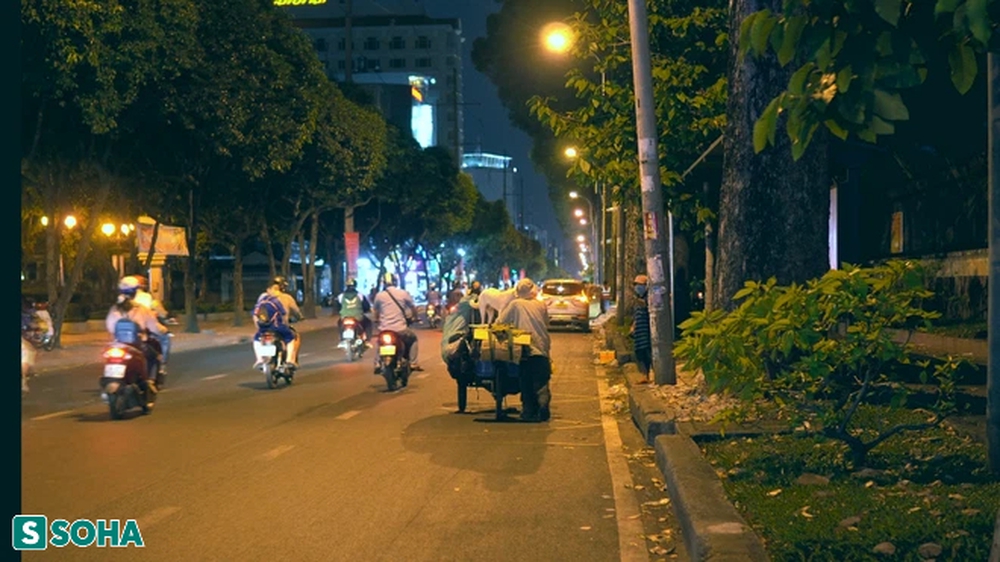 Mr. Nguyen Hoang always has a small dog as a companion on every road.
After a hard day, Mr. Nguyen Hoang and his pet dog roamed back to the porch of a large garment company in District 6. Mr. Hoang said: "That place is the company's porch, so it's sure to rain and wind. Even adults are not afraid of getting wet."
At night, two small shadows are imprinted on the road, quietly relying on each other to live amidst the chaos of worries. The small dog is like a soul mate, the shield of peace is always present in the life of the poor old man who picks up bottles.
https://soha.vn/xuc-dong-hinh-anh-ong-lao-nhat-ve-chai-cung-chu-cho-nho-rong-ruoi-khap-neo-duong-sai-gon-20220318023924795. htm
You are reading the article
Old age is only a dog as a friend

at
Blogtuan.info
– Source:
Soha.vn
– Read the original article
here