In northern Italy, supermarkets have run out of pasta. Pharmacies in Norway are also "out of stock" of iodine pills. In Germany, trade associations are warning about Hamsterkäufe panic shopping.
Sabrina Di Leto, 50, from Lecco, north of Milan, said: "I bought 20 packs of pasta and a few kilos of flour last week to prepare for the prospect of any shortage of goods." She added: "We are also considering growing vegetables, raising chickens in the backyard in case the conflict becomes more intense and the food supply is scarce."
Consumers have learned a "lesson" about the supply chain after witnessing the impact of the epidemic on global trade. Now, they are worried because of the prospect of a possible cold war and conflict in Ukraine – which is considered the "breadbasket" of Europe.
Russia and Ukraine are important global suppliers of wheat, as well as sunflower, rapeseed, flaxseed and soybeans used to make cooking oil and animal feed. Half of the world's sunflower oil exports come from Ukraine and 21% from Russia.
According to the Association of the Oilseed Processing Industry in Germany, almost 90% of flaxseeds processed in the EU are imported. The conflict in Ukraine is likely to cause shortages of cooking oil and animal feed, they added, which are difficult to replace in the short term.
The prices of bread, pasta and meat in Italy are skyrocketing. The country imports most of its wheat from Eastern Europe and 80% of its sunflower oil from Ukraine, as well as a large amount of corn used for animal feed. In Milan, now a loaf of bread costs up to 8 euros. According to Coldiretti – the national agricultural trade organization, in November, the price of a loaf of bread was 4.25 euros.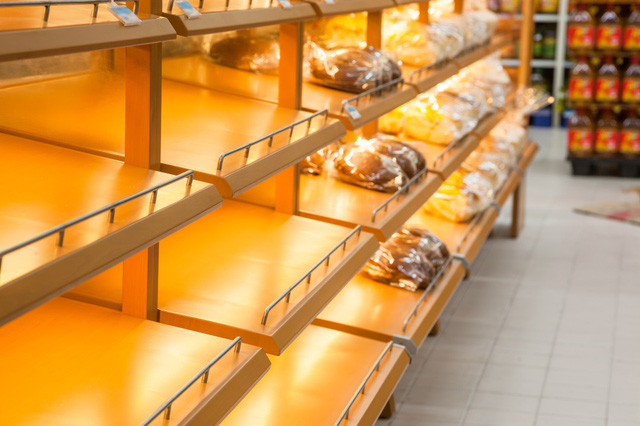 Di Leto said: "It is ridiculous that bread – which is food for the poor, becomes a luxury." She added she had stocked up on flour to bake her own bread and save money.
Grocery stores in Germany have had to split the sale of cooking oil to avoid "hamster shopping" or panic shopping. This is German slang, commonly used during a pandemic, and comes from the hamster's habit of stuffing his cheeks with food even if he doesn't eat it all.
In addition, markets that are usually full of goods now see shelves of flour and cooking oil empty. A sign outside the Penny supermarket in Frankfurt read: "Show solidarity and think of your neighbours. Avoid unnecessary hoarding!"
Lieselotte, an 85-year-old consumer, said she was only allowed to buy one bottle of sunflower oil. Having lived through the end of World War II in Germany, she believes she is better prepared to accept deprivation than the younger generation. "We've seen this when we were kids," she said. "But compared to today's younger generation, I'm used to it."
Panic shopping seems to be different in Northern Europe, where people fear a possible nuclear war. In Norway, people are "crazy" to buy iodine pills – used to combat the effects of radiation. According to local media, more than 1.7 million iodine pills have been sold in recent weeks, and pharmacies will also be out of stock until next month.
However, not every region in Europe has been affected by panic shopping. Retailer Carrefour, which is large in France, Spain and Italy, said it has not seen this situation since the pandemic began. A representative of Carrefour said: "A facility in France and Spain also sold out of sunflower oil. But in general, this behavior is not too stressful and the market is operating quite normally."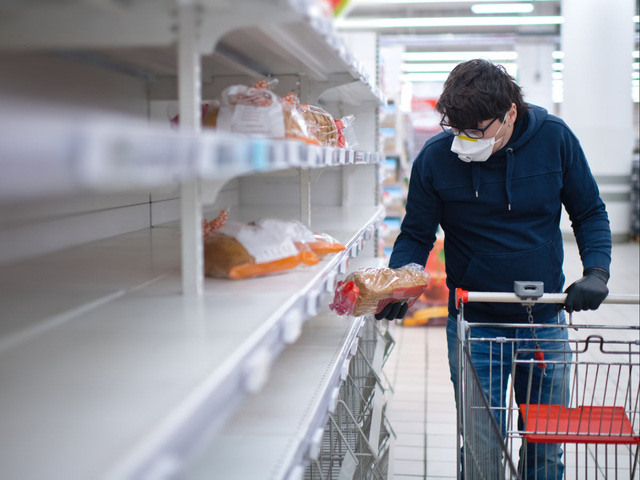 Severe supply shortages will affect poorer countries, which depend on wheat imports from Ukraine and Russia. Jan Egeland, of the Norwegian Refugee Association, warns that Somalia imports 90% of its wheat from Ukraine and Russia. "As wheat prices go up and the drought gets worse, the number of people falling into poverty will increase very quickly," he said on Twitter.
Meanwhile, grain importers in the Middle East are preparing to spend more money, for example in Egypt, which subsidizes bread for 70 million people. In Lebanon and Tunisia, the shelves of flour stores were also empty, and people even "said" shop owners to hoard goods to resell at higher prices.
Supermarkets in Turkey, where households have struggled with overheating, have sold out of sunflower oil after multiple media outlets reported the country could face shortages.
In Spain, Luis Planas – Minister of Agriculture, gave an opinion, instead of buying sunflower oil, consumers should use olive oil. This is the product the country has been exporting for more than two millennia. He noted that shares of several major olive oil producers have risen more than 20% in recent weeks.
Another "winner" could be the petroleum suppliers. This week, Germany warned it would monitor suppliers for taking advantage of the opportunity to raise prices. Despite the fall in crude oil prices, gasoline prices remained at 2.26 euros, compared with 1.81 euros before the Russia-Ukraine tensions.
Refer to FT
https://cafef.vn/dan-chau-au-hoang-loan-tich-tru-hang-hoa-du-dai-dich-da-het-cang-thang-mi-ong-chay-hang-banh- mi-bong-tro-thanh-xa-zi-pham-20220319084459188.chn
You are reading the article
Pasta "sold out", bread suddenly became a luxury product

at
Blogtuan.info
– Source:
Kenh14.Vn
– Read the original article
here