Đời sống
The beautiful garden house of a teacher and his wife in Ha Giang
The garden house was built by Thao and her husband with all the love and enthusiasm of a tree enthusiast.
For a long time, Do Phuong Thao (41 years old, Ha Giang) has always dreamed of a spacious and airy living space, so she moved with her husband from the city center to a new urban area. In a larger land, Thao can unleash her passion for trees, flowers, and gardens.
Before moving to the new urban area, Ms. Thao and her husband (Mr. Huy) had a 400m2 garden house in the center of Ha Giang city. The new, more spacious house is the passion of both brothers and sisters. The couple came up with the idea and then asked the designer to build it meticulously.
The entrance to the garden is like a fairyland of Thao's family
They use a large space to build a house, set aside a separate place for gardening and growing flowers. In the remaining area, Thao grows clean vegetables to provide for her family.
With a love of nature, when building a new house, they put a lot of natural stone in to decorate the gate and path. Thao also personally picked up pebbles from the river and assembled them into flower petals to decorate her house. Stepping into your garden, people feel like they're in an ecological zone, free to be in harmony with nature.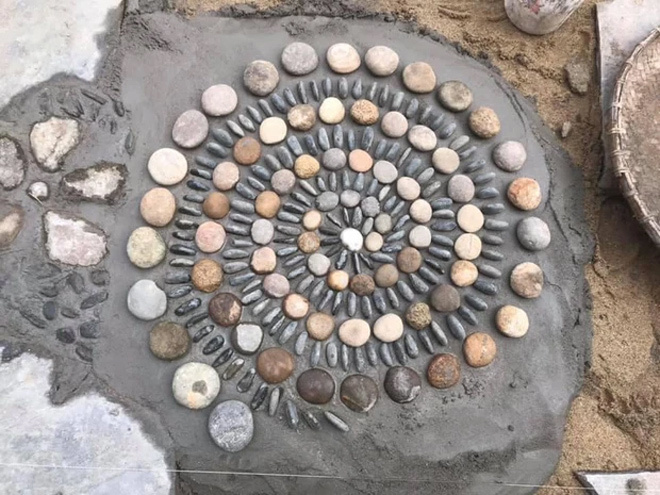 The female teacher summarizes the lesson of taking care of children from planting trees and taking care of the garden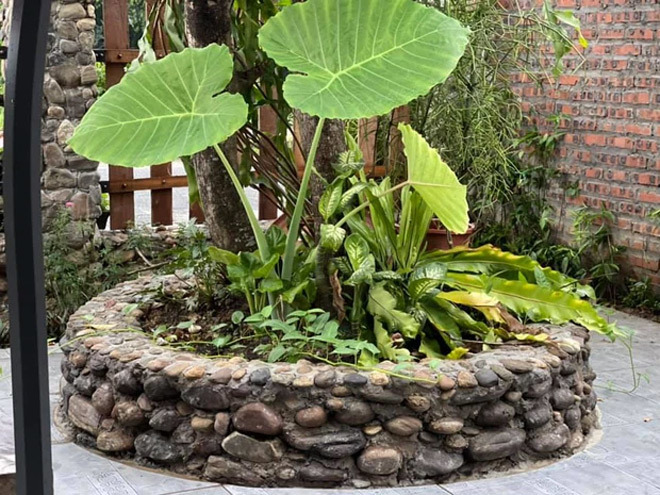 Thao personally shaped the gravel for the path, the tree stump was also meticulously decorated.
That said, the job is not easy at all. "The bedrock has to be found by someone. The gravel for the garden path must also be changed twice so that the children can easily walk. The land for growing vegetables because of inexperience must also be changed twice. Each time, Hiring workers is very expensive," Thao confided.
Starting to grow vegetables, Thao absorbed the hard work. In addition to the cost of investing in soil improvement, buying manure, rice husks… the selection of seeds and nursery is also very important. Wishing to grow an organic vegetable garden and produce clean vegetable products, Ms. Thao has put in a lot of sweat and effort for the garden.
In each vegetable bed, she leaves a separate gravel path for her children to take care of and play
All actions you have to do together will make you feel secure. Although many times failed, the plants did not develop more pests and molds, Thao still tried her best.
Every day, she spends 1.5 to 2 hours taking care of the plants. "Because we don't spray pesticides, we have to take good care of the plants, if we don't, they'll be damaged. Last tomato season, because the second baby was sick, after exactly one week, I broke all 3 tomato rigs that were laden with fruit. From the time I planted the seeds to that day, it took a lot of time and effort, so I was very sorry, sad and dumbfounded for a whole day," Thao said.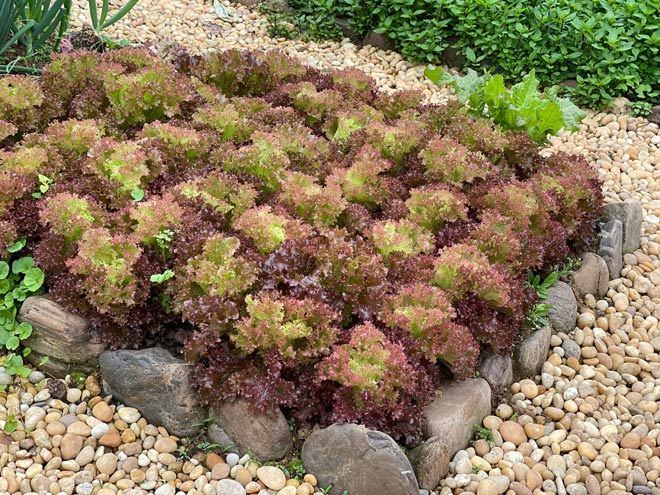 The vegetables are alternately grown by Ms. Thao, from herbs to leafy vegetables and fruits
Although her husband has made an automatic watering system, she has to mix water to soak vegetables and fruits every two days. Every afternoon like that, she has to carry countless 20-liter buckets of water to water the garden. Although the work is hard, but watching the trees grow day by day, her heart is warm.
"Once every two weeks, I ask someone to help me with heavy tasks such as moving soil, moving trees, mixing soil, making scaffolding… If it weren't for that, people with weak limbs like me wouldn't be able to do it. floating", the female teacher confided.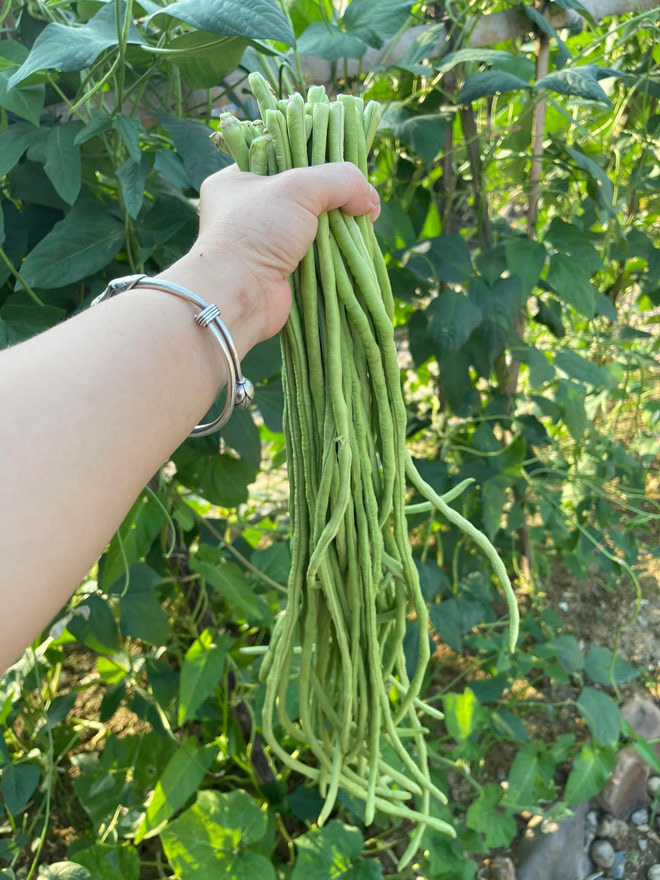 Although it's hard, Thao always uses joy as a motivation
Each organically grown vegetable takes a lot of effort and time. In order for her family to have a full meal of vegetables, Thao often has to alternately plant spices, herbs, leafy green vegetables, and fruits…
Each vegetable bed, brothers and sisters make a separate path for the family and children to easily take care of. So even though the garden is quite large, the vegetable yield is not too large, just enough for the whole family.
Looking at the large garden that is meticulously decorated from the path, the vegetable bed, and the flowers, it is enough to see how enthusiastic Ms. Thao is. She loves the garden, loves nature like she loves her children. Gardening is very important to her. It is not only passion, it is also a lesson about caring and educating children.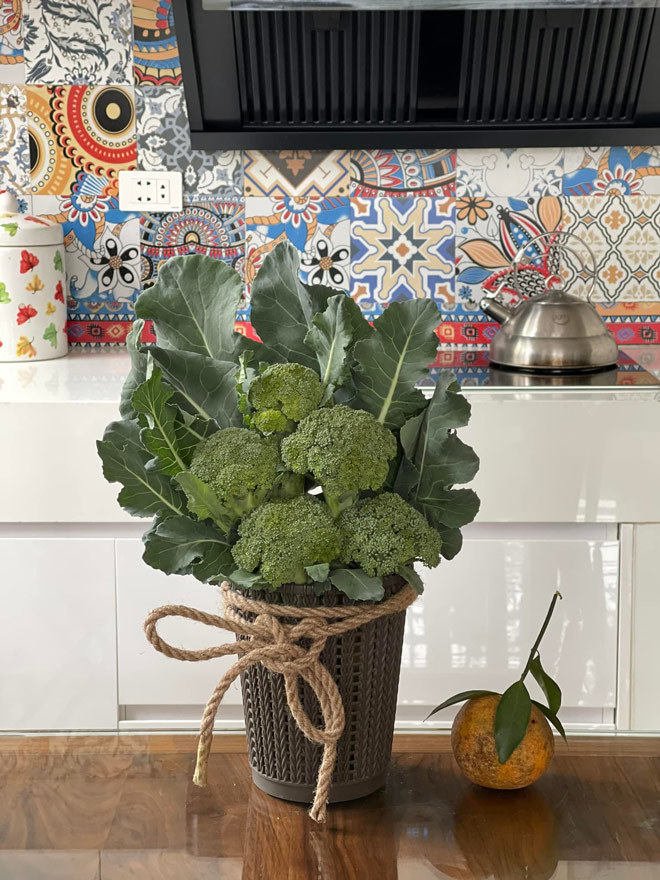 Vegetables can also become home decoration flowers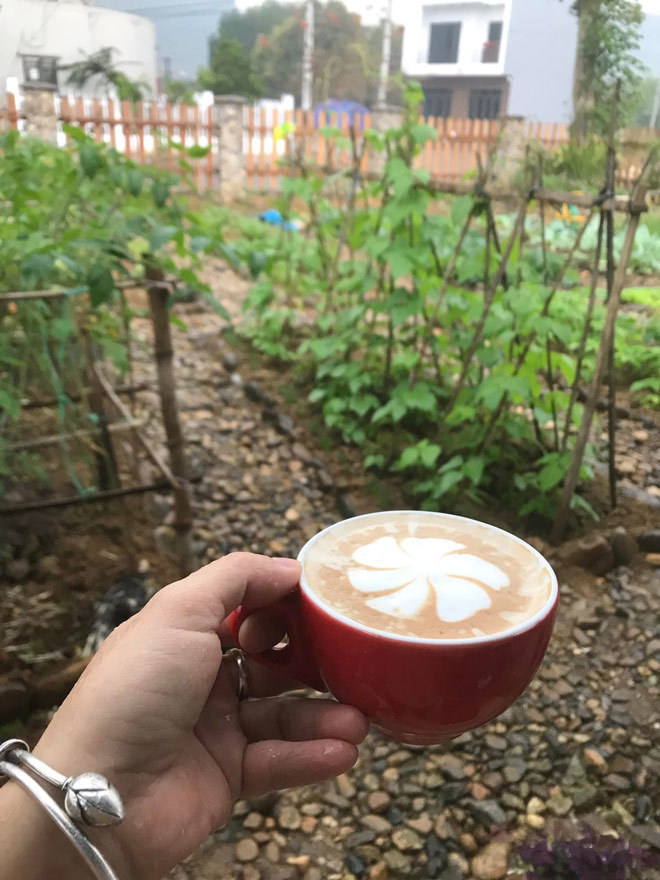 Vegetables are turned into elegant pleasures by Ms. Thao in her spare time.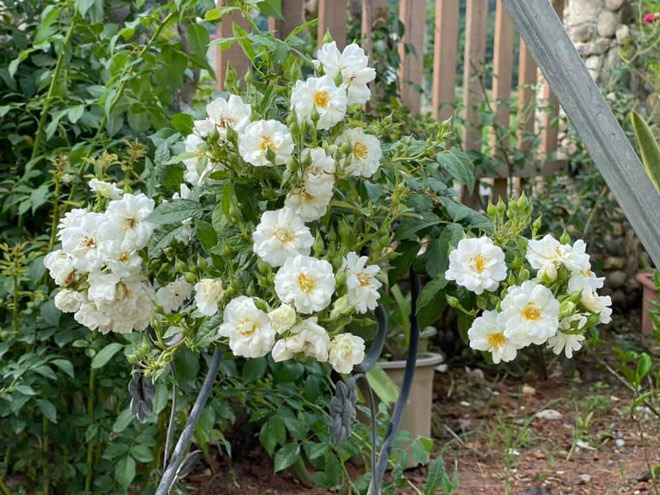 In addition to vegetables, Thao also alternates flowers.
"For me, gardening is a great job not only because the results are sweet and fragrant flowers, but through the process of gardening, I have learned many philosophies for myself. Especially the philosophies in educating children.
1. To have a healthy tree, you must first do a good job of tilling the soil, making the soil loose, rich in nutrients, and killing mold and pests. In order for a child to grow up healthy both physically and mentally, parents must provide their child with a safe and healthy living environment, filled with love and happiness.
2. If you want a healthy tree, you must take care of it every day. If the plant is sick, treat it promptly. If you want your child to be good, you also have to follow your child every day, but not control. Accompany your child on every step of adulthood, detect and correct him in time when he deviates.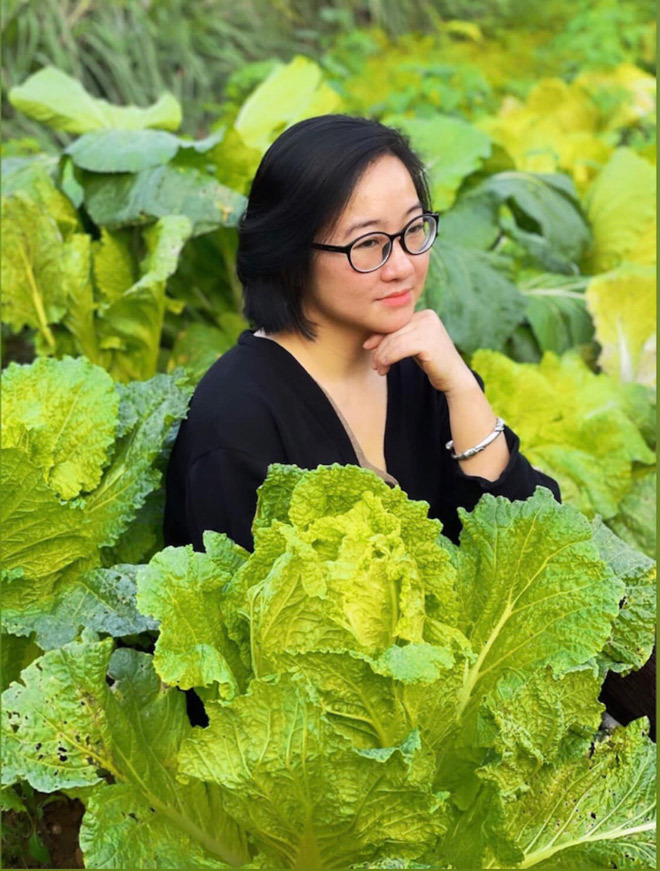 Thao put a lot of heart into the garden, drawing many lessons to educate her children from her passion for gardening.
3. To make a good garden, you must have knowledge about soil preparation, seasons, how to care for and handle pests of each different plant. As a parent, you need to have even more knowledge about nutrition, health, and age psychology. Plant a dead tree, you can plant another, but parenting doesn't allow you to make mistakes.
4. When looking at a lush tree, one must understand how the owner loved and cared for the tree. Look at a child who studies hard, don't be jealous why the child's parents are good, but understand that the child's parents have worked hard, they may have had to make a lot of sacrifices.
5. My friends look at the fruit trees in my garden and then praise me for being cool, without knowing that I have failed a lot to get to where I am today. The number of trees I planted was also not small. But every time I fail, I rush to find out where I went wrong. I study everywhere, everyone, from experts to friends around.
I have 3 children, but whenever they do not satisfy me at any point, I always silently reflect on where I went wrong in the parenting process. Parents need to constantly learn to be good parents, the results will definitely be good and obedient children."
Tu Linh
Photo NVCC
You are reading the article
The beautiful garden house of a teacher and his wife in Ha Giang

at
Blogtuan.info
– Source:
vietnamnet.vn
– Read the original article
here