Life Style
Thế Giới
A series of tricks that trap women, chase away the landlord, and a tragic ending
Netflix recently released the documentary "Worse Roomate Ever" with 4 thrilling cases related to the relationship between landlords and tenants. Among them is Jamison Bachman, a strange man who specializes in harassing homeowners and tragic endings for the family.
Jamison Bachman with his attractive appearance, brilliant law degree and wise knowledge has made many women fall into his crime trap. It was only when Alex Miller, a woman living in Philadelphia, reported the harassment to the police that he was investigated. Alex and his two other victims also later appeared on the Netflix movie to recount the process of meeting the stranger, leading to a series of bizarre episodes.
Initially, Bachman would use a pseudonym as a lawyer to search for housing. He often cited reasons such as illness of a loved one or the destruction of his home to explain his urgent need to rent. To make a good impression, Bachman always appears to be a "perfect" tenant with a neat appearance and a polite and pleasant personality. However, just a few days after moving into his new home, he became a terror to his roommates. From stealing light bulbs to intentionally clogging the toilet with cat poop, everything he does has the same goal of making his roommate uncomfortable.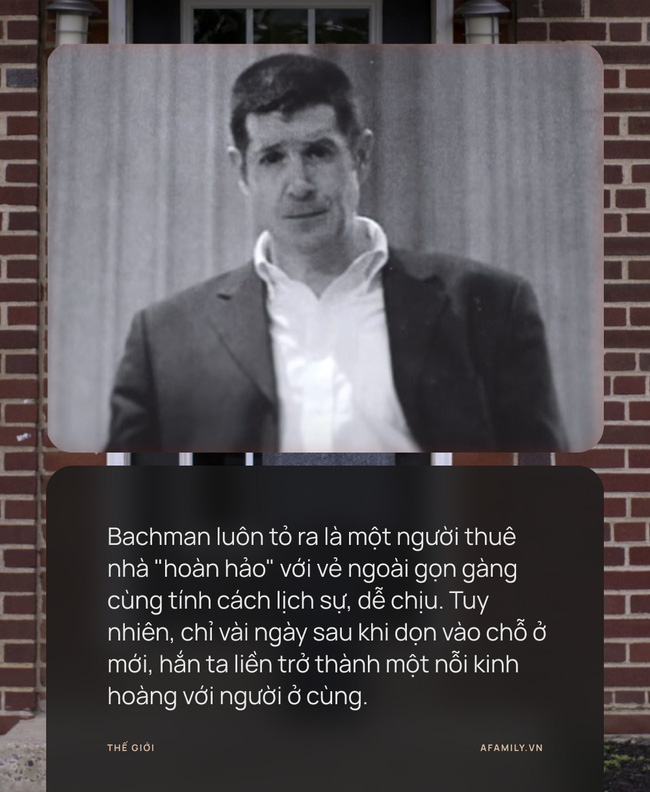 Despite having a law degree, the man never passed the exam, nor did he get a formal job as a lawyer. Whenever he failed to pay rent and was questioned by the landlord, he used his legal knowledge to come to the conclusion that it was they who broke the contract. Bachman even became so daring that he repeatedly strangled and stabbed his roommate. He even blatantly kicked the owner away to occupy the house for himself.
From an elite student to a tragedy that witnessed the death of a best friend
Jamison Bachman was born and raised in Pennsylvania, graduated from Cheltenham High School in 1974. Throughout his adult life, Bachman always had a grudge against his father not only because he was a violent person but also because of his favor. than a brother named Harry. Friends describe Bachman as an intelligent and charming person, full of confidence and competitiveness. Everyone thought that Bachman would have a bright future despite his family's not-so-smooth situation.
However, after witnessing a brutal murder during their freshman year at Tulane University in New Orleans, Louisiana, friends noticed a big change in Bachman. Bachman's close friend Ken Gutzeit was murdered during an argument that broke out between him and a 25-year-old student named Randell Vidrine in January 1976. At that time, Bachman saw it all. Friend Gutzeit, 20, bled to death after being slashed in the neck by Vidrine.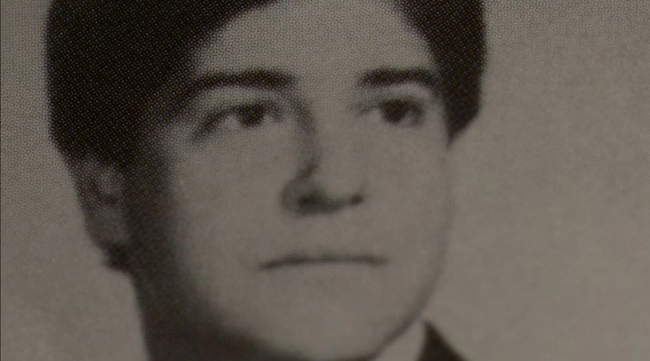 Sharing in the documentary, Bachman's childhood friend, Bob Friedman, said that the incident had turned him into a dark and often paranoid person. "It was a kind of traumatic incident that completely changed his life and entire worldview", Friedman said.
Bachman then went on to earn a master's degree in History from Georgetown University and began studying law at the University of Miami at the age of 45. The teachers all commented that Bechman was an outstanding student with outstanding abilities.
"Polite gentleman" with a trick to make a series of women fall into the trap
Alex Miller, 35, from Chestnut Hill, Pennsylvania, was looking for a roommate in 2017 and posted it on Craigslist. Bachman responded by going by a fake name, Jed Creek, and said he was a New York attorney who needed to move to the area to take care of his ailing brother with hepatitis C. The two met for coffee, and after that brief encounter, Miller rented an empty room in her apartment to him.
Bachman offered to pay her first month's room immediately and write her a check for $800. Of course, this amount is completely unavailable because the name and address on the check remains blank.
Miller recounted how she was relieved to find Bachman after weeks of struggling to find a roommate. "He is a polite gentleman, an experienced lawyer living in Europe and the Middle East", she said.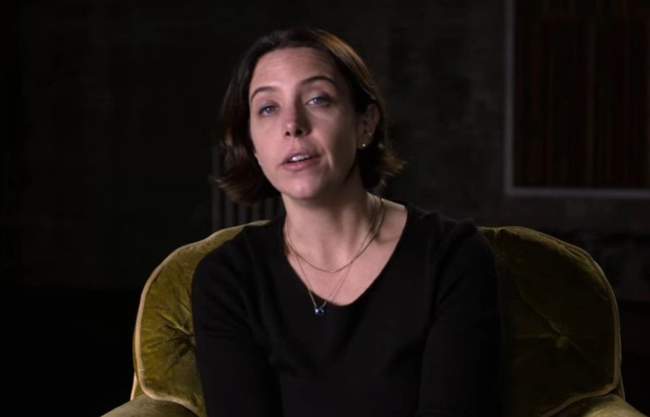 Alex Miller tells the story on Netflix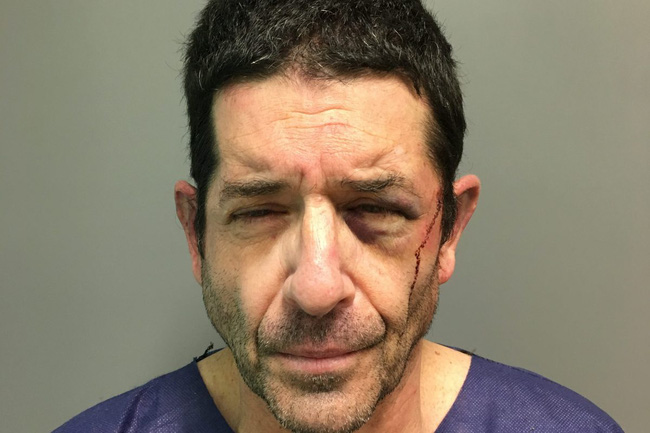 Bachman used to cause obsession for many women
But right away, things started to get weird. Bachman moved in with only six plastic crates, a dog and a cat, something he had never mentioned to Miller before. There was no mattress or bed, just a large pile of duvets on the floor. When he first moved in, Miller noticed that he was constantly moving her personal items around, even taking the light from the common room to use in his own room.
He also took the chairs out of the kitchen and brought them into his bedroom, using them as a desk. After 11 days of marriage, Miller asked Bachman to pay his share of the utility bill, but he refused, saying the fee included the period before he even moved in. He also later failed to pay his share of the rent, alleging that Miller had breached the "guarantee of living conditions" and the "covenant of tranquility".
After more problems began to arise, Miller's mother, Susan, decided to look up Bachman's phone number and she quickly realized that his name wasn't Jed Creek. He is the one who cheats and harasses roommates all over the East Coast. Miller then decided to throw a big party at his house to get Bachman out, because previous victims said he hated partying, drinking, smoking, and playing loud music. However, her plan was unsuccessful, even leading to Bachman strangling her and cutting her thigh with a knife. After the incident, he was arrested and evicted from the apartment.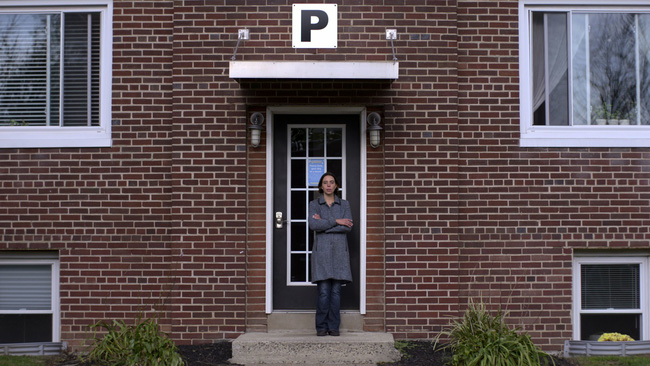 Where Bachman rented a house under the name Jed Creek
Melissa Frost lived with Bachman in 2012, when he said his house was destroyed after Hurricane Sandy. She lets him stay for free, but he quickly turns into a terrible roommate, knocking down doors, deliberately scratching the floor, and even clogging the toilet with cat poop.
Frost said Bachman once nearly pushed her down the stairs and shortly after calling the police about it, her cat suddenly disappeared. Although there is no concrete evidence related to the cat's disappearance, Frost has a strong hunch that he did something to her beloved pet.
Soon after, Frost asked him to leave, but Bachman blatantly said: "She has her whole life ahead of her. She is beautiful, talented and owns this house. But not now, this is my home".
"It's like something that happens in a movie", she said.
The end result
Another woman, Arleen Hairbaedian, 47, had a physically intimate relationship with Bachman while he was living with her in Queens in 2006. When Arleen kicked her out for not paying her rent, Bachman Reportedly to the police and claimed that she intentionally nearly stabbed him. Although that was completely untrue, she was later banned from going near her own apartment. He took over the house and brought her two cats to the slaughterhouse.
Sonia Acevedo, 53, who shares an apartment with Bachman in Rockaway Beach, New York, said he was often violent, once swinging a chair at her, causing her to panic and worry about her health and belongings. his personal belongings.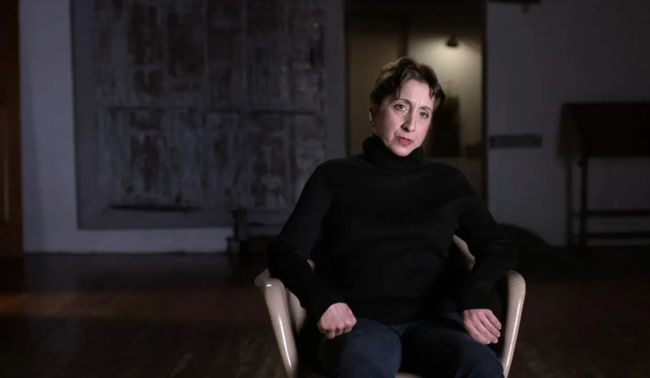 One of Bachman's victims shares on Netflix about his haunting past
In November 2017, Bachman killed his brother Harry at his home in Elkins Park. Even though Harry had already bailed him out of prison after the Miller incident. The cause of death was "severe head and body trauma".
It is reported that Bachman got mad at his brother after Harry and his wife refused to let him stay in their home. After the murder, Bachman was caught using Harry's credit card to book a hotel room as well as driving his brother's car. Although a whole team of SWAT teams surrounded the hotel, Bachman managed to fight back with an ax before being captured.
As a result, on December 8, 2017, Bachman hanged himself in his cell at the Montgomery County Correctional Facility and died at the age of 60.
Source: Daily Mail, Netflix
You are reading the article
A series of tricks that trap women, chase away the landlord, and a tragic ending

at
Blogtuan.info
– Source:
Kenh14.Vn
– Read the original article
here