Tech
America and Europe want to be self-reliant, China wants to rise up and Asia doesn't want to be forgotten
Magdeburg is now about to play an important role in US and European efforts to tilt the global balance of power.
On March 15, Intel Corporation announced plans to build a massive 17 billion euro ($18.7 billion) factory producing advanced semiconductors. They added new plants in Arizona and Ohio that the group announced over the past six months.
These factories are part of CEO Pat Gelsinger's plan to wrest control of manufacturing from Asia and address global chip shortages.
His ambition is that the US and the European Union (EU) promise to support a total of 100 billion USD in a subsidy race to reduce dependence on imports. Like China plans to turn itself into a chip power. However, some in the industry have grown secretly worried that the push to make the West more competitive might backfire.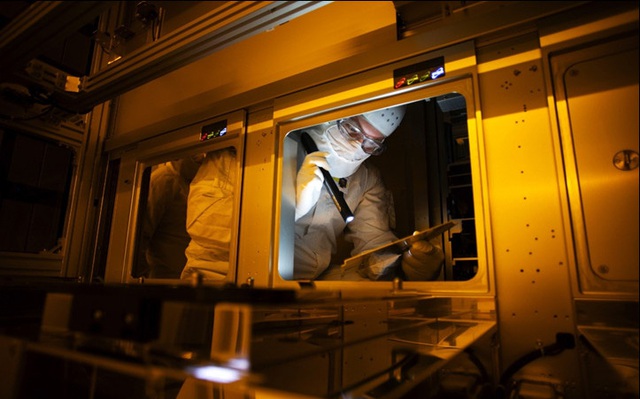 Their worry is not only that the money will be too little or come too late, but that the political links tied to aid could further complicate global supply chains.
The shortage of semiconductors has brought some automakers to a halt, delaying shipments of game consoles and smartphones. This alerted Washington and Brussels to the fact that their continents depended on several regions for the supply of key components. The most notable is Taiwan. It is a geopolitical flashpoint because of its historically tense relationship with China and a point of vulnerability.
Why the world lacks chips and why chips again important so?
Although somewhat chaotic at the moment, the supply chain is a general synthesis and fully coordinated. The chief executive of German chipmaker X-Fab Silicon Foundries Rudi De Winter said: "Decoupling the supply chain can carry greater risks.
Russia, already sanctioned by the US and Europe, is now a clear example of how semiconductors have become increasingly important political tools. These items are among the first that Washington and Brussels aim to remove Russia from the global economy. And they also repeatedly threatened to take more action. For example, car production in Russia has been affected.
On the other hand, Russia and Ukraine export palladium and neon used to make semiconductors.
US Commerce Secretary Gina Raimondo said in an interview on March 9 that if Chinese companies defy US restrictions on exports to Russia, Washington could shut down companies. companies by removing them from American devices and software.
Rafael Laguna de la Vera, Executive Director of Germany's federal agency for disruptive innovation SPRIN-D, says semiconductors and other high technologies are slowly becoming a weapon in the current trade wars. and supply chain issues. "Here's why regions need high-tech investments to recover", he said.
President Biden up problem resolution plan this shortage how
In an effort to shift manufacturing out of Asia, President Joe Biden plans to invest $52 billion in research, development and domestic semiconductor manufacturing as part of a bill to compete with China on multiple fronts. Country. Although this bill is still awaiting approval. Meanwhile, the EU's 27 member states are just scrutinizing a recent European Commission proposal worth $48 billion to build up the bloc's chip-making capacity.
China has spent $150 billion by 2030 to kickstart production. The country is still far behind, especially when it comes to advanced chip manufacturing, but they are catching up quickly.
Intel CEO Gelsinger believes that public funds can help Intel reduce costs to try to catch up with advanced chips after falling behind Taiwan Semiconductor Manufacturing aka TSMC and South Korea's Samsung Electronics. This will also make the US and Europe more self-reliant.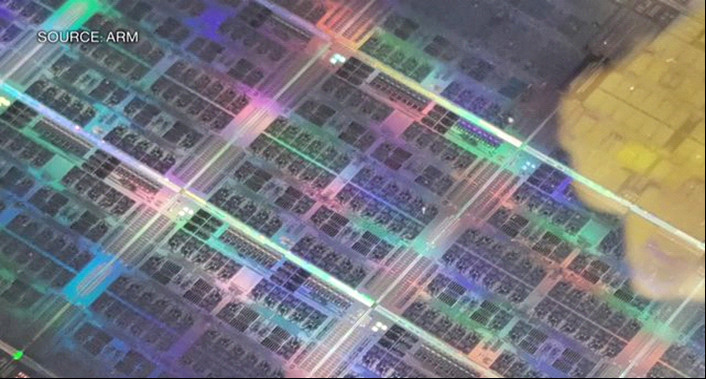 Even if the numbers are still growing, de la Vera of SPRIN-D says the US and Europe have some important work to do. It can be seen that Japan also pledged to provide aid to boost production. The new facilities include a $7 billion factory planned by TSMC in conjunction with Sony Group Corp. and Denso Corp.
South Korea also wants to become the world's largest chip maker. Companies and governments have poured a total of $450 billion into the industry by 2030.
Economies of scale that can compete with Taiwan's business model will also struggle if individual regions are racing to build their own capacity. TSMC accounts for more than 50% of the global chip foundry market, or the pure business of producing chips for other companies. Their customers include Apple, which relies on Taiwanese chips for iPhones.
Indeed, dependence on TSMC is a core concern: Upheaval on the island could send the West into crisis.
TSMC will have a new US facility operating in Arizona over the next two years. It is currently considering a potential plant in Germany after European carmakers repeatedly expressed concern about the impact of chip shortages. But Taiwanese industry insiders remain skeptical of plans to relocate production back to the West.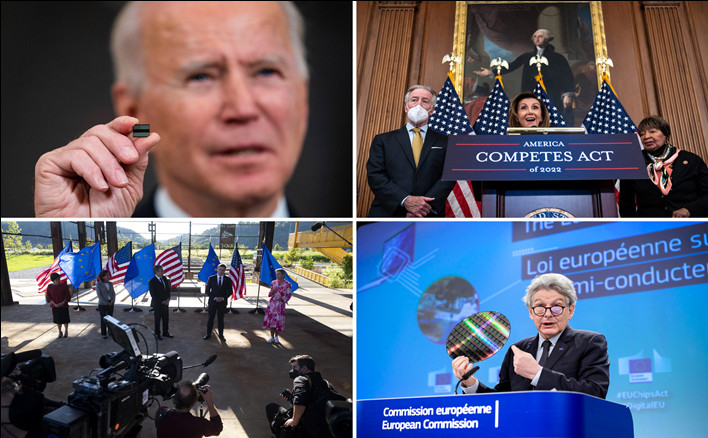 President Biden plans to invest $52 billion in research, development and domestic semiconductor manufacturing, part of a multifaceted China competition bill passed by House Democrats in February. EU Internal Market Commissioner Thierry Breton then announced the European Chip Act aimed at ensuring EU supply security, resilience and technological leadership. Last year, US trade representatives and EU partners met in Pittsburgh to shape rules and standards around important technologies like semiconductors.
America and Europe can cooperate
The US and Europe will discuss their semiconductor strategies as part of the Trade and Technology Council. But there is still a long way to go to find out if it is possible and how to coordinate government aid in the most strategic ways. A US official has said it wants to avoid a subsidies race, although mistrust stretching back to former President Donald Trump's years in office has put the EU on guard..
While the US is keeping an eye on China, the EU plans to add more subsidies to provide the necessary security in the event of an emergency. EU internal market commissioner Thierry Breton said the US Defense Production Act was the inspiration for proposals on "supply security".
These plans, he said, are not protectionism, nor do they seek to make Europe fully autonomous. Instead, they provide the EU with leverage to compete.
Now, the common goal is that Europe will produce 20% of the world's semiconductors by 2030. With global demand expected to double, in practice that would mean quadrupling production. European volume within 8 years.
This time, the EU used public funds to produce chips. But many companies in the region question whether the block should put too much hope in making the next generation of chips that can still be cutting-edge chips.
NXP CEO Sievers said the block should focus on delivering first what the industry needs now. "Immediately jump to the top, I think will miss the rhythm of what European industry needs in the next few years", he said.
Regardless of which chip is ultimately produced, industry insiders expect the US and Europe to always depend on Asia for their raw materials.
In December, TSMC President Mark Liu highlighted the US-European connection with Asian supply. He said that some of the semiconductor chemicals required by Intel are shipped to the US by Taiwanese suppliers. In other words, even American-made products rely on the outside world.
That's what makes the plans of Washington and Brussels so impractical, said Jan-Peter Kleinhans, a research fellow at German think tank Stiftung Neue Verantwortung in Berlin.
There is also another risk of exacerbating shortages if politicians ask companies to prioritize certain chips for certain regions, Kleinhans said. "Suddenly, the market is no longer the deciding factor. It's really the policy tools of the 20th century applied to the value chain in the 21st century."
You are reading the article
America and Europe want to be self-reliant, China wants to rise up and Asia doesn't want to be forgotten

at
Blogtuan.info
– Source:
genk.vn
– Read the original article
here