Restaurant prices are increasing rapidly
Viet Trinh (27 years old, currently an office worker in Hanoi) said that she lives alone, so she rarely cooks. In 1 month and 30 days, there must be 25 days when she eats outside.
"Before, I was really lazy, lazy to cook rice and then wash the dishes, so I didn't want to show it. At work, the work is busy, there is a lunch break, then order to eat out quickly. As for the days at home, weekends or free time, I gather with friends, but I don't have much food"However, Trinh is also surprised at the moment when a series of shops have announced to increase prices to adapt to fluctuations in gasoline and consumer prices. This has impacted to change habits for many years. hers.
"If before, I bought popular rice for lunch at only 25k/serving, now I see an increase of 35k, if I order something special, I still have up to 45k/serving, an average increase of 10k/serving. And if you want to eat something else, delicious or strange, have to ship from afar, in addition to this price, you have to pay an additional shipping cost.".
Popular rice prices in general increased, averaging from 10k / serving due to adaptation to fluctuations in gasoline and consumer prices.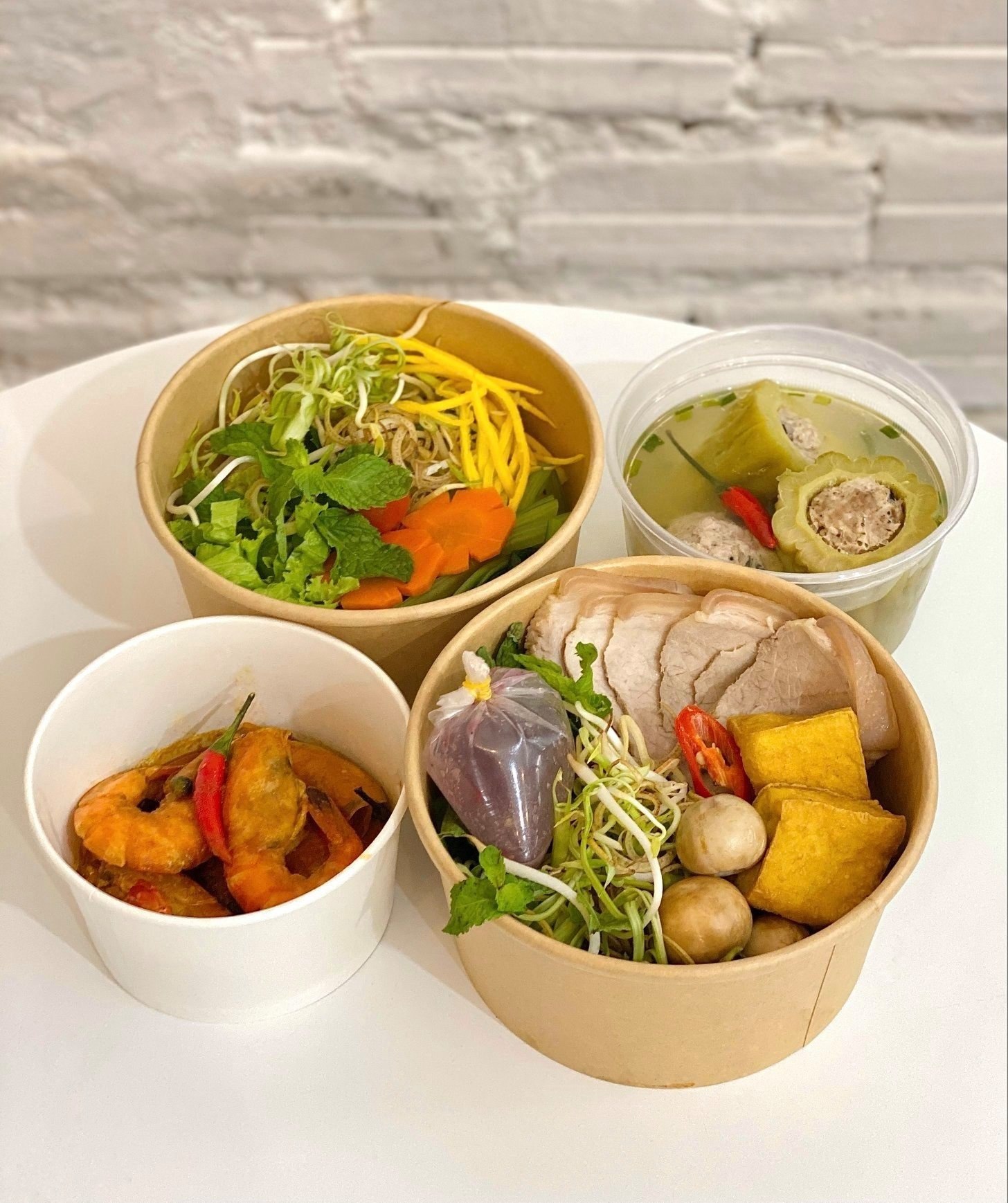 Specifically, each ship order Trinh has seen an increase in costs. With the first 2km saw an increase of nearly 2 thousand dong, the following kilometers are cheaper but also about 5k more. Every day, if only a few tens of thousands of people listen to it, it seems small, but if it is added to the whole month, it becomes a big amount. Not to mention, one week Trinh often gathers friends to eat and drink at restaurants and eateries. Calculating more losses, Trinh decided to change this spending of hers to save costs.
"Eating at the restaurant is really convenient, but the high price is also a pity. At the hostel, I can cook, just the living hours have to be adjusted. The income in the epidemic season is poor, the monthly expenses do not decrease, the house bills, electricity and water bills, and travel expenses cannot be reduced, so I thought and decided to cut down on spending at the food and drink stage, not ordering a lot of outside food. Drink more milk tea or snack more. I'll manage by cooking for myself and bringing lunch to save money", Trinh shared.
Surprise when cooking rice at home, you can save quite a bit in 1 month
"On average, each lunch outside the restaurant costs 35k/serving. I eat about 20 lunches a month, so 700k is over. Gather friends at restaurants, eateries, each time about 200k or more. In a month, gathering 3 times on average costs about 600k more. So last month, I spent about 1.5 million only for eating out. This cost does not include meals at home", Trinh shared.
It is not difficult to understand that office girls often spend a lot of money on lunch because they are lazy or accept invitations, enjoy new dishes or simply because they are "busy". ".
When the price escalated, the decision changed, but within the first week, Trinh saw a complete difference. Instead of ordering food, every afternoon when she comes back, Trinh goes to the market to buy food, gets up earlier in the morning to make rice and then brings it to work. Because I just learned to cook, the ingredients for cooking are mainly simple, not fussy and must be quick.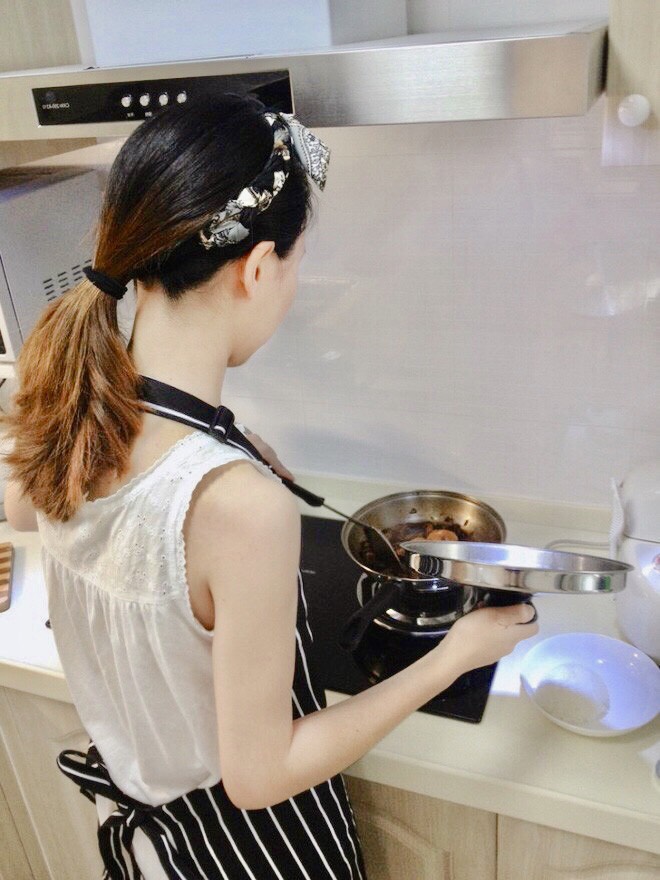 "Cooking is much cheaper. Because you can prepare food for both lunch and dinner (just reheat the food when you get home from work). The first week I only spent 300k / 7 days to go to the market".
Specifically, Trinh bought 5 bags of beans for 15k, 1 bag of kimchi for 40k, 1 zucchini for 9k, 1kg of tilapia for 42k, 1kg of chicken breast bone for 40k (bought at the supermarket the bones still had a lot of meat) , 2 potatoes for 8k, 500 grams of minced meat for 80k, 20k for 4 ounces of spinach, 1 cabbage for 15k, 300 grams of pork for 30k, 2 eggs for 7k.
On the first day, Trinh cooked kimchi soup, tofu, and zucchini with a little minced meat to eat for lunch and dinner. On the second day, cook chicken breast with potatoes. Day 3, deep fried 500 grams of tilapia, served with sautéed bok choy with garlic. On the fourth day, minced meat served with kimchi, on the fifth day, tilapia sauteed with tomatoes, served with cabbage. The sixth day is fried cabbage and pork, the seventh day is crispy fried beans, steamed eggs and fried cabbage with garlic.
1 week passed quite quickly and this change in eating style did not affect Trinh's life much. It's not unusual to bring lunch to the office. Trinh finds herself only needing to wake up a little earlier, be a little more diligent or even just consider saving money as a goal to strive for, it can be done in the near future.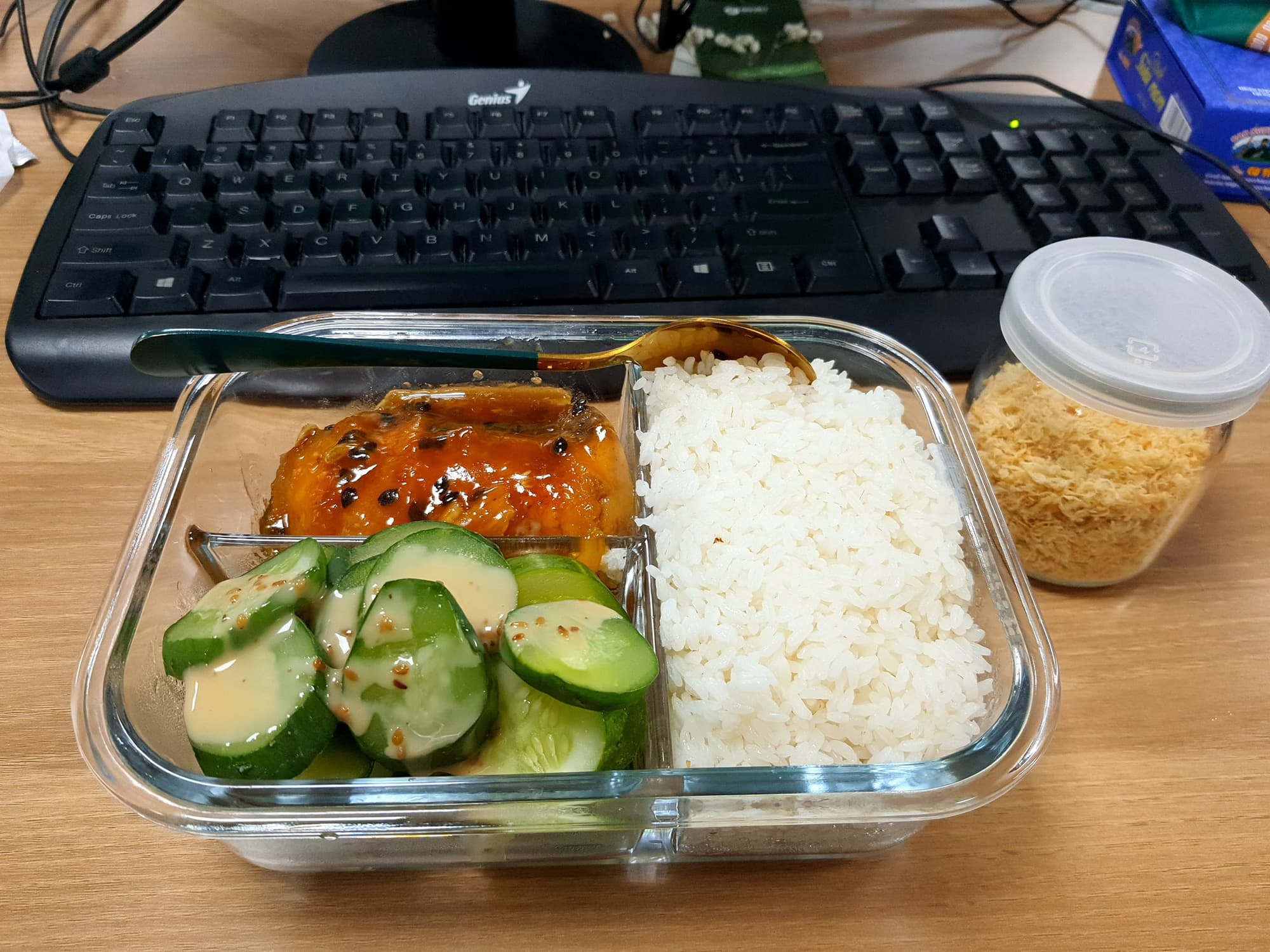 There are a few tips Trinh finds quite good to make cooking and bringing rice to the office easier to do with single people, which is to go to the market on the weekend for a full week, wash and fully arrange each box in that box for each person. day of the week. For lunch cooked food brought to the company, choose some simple foods that can be preserved for a long time such as: vegetables, eggs, meat, fish… No need to make many flavors because it is easy to cause weight gain. and oh so fast. After cooking the food, Trinh let the dishes cool down before putting them in a sealed container to avoid steaming and smelling.
Through this time, Trinh also realized that if possible, going to the kitchen by herself is not a bad thing. Not only saving money, but also practicing cooking skills, moreover, making it yourself is also more secure, cleaner, and mouth-watering.
Photo: Internet
https://afamily.vn/thoi-quen-1-thang-co-25-ngay-di-an-hang-nhung-ne-bao-gia-leo-thang-toi-chi-con-cach-ve- Nha-nau-com-20220316162623035.chn
You are reading the article
Avoiding the "escalating price storm", I only have to… go home to cook rice

at
Blogtuan.info
– Source:
Afamily.vn
– Read the original article
here