Bitcoin price last week showed signs of improvement when setting a new weekly high of more than $42,000. The rise of Bitcoin helped the cryptocurrency market move, many other cryptocurrencies also increased in price.
The world's largest cryptocurrency fluctuated quite a lot in the past week, struggling in the range of 38,000 – 42,000 USD. Although there are several bearish sessions, the general trend of Bitcoin is still bullish, at one point climbing to the threshold of nearly $43,000. Currently, Bitcoin price is trading at $42,000.
Specifically, according to CoinDesk data at 14:10′ today (March 20, Vietnam time), Bitcoin price was trading at $41,927.99/dong, up 0.4% compared to yesterday. In the last 24 hours, Bitcoin price the highest time reached 42,379.6 USD, the lowest at 41,575.6 USD.
According to CoinGecko data, Bitcoin trading volume over the past 24 hours is more than $16 billion. The capitalization of the Bitcoin market this afternoon reached nearly 797 billion USD.
Most of the other major cryptocurrencies also rallied in tandem with Bitcoin's rise. For example, compared to the previous 24 hours, XRP increased by 0.67%, at $0.815; Solana rose 1.79%, price was 91.2 USD; Cardano is up 3.92%, price is $0.902; Stellar rose 3.07%, price rose to $0.199; Polkadot is up 2.04%, priced at $19.33; Dogecoin is up 2.52%, at $0.122; Internet Computer increased by 1.73%, the price was 17.48 USD;…
On the contrary, there are still some cryptocurrencies that have turned down in price. For example, Ethereum is down 0.19%, at $2,928; Polygon is down 0.22%, priced at $1.52; TerraUSD 0.03% off, priced at 1 USD; Cosmos is down 0.91%, price is $28.6…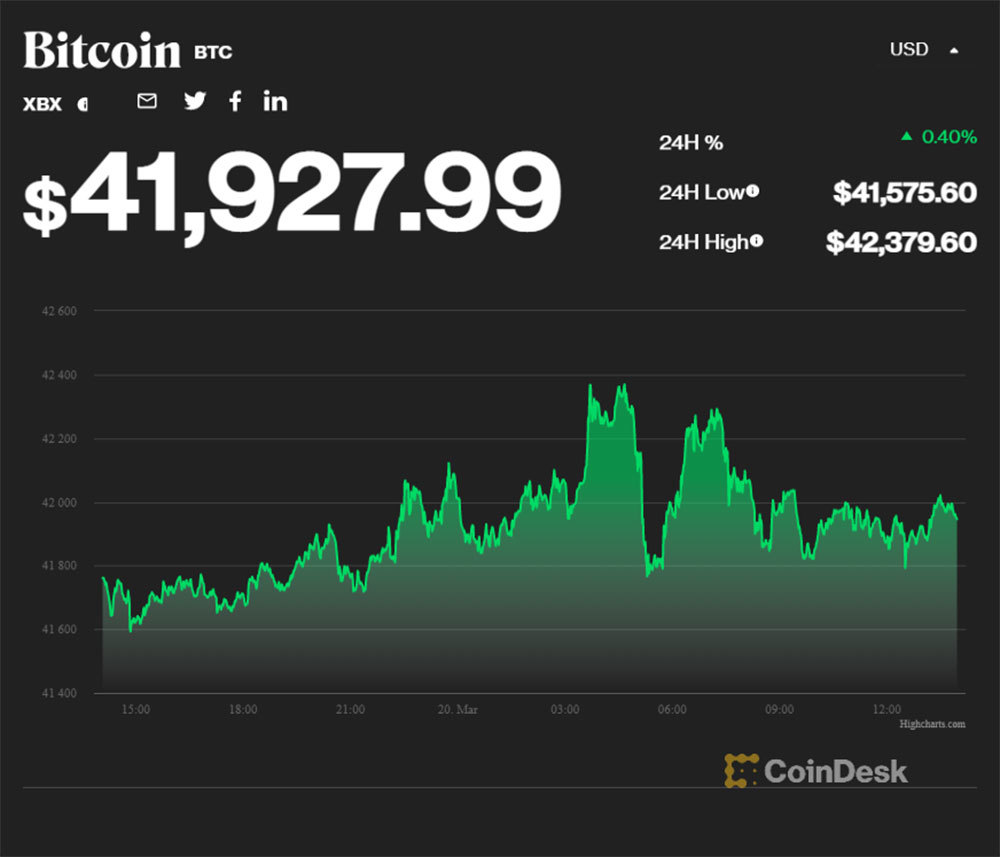 Bitcoin price has crossed over $42,000.
As Bitcoin and many other cryptocurrencies appreciate, the capitalization of the cryptocurrency market has increased markedly. The total capitalization of the cryptocurrency market this afternoon reached nearly $1.977 billion, up 0.7% from yesterday, also the highest level in the past week.
In the past week, the price of Bitcoin and many cryptocurrencies fluctuated quite strongly. Bitcoin price sometimes climbed to more than $42,000, but at other times dropped to $37,000.
In the first session of the week (March 14), Bitcoin price fell to the threshold of 37,000 USD. By March 15, the Bitcoin price had at one point approached the nearly $40,000 mark. By March 16, Bitcoin price was flat at $39,000.
By March 17, after the Fed decided to raise interest rates, the Bitcoin price skyrocketed to more than $41,000. On March 18, Bitcoin price fluctuated wildly, losing the $41,000 mark. By March 19, the Bitcoin price turned to rise to nearly $42,000. Until today (March 20), Bitcoin price at one point exceeded $42,000.
Bitcoin price spiked last week after the US Federal Reserve (Fed) decided to raise interest rates by 25 percentage points to 0.25-0.5%.
In addition, the European Union Parliament's rejection of a proposal to ban Bitcoin and Ethereum mining is also a driving force behind the price of cryptocurrencies.
Bitcoin was once seen by many as a digital gold, a safe haven from political conflicts. But there is a fact that the price of Bitcoin is standing still.
According to analysts, the Bitcoin price is unlikely to return to the record $67,000 set in mid-November 2021. Inflation in many countries, geopolitical conflicts can negatively affect Bitcoin.
Wilfred Daye, the head of Securifying Capital, thinks that it is difficult for the Bitcoin price to surpass the $46,000 threshold if economy The macro and risk-taking sentiment of investors remained unchanged.
Meanwhile, Michael Novogratz – a famous cryptocurrency investor – believes that the Bitcoin price is likely to remain in the range of $30,000-50,000 when interest rates in the US increase.
Handsome
You are reading the article
Bitcoin price a sublime week

at
Blogtuan.info
– Source:
vietnamnet.vn
– Read the original article
here