Khỏe - Đẹp
Children who have just recovered from Covid-19 will be re-infected when they go to school and sit next to F0?
Many parents worry that the child will be reinfected when the child has just returned to school negative, is exposed to F0, or the child who has been negative lives with the parent who is still positive, will the child be positive again?
Cough, runny nose after having Covid-19
Nguyen Thi Ly- Ba Dinh, Hanoi is worried because her 5-year-old son with Covid-19 has been negative for 20 days but still has a cough and runny nose. Ms. Ly took her son to the National Children's Hospital for examination and was prescribed medication by the doctor, but when he returned home, he took all the medicine and his condition did not improve much.
After that, Ms. Ly took her child to the doctor again, the doctor diagnosed her with a sore throat and gave her medicine again. After 4 days, her cough still didn't stop, making this mother worried. Every time he coughs, he vomits, the whole family is very impatient.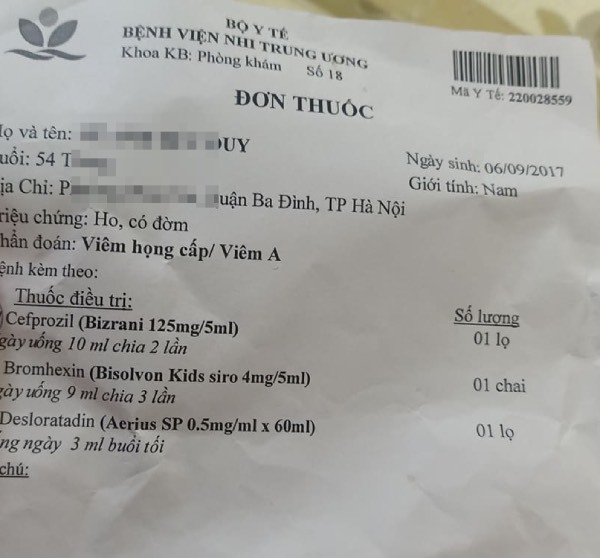 Although she was examined twice, Ly's baby's cough did not stop.
Ms. Bui Thi Thanh – Son Tay, Hanoi is worried because her 4-year-old daughter is the first person in the house to contract Covid-19. Only 4 days later, the baby was negative but living with the parents is F0, 5 days later the baby continued to have a runny nose and cough. Thanh was worried that her child would be re-infected from her parents, but the baby's test was still negative.
Compared to the positive episode, now the baby coughs and stuffy nose more. On the community group that supports Covid-19 patients, many mothers worry about why their children will recover from Covid-19 but still have a stuffy nose, cough, even cough for a whole month, taking all kinds of tonics and cough medicines.
Discussing this issue, Dr. Truong Huu Khanh- Advisor of Infection Division, Children's Hospital 1, Ho Chi Minh City said that children infected with Covid-19 have many different symptoms from fever, cough, runny nose, abdominal pain. , diarrhea… In this strain of Omicron, the child will have a very high fever for 1-2 days and come down like a viral fever. And after being cured, like other viral fevers, children will have problems with ears, nose and throat such as cough, stuffy nose, runny nose. Parents should not be too worried and only need to treat according to the symptoms. If you must take antibiotics, consult your doctor.
Parents can drop physiological saline, use vasoconstrictor drugs. If the runny nose makes it difficult for the baby to suckle, the nasal congestion will be smaller. If the child is negative, the disease is considered cured.
Not only in children, after contracting the Covid-19 strain of Omicron, many people hoarse, runny nose, this is also completely normal, but it makes people afraid that Covid-19 affects the larynx, meanwhile. In fact, in life, having a cold, the flu can also cause that symptom.
Does the child re-infected immediately after recovering?
With the case of Ms. Thanh's family, Dr. Khanh said that when parents and children both have Covid-19 who are negative first, they cannot be re-infected from family members who are still positive. If the test is positive within 1 month, the virus from the previous infection is still there.
When the child is negative before the parents, there is no need to separate the child or isolate the child, but the child should be left with the parents, taking care of the child with better nutrition.
Dr. Khanh emphasized that it is not possible that within 1 month a virus of one strain can cause re-infection for 1 person. If the whole family is infected at the same time, there is no need to isolate anymore because the whole family often has the same strain.
Not only worrying about re-infecting their children in the family, there is a fact that many parents are also worried that when their children have just recovered from Covid-19 go to school and sit next to F0 friends, will they get re-infected? Many children who are both F0 must be monitored and isolated when they are F1.
Doctor Khanh thinks this is unreasonable because a child who has passed F0 cannot be F1. Schools should allow children to have normal activities, without having to self-isolate and test a lot.
For children, if they see typical symptoms of Covid-19 but the test does not come out, they should calm down and treat the symptoms because there are cases where the child is sick for a few days before the test is positive.
Khanh Chi
You are reading the article
Children who have just recovered from Covid-19 will be re-infected when they go to school and sit next to F0?

at
Blogtuan.info
– Source:
infonet.vietnamnet.vn
– Read the original article
here