Kinh doanh
"Escape" inflation "bury" money in the land
On weekends in this March, many people from the inner city of Hanoi flock to Quoc Oai and Ba Vi to find land. The movement to buy land has been active throughout 2021 in this area, continuing to be wildly popular.
"Bury" money in the ground
Ms. Hoa, who is working at a foreign enterprise in Hanoi, said, having idle money of more than 2 billion dong, she decided to buy a piece of land instead of saving it. According to Ms. Hoa, if you have a 6-month term savings account with a fixed interest rate of about 5.9%/year, but inflation increases, the positive real interest will decrease or even make no interest. Inflationary increase, transferring idle money into real estate is still the safest.
The area where Ms. Hoa is looking to buy land is Ba Vi district. Last week, she found a land for planting perennial crops with an area of ​​600m2, priced at VND 1.6 billion, hesitated to consider it, so she did not rush to buy it. Called this week, the landowner said it was sold for 1.7 billion dong. According to Ms. Hoa, due to many people flocking to buy, the land in Ba Vi area is increasing by one price per week.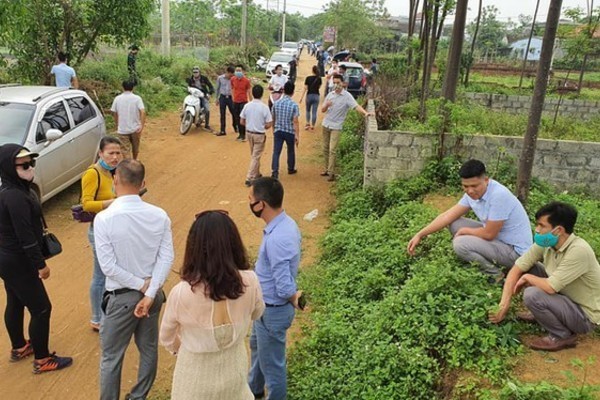 "Fleeing" inflation invest idle money in land.
Mr. Ngo Quang Hanh, a colleague of Ms. Hoa, said that at the end of last year, he bought a 500m2 piece of land for perennial crops in Ba Vi for 1.2 billion VND, recently someone paid 1.53 billion VND. made a profit of 330 million dong, but he did not sell. According to Mr. Hanh, sell it to collect money or else it will lose value because inflation is increasing, while finding another piece of land you like is not easy, but sometimes the price is higher. While inflation is on the rise, keeping the land will be safe.
Crude oil price on the world market reached 130 USD/barrel, pushing domestic gasoline price to nearly 30,000 VND/liter, the highest ever. The increase in gasoline prices has caused the prices of many goods to increase, making inflation now no longer a threat but already exist.
In this context, many people with idle money are withdrawing from risky investment channels, to shelter in real estate.
This March weekend, many people from the inner city of Hanoi flock to Quoc Oai and Ba Vi districts to buy land. Not only land for growing perennial crops, but also reclaimed land without papers is also sought after by many people. There are even plots of land deep at the foot of the mountain, the road is still difficult, cars can't get in, and many people come. The movement to buy land has been active throughout 2021 in this area, continuing to flourish without end.
According to data from Batdongsan.com.vn, in February 2022, the demand for real estate search increased in most types compared to January 2021. In particular, the type of land, land plots witnessed both the level of interest and the number of listings for sale, increasing in many localities.
Specifically, interest in real estate for sale increased by an average of 23% compared to January 2022. Demand for land plots has increased in most provinces. In Hanoi, interest in land plots increased by 8%, in Ho Chi Minh City by 18% and in Da Nang by 32%. Meanwhile, people with little money tend to go to remote areas to buy anti-slip properties.
Potential risks
Data from the Ministry of Construction shows that, by the end of 2021, the price of land plots will increase by 20-30% compared to the end of 2020. In particular, there was a time when land plots were located in some localities in the suburbs of Hanoi. such as Ba Vi up 45%, or Da Bac, Hoa Binh province up 46%… However, land "fever" has not stopped, continued to increase in the first quarter of 2022, the main reason is due to inflation.
Expert Ngo Tri Long said that if you buy a piece of land for 1 billion dong, when inflation occurs, the price will increase to 1.2-1.3 billion dong, thus preserving capital. suffered damage. In addition, investing in land, then the surrounding infrastructure is improved, the price will increase and bring great profit to the owner.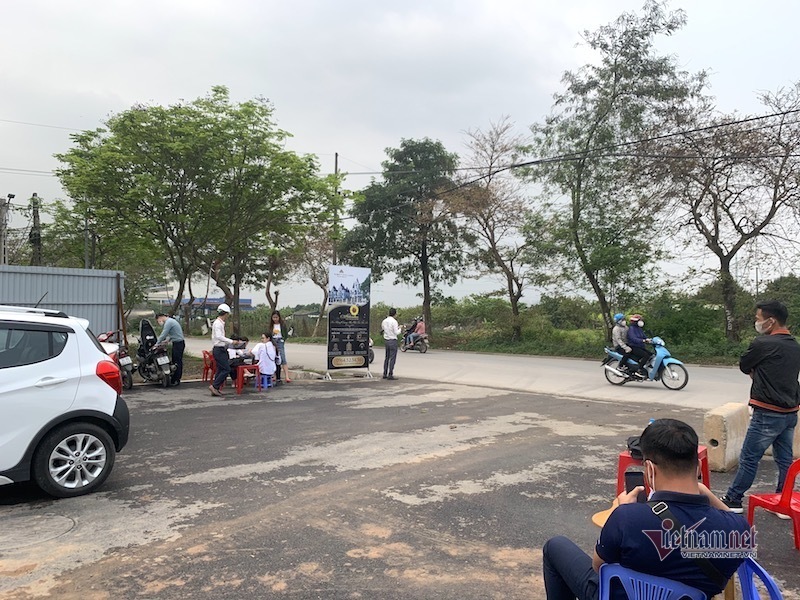 Inflation can deepen the weakness of the real estate market that is "easy to buy and difficult to sell".
Experts say that not only retail investors, who have idle money available, but also businesses want to pour capital into real estate.
In the current situation, production and business industries with an average profit margin of about 10-15% on invested capital will face difficulties when input production prices increase rapidly but selling prices cannot compensate for inflation. . A possible bad scenario is that these enterprises themselves also have to choose to push money into asset holding rather than production. Investment in production and business will be inferior to property speculation.
Forecasts show that, with the current situation, everyone is racing to own real estate, which will lead to the phenomenon of continuously escalating market prices and social resources will be "buried" in the land.
However, the real estate market still has potential risks. If participating in the early stage, i.e. buying from scratch at a low price, the risk is low; But the more you buy at the end, the higher the price, the higher the risk.
Essentially, inflation and real estate prices move in the same direction. When inflation is high, real estate prices will go up. But if the price is too high, the liquidity will be poor. In the past, high inflation caused real estate prices to rise and stagnate. Sellers keep prices high but there are no buyers.
Economists believe that high inflation in 2022 may deepen the weakness of the real estate market, which is "easy to buy and difficult to sell". Because everything is pushed to the top, there are no cheap goods.
If large resources are "buried" in the land, while the liquidity is poor, it will definitely have a negative impact on the economy. According to experts, in order to soon stop the phenomenon of real estate speculation and direct capital flows into production and business activities, the authorities need to change the management of real estate and the use of tax tools. to regulate.
Tran Thuy
You are reading the article
"Escape" inflation "bury" money in the land

at
Blogtuan.info
– Source:
vietnamnet.vn
– Read the original article
here