Giải trí
Hoa Minzy was reminded many times in episode 3 of the show "Stars to Enlist 2022-Stars"
At the time when the entire platoon lined up to eat, when there was an order from the platoon leader, everyone had to get into formation, but because he had just entered the unit, he didn't fully understand his moves, so Puka was wrong. foot. Followed by laughter from the new soldiers when they saw their brother made a mistake, besides that there was still conversation, chaos, and laughter. Therefore, the entire platoon had to queue in front of the restaurant in the midday sun. Platoon captain Pham Quang Khai was very strict in criticizing any and every individual who made a fuss during mealtime.
Hoa Minzy reminded many times in episode 3 "Stars listed".
Puka said that because he didn't fully understand the moves, couldn't tell right from wrong, he was wrong with his limbs, causing them to alert them, making a fuss in the queue and asking the platoon leader to forgive this first mistake. .
Hoa Minzy also said that, because of her previous relationship in real life, when she saw her senior was wrong, she wanted to help him walk properly, but didn't know that in the army, what he was doing was not right.
Seeing ST make that move, Hoa Minzy and Puka couldn't help but laugh. This caused the platoon leader to stop training and ask the two soldiers to make a steady move. After appearing, the platoon leader analyzed the mistakes of the two girls and objectively said that this was a difficult move, new soldiers needed to observe carefully to understand better.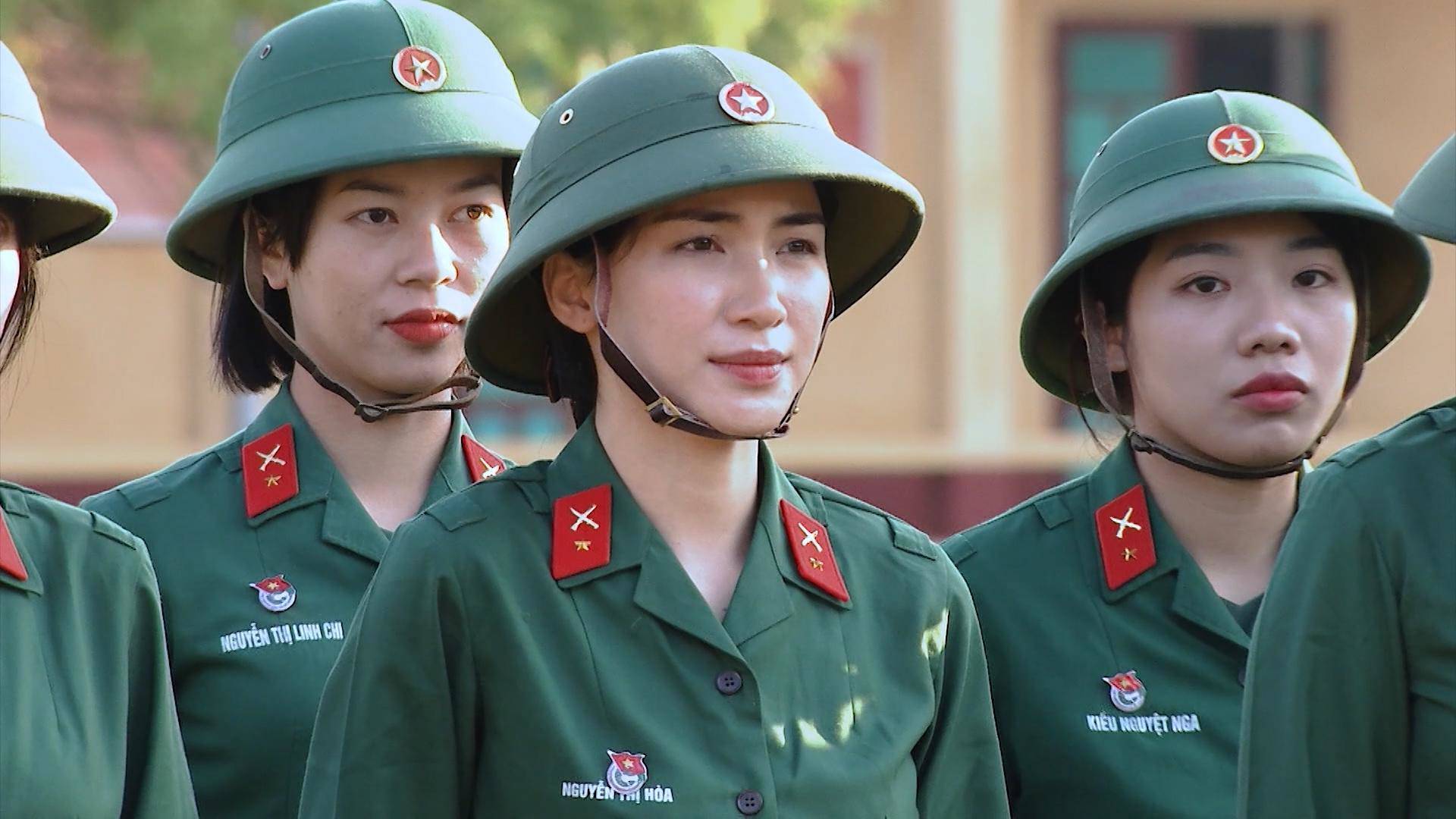 Hoa Minzy's latest image in the program.
However, when they returned to the lineup, the two girls continued to laugh as ST took the next step and saluted with weapons. This time Hoa Minzy rowed well and gave a reason to laugh at herself, but suddenly, her awkward oars made the platoon leader even tighter, indicating that this was not the right move for a soldier, and needed to learn from experience.
After listening to the explanation and knowing the reason, the platoon leader reminded the new soldiers of the principle in the unit, not to speak when going out to eat, in addition if there were any questions one should ask. commander at the right time.
In the afternoon, 8 newly trained soldiers went to the command with guns. Seeing the platoon leader as a model, everyone expressed their admiration, but when he was called to appear as a model, only ST Son Thach volunteered.
Originally an active girl, with a cheerful and innocent personality, Hoa Minzy didn't expect her real-life personality to make her so easily noticed by the Platoon Leader. This made Hoa Minzy very guilty, after being repeatedly reminded that she understood that from here on, she needed to control her emotions and had to put herself 'in the framework', from then on she could express herself. to join the army.
Also in this training lesson, from Hoa Minzy's lesson, although he didn't have a chance to explain, Puka also realized the lesson for himself, gradually becoming more serious during the training period.
You are reading the article
Hoa Minzy was reminded many times in episode 3 of the show "Stars to Enlist 2022-Stars"
at Blogtuan.info – Source: Eva.vn – Read the original article here