Business
Inflation increases, should 'down the money' invest in real estate?
According to economic experts, rising inflation was expected before the COVID-19 pandemic disrupted global supply chains, putting downward pressure on global inflation.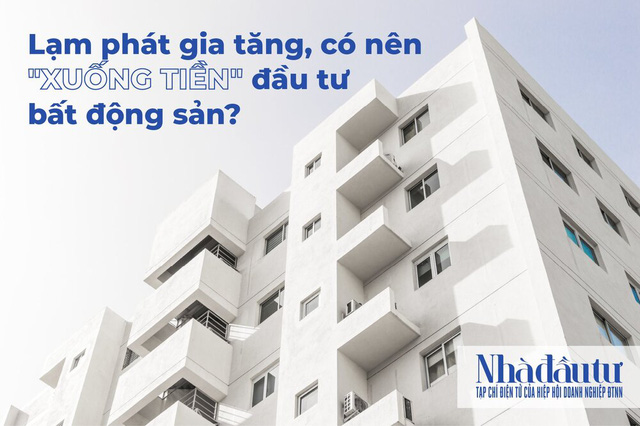 In which, oil is one of the commodities with the strongest increase in price when the demand for travel and freight increases dramatically when the world "opens up" after the pandemic; In addition, it is also "aided" by the Russian-Ukrainian war and the US and Western sanctions on Russia's energy sector. Many countries around the world have recorded record high inflation rates for many years. The consumer price index (CPI) – a measure of inflation, in the US in February 2022 increased by 7.90%, the highest level in 40 years. In Europe, the European Central Bank (ECB) raised its inflation forecast for 2022 to 5.10%.
Inflation and prices Real estate in Vietnam fluctuates "out of phase"
Inflation fluctuations in Vietnam are not out of the general trend of the world. Over the past time, commodities such as gasoline, steel, food,… all increased in price, causing people to "distort their faces".
According to the General Statistics Office, the CPI in February 2022 increased by more than 1% over the previous month and 1.42% higher than the same period last year. Economists say that the Government's goal of maintaining inflation at 4% in 2022 will face many challenges.
While actual inflation is likely to exceed expectations, many people advocate buying real estate to avoid the risk of currency devaluation. But, considering historical data shows the opposite: when inflation is high, real estate prices tend to decrease, even "freeze".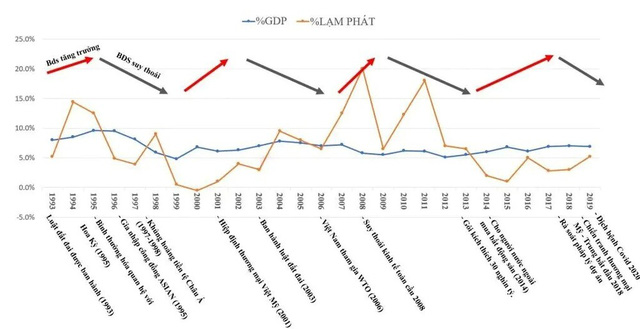 Changes in inflation and real estate market over the years. (Source: Vietnam Real Estate Magazine)
According to data from the World Bank, the inflation rate in Vietnam in 2008 (the year the subprime debt bubble burst in the US) was 23.11%, the highest in history. At that time, the real estate market had "evaporated" 50-70% of its value.
In the period 2011-2013, inflation returned to double digits (18.68%). Loan interest rates increased to a record 25-30%. The bank's bad debt skyrocketed, with a high proportion in the real estate sector. As a result, the real estate market plummeted and froze. Many people who borrow from banks to "jump" into real estate have received bitter fruit.
Mr. Lam (HCMC), a senior real estate investor, recalls this "traumatic" period. In mid-2011, he got a bank loan with an interest rate of up to 25% to buy an apartment of 100m2 for 30 million/m2. When the real estate market plummeted, he had to "bite his teeth" to sell this apartment for only 17 million/m2.
In the opposite direction, during the hot real estate period 2009-2010, the global economy then fell into a recession, domestic inflation dropped to the lowest level in 6 years (about 6.72%).
Most recently, in 2021, many people believe that the hot real estate is due to high inflation. While the actual CPI only increased by 1.47%, much lower than the 3.22% in 2020.
Historical data shows that every time actual inflation rises, especially above expectations, the real estate market does not increase, or even declines sharply.
Factors that affect real estate prices
According to Mr. Phan Le Thanh Long, director of the Australian Institute of Chartered Management Accountants (CMA Australia) in Vietnam, there are four factors that affect real estate prices in the Vietnamese market.
first bank credit. When credit is abundant, lending interest rates are low, real estate prices have the opportunity to grow strongly. In the 2016-2021 period, monetary policy is loosened, credit flows are pumped out to the economy strongly, helping the real estate market to grow.
Second is residential income. The average income of Vietnamese people has increased by about 30%, in which there are some classes whose income has increased sharply in the past 5 years, which has a direct impact on real estate prices.
Tuesday is the long term. Real estate is not a short-term commodity, bought and sold in a few months, but it takes a lot of time to accumulate for people to have enough money and infrastructure around real estate to develop.
Final is scarcity. Mr. Long cited for example that, by the end of 2021 and the beginning of 2022, the price of villas in prime locations with good infrastructure will increase rapidly. There are even areas that increase 3-4 times.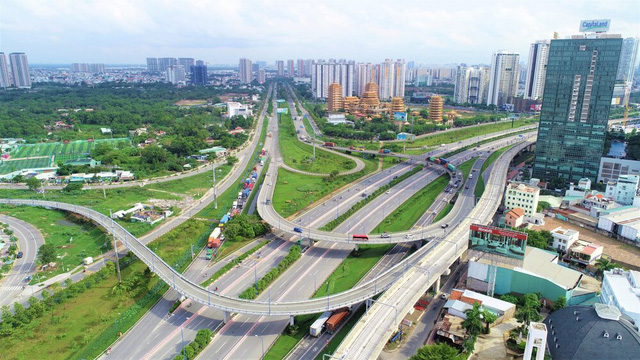 By the end of 2021 and early 2022, the price of villas in prime locations with good infrastructure will increase rapidly.
A villa of less than 170 square meters is sold for 2 million USD (about 40 billion VND). "Compared to the world, that's an unbelievable price, let alone Vietnamese," said Mr. Long.
Should you buy a house or invest in real estate at this time?
In the context of high inflation concerns, which channel to invest in is a headache for many investors. With the real estate channel, experts say that if inflation increases in 2022, the pressure to increase real estate prices will also be great.
Experts emphasized that if inflation rises too high, it will cause interest rates to rise, tighten cash flows, and real estate will immediately decrease in price and freeze liquidity.
Therefore, calculations in the real estate investment problem at this time are absolutely necessary because in 2022, inflation pressure on the economy will be huge. When investing in real estate during inflation, bank interest rates increase sharply, investors need to calculate that, when interest rates increase, cash flow from real estate investment will be enough to pay for loan interest or not. or whether the real estate is liquid to collect cash flow when needed.
Because then interest rates will be under increasing pressure, deposit interest rates will be at 8-10%/year, lending interest rates will be high again, volatility risks in the real estate market will be great.
The experience of many long-term real estate investors shows that there are periods when inflation exceeds expectations too much and real estate does not increase or even decrease. Therefore, investors must be careful and strategic, get ready for the market's price base and liquidity. Especially in the near future interest rates may increase. Besides, if looking at the macro perspective, when inflation is higher than the scenario many people suggest (below 4%) to the extent that the State Bank has to adjust its policy, this will be dangerous for investors. short-term investment.
You are reading the article
Inflation increases, should 'down the money' invest in real estate?

at
Blogtuan.info
– Source:
cafebiz.vn
– Read the original article
here