MC Anh Tuan (Vu Anh Tuan) born in 1974, is a name associated with such familiar programs as "Music Game", "Vietnamese Song", "MTV", "Quan Thanh Xuan"… Interesting, funny, plus His handsome appearance has helped him quickly win the hearts of the audience.
Despite his success in his career, Anh Tuan's love path is quite difficult. The male MC went through an incomplete marriage before having a happy family like now. It is known that in the process of studying abroad, Anh Tuan met and fell in love with a woman Lisa is an Australian citizen. The two happily welcome two sons, Alex (Vietnamese name: Vu Quang Huy) and Henry (Vu Quang Thang).
Referring to his ex-wife, MC Anh Tuan only specified Lisa's name. Moreover, the exact information about the mother of this male MC's two sons is completely unknown. After getting married, Lisa bravely left her hometown to follow her husband back to Vietnam as a bride. Lisa is considered a gentle woman, and has a lot in common with Vietnamese women. He also received a lot of love from MC Anh Tuan's family. However, due to some disagreements, the Vietnamese-Australian couple decided to end their marriage.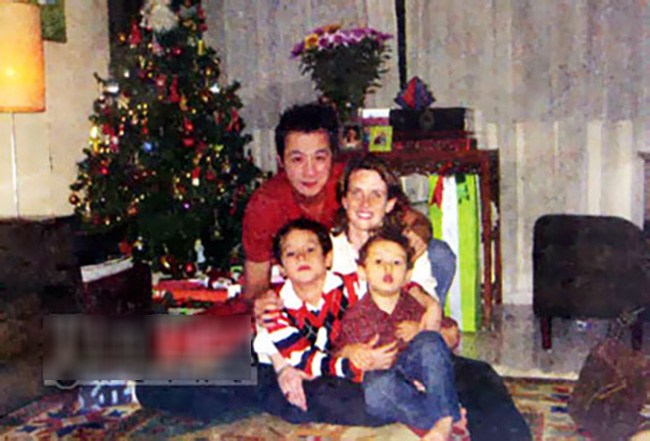 One of the rare photos where the MC's ex-wife appears.
After breaking up with his first wife, in early 2013, the male MC married his current wife, Ly Hong Nhung (born 1988). She has two Vietnamese ancestry – French, has a beautiful beauty, and has attended the University of Theater and Cinema. The two have been together for more than 8 years.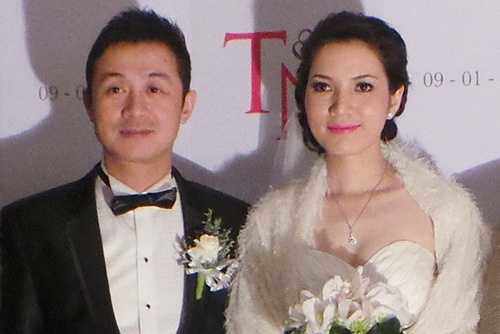 After breaking up with his first wife, in early 2013, the male MC married his current wife, Ly Hong Nhung (born 1988.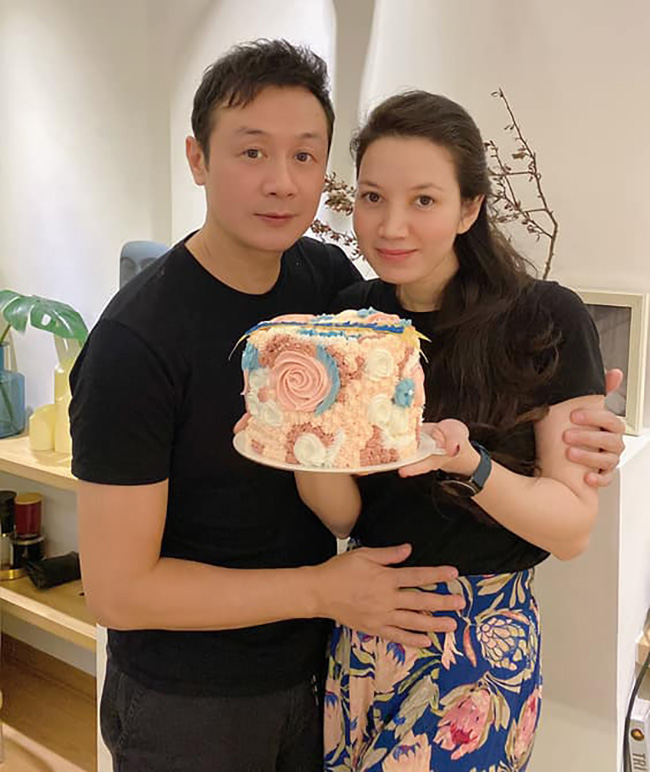 During 8 years of being married to MC Anh Tuan, Hong Nhung chose to be the woman in the family, becoming a solid backbone for her husband. Although currently, MC Anh Tuan and Hong Nhung have no children together, but the two still have a happy life with MC's two sons.
Tuan Tuan is a rather secretive person and often doesn't say much about his family. The children also rarely appear in public with their father. Perhaps like many other Vietnamese stars, the MC of "Music Games" doesn't want his children to be too noticed by the media, thereby affecting their personal lives.
It is known that Alex is 23 years old this year and Henry is 18 years old. Both of them inherited many of their father's facial features. The eldest son, Alex, looks more like his father when he smiles. It was rare for Anh Tuan to share about his children, it was seen that both Alex and Henry were raised with great care by their father. He revealed his eldest son Alex has an extraordinary height. In 2015, Alex was almost as tall as his father. It is known that during high school, Anh Tuan's eldest son's academic achievement was quite good.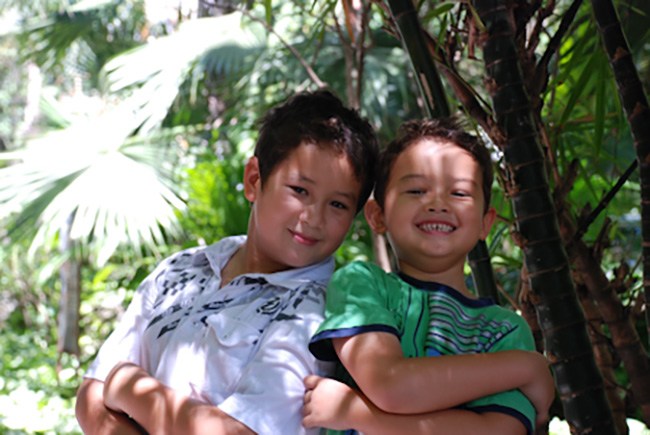 Two handsome American-Western sons of MC Anh Tuan.
He is good at natural subjects, especially physics, and likes to play bass. In 2016, when Alex was 18 years old, the male MC once posted a photo to celebrate his son's birthday. In the photo, Anh Tuan's young son holds a lute in his hand, being taught by his father to strum. As for his youngest son, Henry, although not as good at studying as his brother, was also gifted in the arts, very fond of magic and hip hop.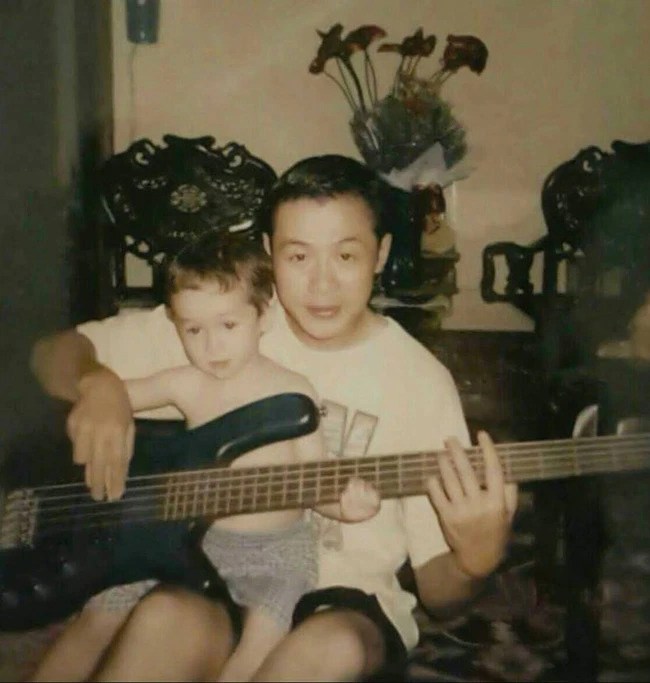 In daily life, MC Anh Tuan proves to be a psychological father who always loves and respects his children completely. In early 2013, the male MC "young forever and never old" suddenly held a wedding with the beautiful Ly Hong Nhung in Hanoi. It is worth mentioning that before he intended to "bring" his current wife home, he seriously consulted his two sons, Alex and Henry. This shows how much the male MC respects and cares about his children's feelings.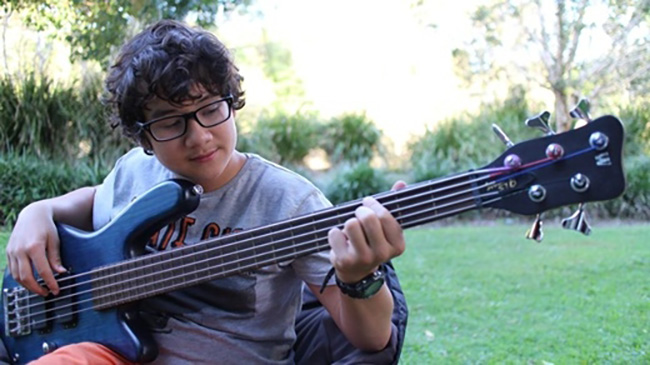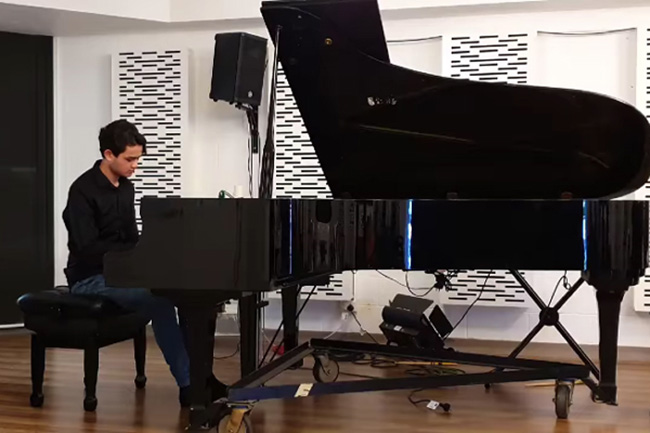 The eldest son of MC Anh Tuan is very talented in music.
MC Anh Tuan once said that he consulted with his two children before deciding to share the house with Hong Nhung, this subtlety has helped the relationship between the members to be harmonious, the prejudiced stepmother – son Her husband also disappeared completely. The two children were excited to attend their father's wedding in Vietnam.
At Anh Tuan's wedding afterwards, Alex and Henry both wore elegant suits, happily attending and congratulating their father. The "stepmother-daughter-in-law" relationship after that was also very good. The whole family shared from happy to sad stories, shared happy moments in domestic and foreign travels.
It is known that the two male MC sons, aged 23 and 18 respectively, live in Australia with their mother. Children often return to Vietnam to be reunited with their father on the annual summer vacation.
Anh Tuan said: "I do not mean to "force" my child to follow the profession of his father or mother. I love my children very much and want them to be free to choose their future careers. I think the best thing we can do is give our children the best learning and educational environment, and from these "roots", they can create their own career.
Currently, my eldest son – Alex (Vietnamese name is Vu Quang Huy) can speak 3 languages ​​fluently, the second son can speak 2 languages. Both are very smart and talented in music, but the second child – Henry (Vu Quang Thang) prefers to sing and play the piano. Henry also seems "talky" like his father. And Alex is good at drawing and wants to be an inventor or car designer in the future.".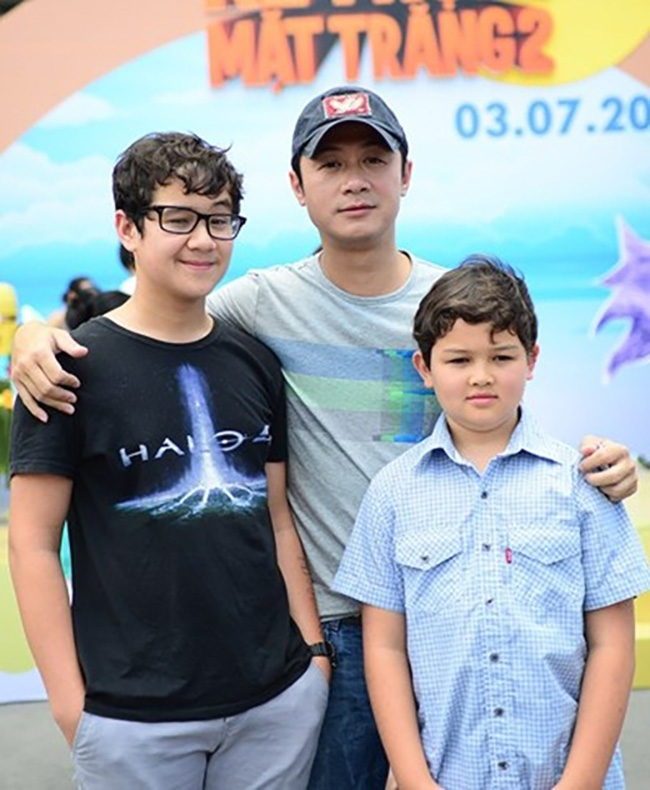 This father of two children does not intend to "force" his children to follow the profession of father or mother.
You are reading the article
MC Anh Tuan VTV U50 happy with his wife 2 14 years younger, 2 handsome Western children
at Blogtuan.info – Source: Eva.vn – Read the original article here