Thị trường
The famous ventilator inventor brought COVID-19 resistant masks, fine dust, pollen to Vietnam
After specialized ventilators for hospitals in more than 20 countries around the world, Vietnamese-Japanese inventor Mr. Tran Ngoc Phuc has just launched the first two-way air filter technology mask in Vietnam.
Metran Japan – a Japanese company with more than 35 years of experience in manufacturing special respiratory medical devices – announced that it has successfully developed the O-Pro smart mask.
Metran was founded by Mr. Tran Ngoc Phuc, long known as a Vietnamese-Japanese expert who invented the MV20 ventilator for Covid-19 patients, which is currently being used in 8 countries around the world. there is Vietnam.
Mr. Phuc is also the father of the Hummingbird ventilator for premature babies (HFO) which is being used in over 20 countries.
In the context of the rapidly spreading Covid-19 epidemic, re-infection rate and worrying post-infection sequelae, long-term "living together" with protective equipment such as masks has become essential. weak to people's daily life. In addition, the sharp decline in air quality has also made masks a useful product for humans, attracting the attention of medical device manufacturers around the world.
However, current masks cause limitations in breathing ability when active, as well as reduce aesthetics in daily life and communication.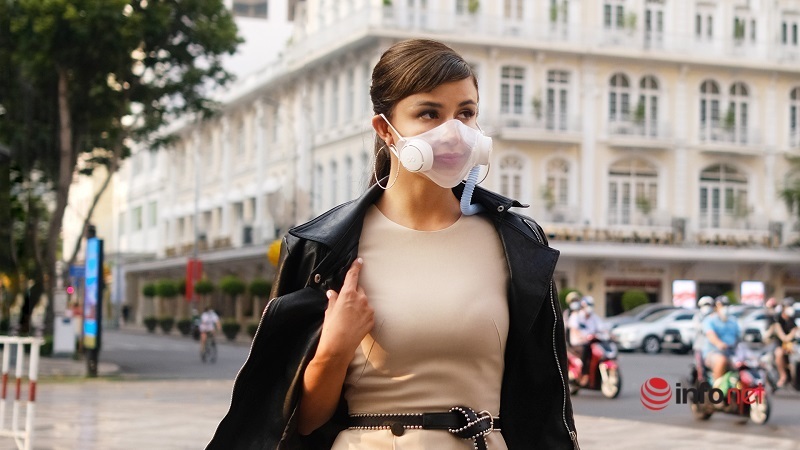 O-Pro masks are officially available in Vietnam.
Doctor Ton Thanh Tung, Deputy Head of Emergency Department (C1-3), Military Hospital 175, assessed: "On average, a day front-line medical staff has about 4-5 hours of contact with at-risk patients. viral infection. Wear PPE protective suits that are resistant to the entry of pathogens, but very hot and uncomfortable. Besides, not every hospital can fully and regularly equip the most advanced masks such as N95 or PPE protective suits."
O-Pro is part of the project "Air masks of the future", created by Mr. Phuc and his associates for more than a year. The technology mask can be used comfortably in hot weather, does not cause suffocation, is convenient for gas exchange activities taking place in the lungs as well as ensures fashion.
Integrated with a HEPA H-13 filter and an antibacterial photocatalyst lamp, the O-Pro is tested by the Technology Institution of Industrial Safety to filter up to 99.9% of dust. fine particles smaller than 2.5 microns (PM 2.5), bacteria, viruses, and harmful particles present in the air.
With an optimally secure, self-contained two-way air filtration system, the O-Pro has three levels of adjustment that can deliver more than 100 liters of air per minute and up to 10 hours of use at a time.
The mask of the O-Pro mask is also made of medical-grade silicone, which is safe for the skin and helps users communicate or share emotions easily even when wearing a mask.
"We originally planned to launch products in the EU and US markets, but as a Vietnamese, I want to prioritize serving my homeland first," said inventor Tran Ngoc Phuc.
He shared that Metran planned to provide equipment to serve people and frontline doctors during the recent peak of the epidemic, but the product launch was slower than expected due to difficulties in component supply. .
"However, this is a problem of the future that needs to be solved not only during the Covid-19 pandemic, but also many other problems about the air and agents that affect human lungs," the inventor affirmed. .
Mr. Tran Ngoc Phuc, the author of the O-Pro mask invention.
Officially launched in Vietnam, O-Pro is currently being distributed through B2B partners and accepting online orders.
The O-Pro Prime mask line has been launched on the Vietnamese market, suitable for cases such as use on airplanes, hospitals or environments with a risk of infection or contamination. In the future, Mr. Tran Ngoc Phuc wants to bring the next version to deeper industries. The O-Pro Ultra comes with PPE that covers the head and face for comprehensive protection, suitable for factories, mines with a lot of toxic gas, hospital environments where many patients have respiratory diseases. and airborne diseases.
It is known that Mr. Tran Ngoc Phuc's Metran Company, established in 1984, is a professional respiratory medical equipment manufacturing company that has successfully developed and commercialized the HFO mechanical ventilator for infants. The world's first piston type (High Frequency Oscillator) as well as the "Hummingbird" ventilator in 20 countries.
In addition, Metran also invented other professional healthcare equipment such as: MV20 currently used to treat COVID-19 patients in 8 countries around the world (including Vietnam); JPAP machine for patients with sleep apnea syndrome; ventilator for COPD patients to help people who are having difficulty breathing or facing breathing emergencies.
Tuan Nguyen
You are reading the article
The famous ventilator inventor brought COVID-19 resistant masks, fine dust, pollen to Vietnam

at
Blogtuan.info
– Source:
infonet.vietnamnet.vn
– Read the original article
here