Business
The license plate 'transforms' from white to blue in an instant, selling widely online
Flip the blue sea with sophisticated equipment
The service of selling and making fake license plates has been around for a long time, but now the tricks are more sophisticated and professional, with new technologies.
PV contacted the admin of the "Make a license plate" page on Facebook, and immediately received dedicated advice on how to buy goods and the technology to swap car license plates in. "We can make blue sea, yellow sea. Motorcycles or cars can do it …", this admin advises.
For 5 million VND, customers can buy a license plate changer, including 2 devices corresponding to the front and rear number plates of the car. Buyers only need to send the number of plates they like, phone number and address to the consultant and they can receive the goods after 4-5 days.
"I send goods by post. Customers can check the goods upon receipt. If you like it, pay the money", the admin added.
Talking about the number plate swapping technology, the admin of this page said: "This device consists of an outer metal frame and a turntable to mount the plate inside, with a flip mechanism. Turning the turntable is electrically or remotely controlled just like using a rolling door. Just sitting in the car using the remote control, you can swap plates easily."
In addition to the car plate swapping device, this Facebook page also advertises the services of counterfeiting cheap motorbike and car license plates, with a commitment to be 100% authentic. For motorbikes, the sea usually costs 299,000 VND, the patterned plate is 500,000 VND, the blue sea also has the same price. For cars, the price difference is about 100,000 VND compared to motorbikes.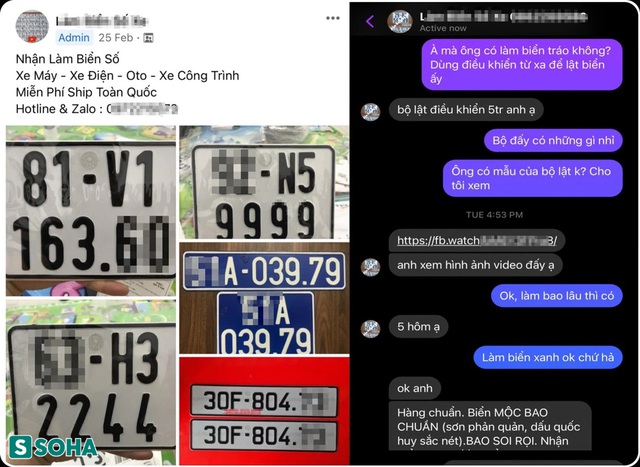 Blue sea, white sea, yellow sea, flip-flopping sea, sold widely, priced from several hundred thousand.
Before that, many cases of "two cars with the same number plate" or "the car changed from white to blue in the middle of the street" made many people angry. At the end of 2019, a 46-year-old man while driving a Mercedes on Phung Hung Street (Hanoi) changed the white plate 30F to the blue sea 80A.
A day ago, on the road next to the bend next to the headquarters of the Ministry of Public Security, the 40-year-old male driver of the Toyota Land Cruiser flipped the car from the white sea 30F to the blue sea 80A.
Working with the authorities, these two drivers said they installed a device to swap license plates because they wanted to give way when using fake plates.
Install green LED lights, fake official vehicles
Some drivers often use tricks to "bypass" the cold penalty system. They installed blue LED lights on the license plate, creating the same effect as the color of the official vehicle's license plate.
This type of lamp is widely sold in stores and on e-commerce systems with cheap prices, from only 16,000 VND to more than 100,000 VND. There are also detailed instructions on how to install LED lights on license plates on Youtube and some websites. Because it is easy to install and use, some people take advantage of LED lights to serve other purposes.
Mr. Hoang Gia V. (23 years old, in Do Son, Hai Phong) also installed blue LED lights in the license plate. Around 6:00 a.m. on March 13, Mr. V. drove a car in the opposite direction of a 15km long road on Noi Bai – Lao Cai highway. Notably, looking through the camera, this car has a license plate similar to the blue of the official vehicle.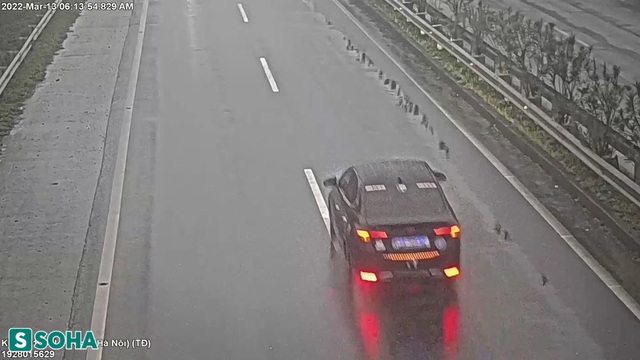 The license plate of Mr. V.'s car is fitted with a green LED, seen through a surveillance camera like a license plate of an official vehicle.
According to the commander of Traffic Police Team No. 1, Traffic Police Department, Ministry of Public Security, the driver's license plate is blue, which is the LED light effect. Driver V. in addition to an administrative fine of 16-18 million, deprived of the right to use a driving license for the act of going in the opposite direction, was also verified for installing a blue LED light in the rear license plate, by passing The monitoring system is easy to confuse with the license plate color of the official vehicle.
"Install fake signboards for beauty, dignity and avoid violations"
Talking about the above situation, Senior Colonel Ta Thi Hong Minh, Deputy Head of the Department of Guidance on Propaganda, Investigation and Handling of Traffic Accidents, Traffic Police Department (Ministry of Public Security) said that the use of fake number plates, swapping number plates, using LED sea lights to pretend to be an official vehicle, is happening with increasingly sophisticated methods and tricks.
Covering plates, installing fake plates or swapping number plates when participating in traffic to cheat, avoid responsibility when accidents, traffic collisions or "pass" cold fine cameras… Some people install signs fake to "for beauty, for majesty", some lost the sea but did not go to the authorities to apply for re-issuance.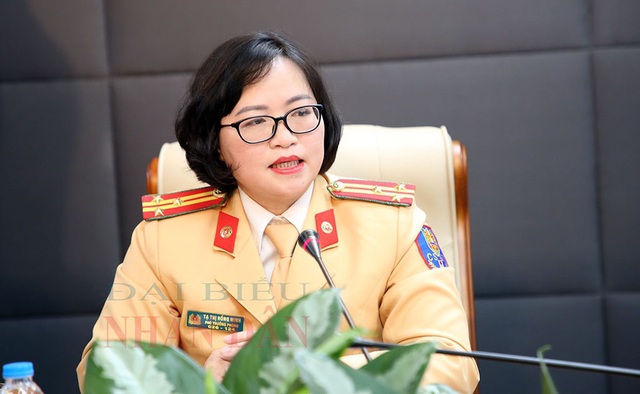 Senior Colonel Ta Thi Hong Minh, Deputy Head of the Department of Guidance on Propaganda, Investigation and Handling of Traffic Accidents, Traffic Police Department. Photo: National Assembly
"This is one of the difficulties for the handling of violations through the surveillance camera system. Currently, people can access the website csgt.vn to look up violations. The functional forces will use measures professional law to conduct investigation, verification and strictly handle according to the provisions of law, ensuring the right people, the right violations," said Senior Colonel Minh.
The traffic police force has also handled many cases of violations caused by installing or swapping number plates that do not match the vehicle registration papers or attaching number plates not issued by competent authorities. According to the regulations, this behavior will be fined from 4 million to 6 million dong for car drivers, a fine of 800,000 dong – 1 million dong for motorcyclists (including motorbike drivers). even electric motorbikes).
It is forbidden to install LED lights in the license plate
Talking to PV, lawyer Tran Tuan Anh, of Minh Bach Law Firm, said that license plates are one of the important information for authorities to manage security, order and traffic. In case of counterfeiting or swapping of number plates, it is necessary to clarify the responsibilities of both the manufacturer and the buyer.
"Traffic drivers using fake license plates on highways often have the purpose of avoiding the speed penalty. They can take advantage of the use of fake license plates to commit crimes such as fraud, robbing property, trading banned goods, intentionally causing injury," said lawyer Tuan Anh.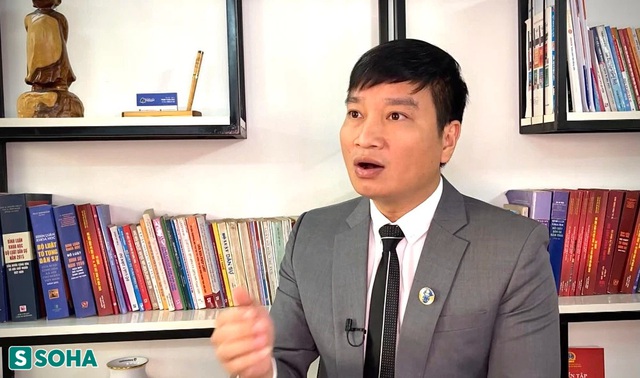 Lawyer Tran Tuan Anh, Minh Bach Law Firm.
Those who manufacture equipment to cover and flip number plates with fake number plates will be fined from VND 30 million to VND 35 million (for individuals) and from VND 60 million to VND 70 million (for organizations). .
With the act of adding LED lighting to the license plate, according to Lawyer Tuan Anh, "this is an act of arbitrarily changing the structure, overall, and system of the vehicle that is not in accordance with the manufacturer's design. This will be fined from 100,000 VND to 200,000 VND (for machines), and from 300,000 VND to 400,000 VND (for cars).
To limit this situation, it is necessary to strengthen inspection and control, in order to detect production facilities and acts of buying, selling and using fake license plates, "said lawyer Tuan Anh.
https://soha.vn/bien-so-bien-hinh-tu-trang-thanh-xanh-trong-nhay-mat-ban-tran-lan-tren-mang-20220319012914948.htm
You are reading the article
The license plate 'transforms' from white to blue in an instant, selling widely online

at
Blogtuan.info
– Source:
cafebiz.vn
– Read the original article
here