Uncategorized
The mysterious fossil wood kingdom on Gia Lai plateau
The mystery of the fossil wood kingdom on the Gia Lai plateau
Hundreds of millions of years ago, the primeval forests of Chu A Thai land were buried deep under the soil. Through the time of weathering, up to now these trees have petrified and floated to the ground. The beauty of petrified stone and the concept of feng shui make this wood highly sought after.
Chu A Thai mountain range (Phu Thien district, Gia Lai) is considered the kingdom of fossil wood. People in Chu A Thai commune and many people from all over the world have flocked here to collect valuable fossil logs for themselves. Because of that, in recent years, fossil wood is gradually being exhausted, it is rare to find large fossil wood trees on Chu A Thai mountain.
1. Go up the mountain to find… petrified forest
Chu A Thai commune (Phu Thien district, Gia Lai) is located on the Chu A Thai mountain range. At the foot of the mountain are green rice fields that have fed generations of Jrai descendants. Chu A Thai Mountain is also the place where most fossil wood is found in Gia Lai.
Previously, Chu A Thai mountain was a primeval forest. Through geological activity, the forest was submerged in mud. The organic parts of the wood decompose. At this time, minerals and silicon begin to flow in and replace the organic part in the stem. After hundreds of millions of years, fossil wood was formed. Experiencing weathering and erosion, petrified wood is raised to the surface and picked up by people for display or sale.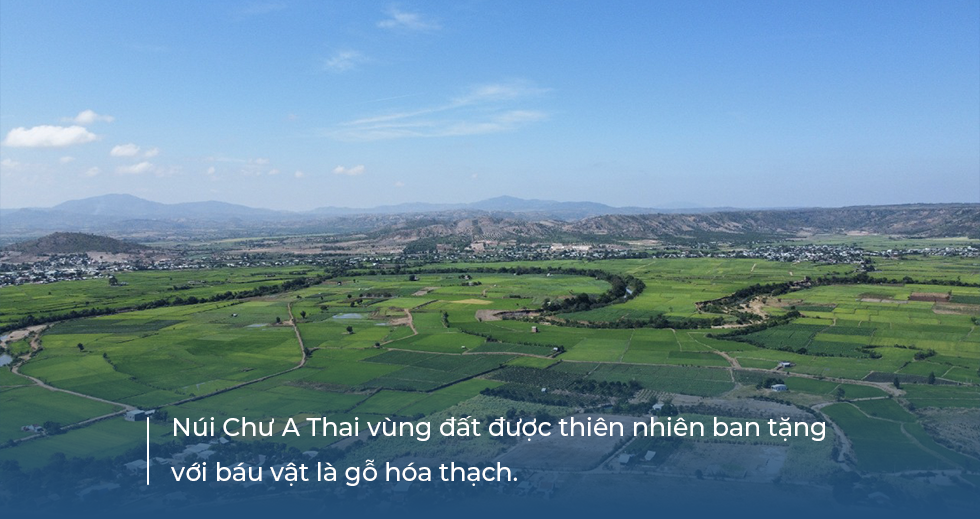 In the hot midday sun, Mr. Nguyen Van Nguyen (32 years old, residing in King Peng village, Chu A Thai commune, Phu Thien district, Gia Lai) was working hard to find fossil wood at the foot of Chu A Thai mountain. Mr. Nguyen said: "Mount Chu A Thai has been likened to the "capital" of fossil wood for decades. Fossil wood is very valuable, so many people often go to the mountain to find it. take advantage of the lunch break to go around the mountain, picking up small fossil wood pellets. If you collect a lot, you can sell it for up to a few million dong or just a few hundred thousand dong, depending on the size and quality of the stone."
Similarly, Mr. Nguyen Van Chuan (29 years old, residing in Dlam village, Chu A Thai commune, Phu Thien district, Gia Lai) is grazing his cows at the foot of Chu A Thai mountain. He found a beautiful red-brown fossil wood pellet weighing about 10 kg, hidden deep in the soil.
Mr. Chuyen excitedly said: "Today, I was lucky to have found a fossil wood pellet with such a beautiful color. In my opinion, this stone will have a very high value. Hopefully, I will sell it for a good price. good to add money to buy school supplies for children".
Mr. Chuyen said, many years ago, all over Chu A Thai mountain was fossil wood, but no one bothered to take it, treating it as normal stone. Many people see it as beautiful, so they take it home to wash it for decoration. Some people bring it back to the kitchen and block the door.
"Once, while working in the fields, a person near my house found a fossil log weighing several kilos. Many days later, people from Pleiku city came to ask to buy it, they only sold a few million dong. Currently, the log Fossils of that size cost hundreds of millions of dong," said Chuyen.
Before that, in the years 2005 – 2015, people everywhere went along Chu A Thai mountain to find fossil wood to sell. At this time, fossil wood is purchased by traders for 5,000 to 6,000 VND/kg, beautiful stone is priced at 10,000 VND/kg. The large rocks are calculated by shape, color … and cost tens of millions of dong.
The "fever" of fossil wood caused people from all over the world to flock to the mountains to search. The regenerative forests of Chu A Thai also gradually dried up. Large holes and small holes were dug indiscriminately. Mercifully for the forest, people in Chu A Thai commune had to build concrete pillars right at the village gate to prevent large trucks from entering and buying fossil wood.
2. The profession of "changing new clothes" for fossil rocks
The craft of grinding fossil wood has emerged in Phu Thien town for more than a decade. Mr. Do Van Ngoc (28 years old, Phu Thien town, Phu Thien district, Gia Lai) has more than 8 years of experience in the craft of making fossil wood stone.
We went to Mr. Ngoc's fossil wood workshop in the late afternoon. From a distance, we see him hard at work using a machine to grind shiny, eye-catching and attractive fossil logs.
Mr. Ngoc said, he has been passionate about fossil wood since 2014. At that time, he was just a plumber. In the afternoon, he saw a man near his house hard at work grinding raw fossilized logs into shiny, fanciful stone works that he sold to customers in Ho Chi Minh City for huge amounts of money.
"Fossil wood has many colors, so the economic value is also different. The soft outer shells, jade-colored inside (jewelry wood) cost millions of dong per kilogram. As for the normal ones, the size is fine. If it's small, the price is about 10,000 VND/kg," Ngoc said.
To get an artistic product, the maker needs to choose the exact location, when polishing, you will see the stone vein, the most beautiful color. If you choose the wrong position of the stone, it will make the product bad, not artistic.
Therefore, Mr. Ngoc is very careful in each stage of the work that requires meticulousness, ingenuity, and a rather high aesthetic eye to complete the shimmering and beautiful work. The petrified wood products in his house are all polished for a long time.
In addition to the small-sized stone, Mr. Ngoc also owns many fossil wood found tens of meters deep, 0.5 m in diameter, 1.5 m high. The tablets weigh 2 -3 quintals, valued at 300 million VND or more. The valuable fossil wood, Mr. Ngoc often grinds very carefully. According to Mr. Ngoc, each petrified wood pellet is a masterpiece of nature, so it does not need to be crafted or chiseled too much.
With a passion for fossil wood, Mrs. Nguyen Thi Thanh Thanh and her husband (Phu Dong ward, Pleiku city) often ride motorbikes for nearly 70 km to go down Chu A Thai mountain to buy back stones from people to pick up. From a horizontal hand that does not know anything about fossil wood, now, Thanh and her husband have owned nearly one hundred blocks of fossil wood of all sizes.
"My family often buys stones from Chu A Thai and Da Lat mountains to display to satisfy their passion for fossil wood collection. Before, the family often bought and then hired craftsmen to make the fossil wood sparkle, Due to the high cost, my husband bought the machine to self-study and make stone. The family also sells some fossil wood to buy more valuable products," said Ms. Thanh.
3. Fossil wood treasures are gradually exhausted!
After decades of massive exploitation, fossil wood in Chu A Thai mountain is almost exhausted. On the Chu A Thai mountain range, there are now only stones weighing less than 0.5 kg. Wanting to find large stones, people often use excavators to dig deep, luckily to find valuable stones.
Along Highway 25 in Phu Thien town (Phu Thien district, Gia Lai) there are nearly a dozen shops selling fossil wood. The precious wood blocks for sale weigh from 3 to 5 kg, after polishing, the fossil stone block will cost from 500,000 VND to several million VND. A shop owner specializing in selling fossil wood products in Phu Thien said that the fossil wood in Chu A Thai mountain has more beautiful colors than other areas, so it is very popular with people in Da Nang, Ho Chi Minh City and Hanoi. ordered. This stone is often used to make feng shui, jewelry, fine art… Currently, fossil wood has been gradually exhausted, the source of goods is also scarce and also becoming expensive.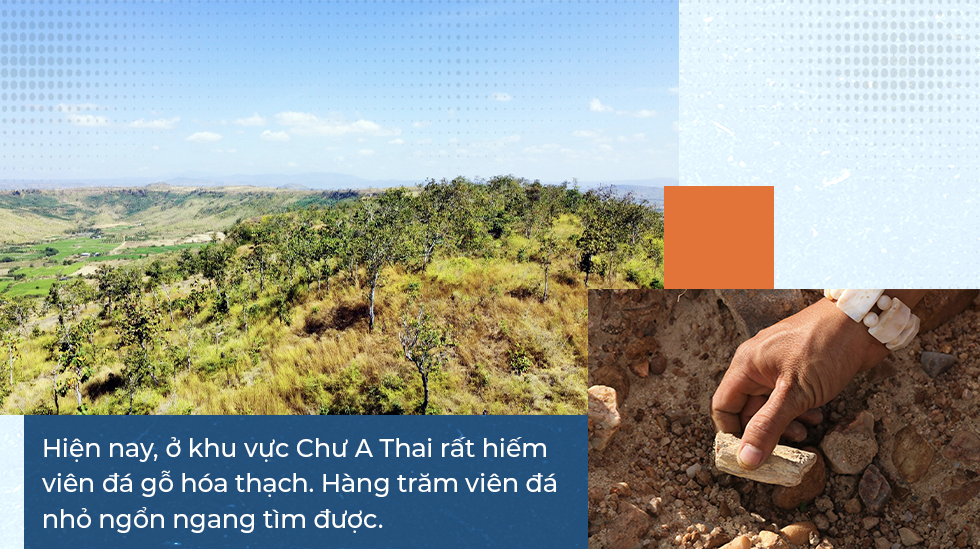 Mr. Phung Chung Toan – Chairman of Chu A Thai Commune People's Committee said that decades ago, the movement to find fossils in the commune flourished. However, in recent years, fossil wood has also become scarce and is located deep under many layers of soil. Therefore, the search is only small in a few households farming near the Chu A Thai mountain range.
"Local authorities also regularly propagate, prohibit and handle many cases of illegal logging of fossil wood. At the same time, commune functional forces also patrol to promptly detect fossil stone mining. in the area and the mixing of stones from other places into the area to sell for a high price," said Toan.
Fossil wood is currently popular not only in Gia Lai but throughout the country. Many fossil wood blocks with huge diameters are being displayed at many cultural facilities across the country for people to admire the masterpieces that nature has bestowed. I think the authorities need to have many solutions to build an exhibition facility to store this ancient stone for future generations.
According to dantri.com.vn
You are reading the article
The mysterious fossil wood kingdom on Gia Lai plateau

at
Blogtuan.info
– Source:
infonet.vietnamnet.vn
– Read the original article
here