Giải trí
Vo Ha Tram blamed her Indian husband for not keeping his promise when he was still in love and had to live on green tea
WATCH VIDEO: Vo Ha Tram talks about his "milk baby" life, starting parenting at 7 am.
Since giving birth to her daughter, Vo Ha Tram has become a "milk mom" with significant traction on social networks. She once said that the first few months after giving birth, she suffered from mild depression due to her lack of experience raising a baby for the first time, and was tired when she saw babies cry. However, thanks to the subtlety of her behavior and the way she shared her difficulties and calmed her husband's spirits, the "mother of one" quickly stabilized her mind.
Present, Vo Ha Tram spends happy days with his little family. She also gradually returned to doing art with the help and support of her husband.
Vo Ha Tram shares many beautiful family photos on social networks, where baby Moon is always the center of attention.
On her personal page, "mother with milk" continues to post many beautiful moments of the two-blooded Vietnamese-Indian child. In a recent share, she made netizens "laugh" because she blamed her husband for not keeping his promise…to love himself, instead of giving first place to baby Moon.
In particular, she "warmly" recounted a series of questions from her husband while taking care of her children's preparation for kindergarten, reminding her to hold the child. "Hi. I'm going to kindergarten tomorrow, who will take me to the toilet? Don't make me clap, I'm tired of you. Don't hug me like that, my back hurts. Don't let me sit with my legs open, my thigh muscles hurt. I said quietly, I was shocked. I turned off the air conditioner, I sneezed. Why did you let me cry because I was hungry? Your child should not cry because he is hungry.
In the past, you promised to love me very much, where is that promise now?" – The female singer wrote jokingly, accompanied by a "melted" photo of her husband and daughter.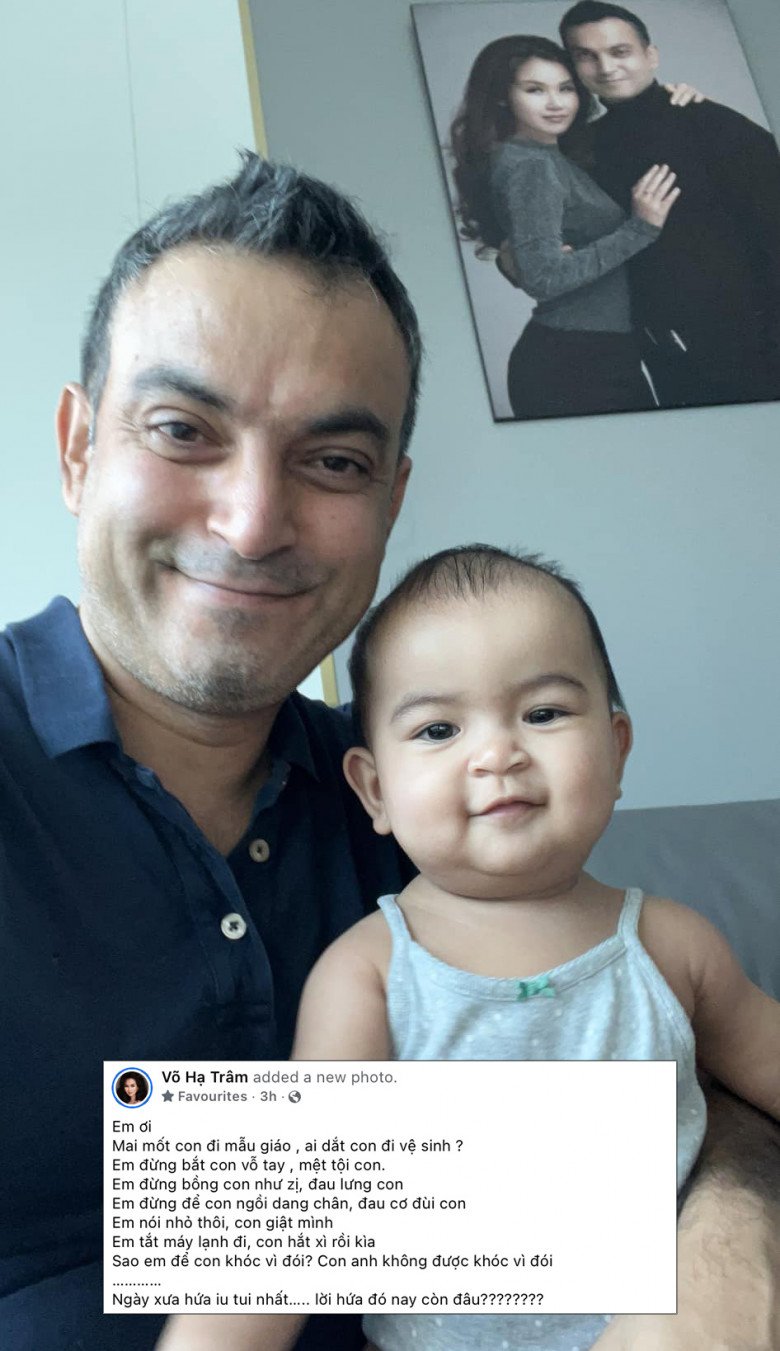 She posted a photo of her husband and daughter from India posing together, looking like "two drops of water" that made netizens' hearts flutter. Even baby Moon has a sweet smile that causes a "hurricane of likes".
Under the comments, female singer 9X sullenly called her daughter "green tea", making netizens laugh: "Now I have to live on 'green tea' in peace, everyone."
Thinking that there would be support from the majority, however, the cuteness of the Indian pixie standing next to her father made netizens comment: "This green tea is right, sister, you look so cute", "I also want to have such a beautiful "green tea" to live in peace", "drink" green tea "That is called anger without doing anything. all" …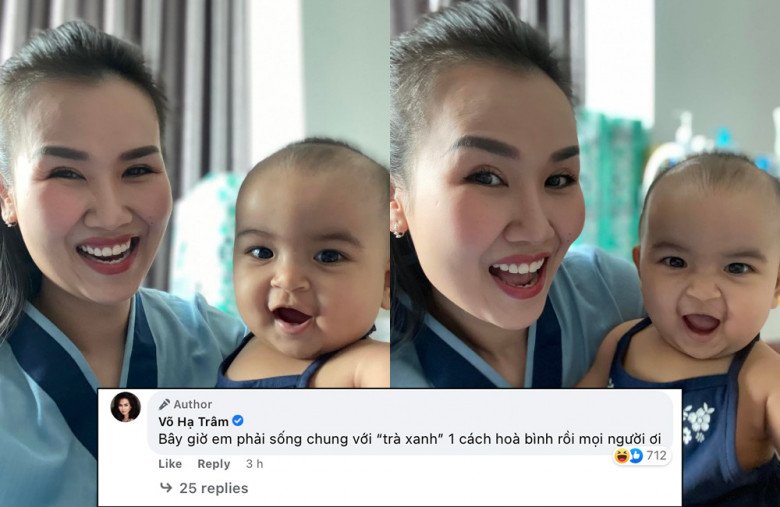 She jokingly calls her daughter "green tea" because she has lost the most important position in her husband's heart.
Not only that, actor Quy Binh also teased his colleagues: "I used to say I love you, but now it's different." It is known that the rich wife of Quy Binh also gave birth to a son for him a few days ago in the hospital.
MC Quynh Hoa cheers: "Accept the truth, honey! If you have a baby, then come down to the second row." Actress Kha Ly wrote: "It is said that the daughter is the lover of the father in the previous life, so accept it, dear, now you are number 2, look at your face, it just wants to melt."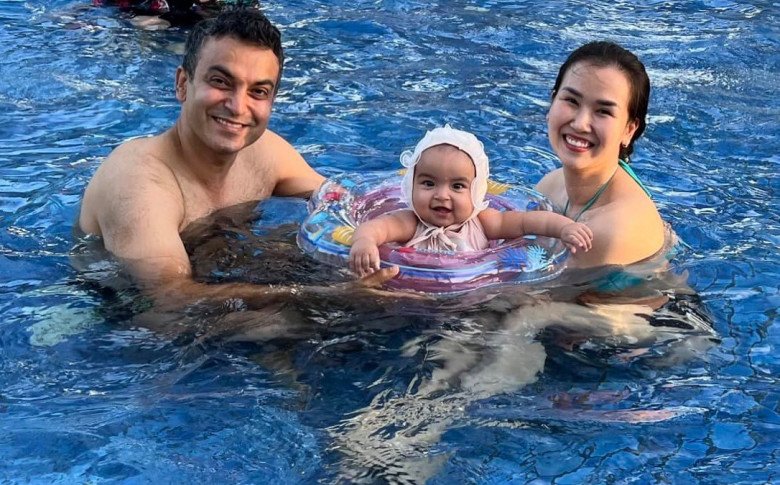 She said her husband was a very loving person and wanted to protect his family, especially his daughter.
This is not the first time Vo Ha Tram has complained to netizens when her husband pays more attention to his daughter than his wife because his family has more members. In a recent share, she admitted that she is ranked 2nd since having baby Moon.
"Before going to work, I will go to my son's room, if he wakes up, hug him and play. When he gets home, his daughter is the first he asks, texting always mentions "little lady" first and then his wife. By and large, all his affection goes to his children. Even when he is tired and under pressure from work, he still spends time playing with his daughter every day.
In particular, he does not allow anyone to touch baby Moon whenever he takes him out. When in the elevator, she always carried her child in the corner, her back to everyone. I understand it is a father's protection for his child."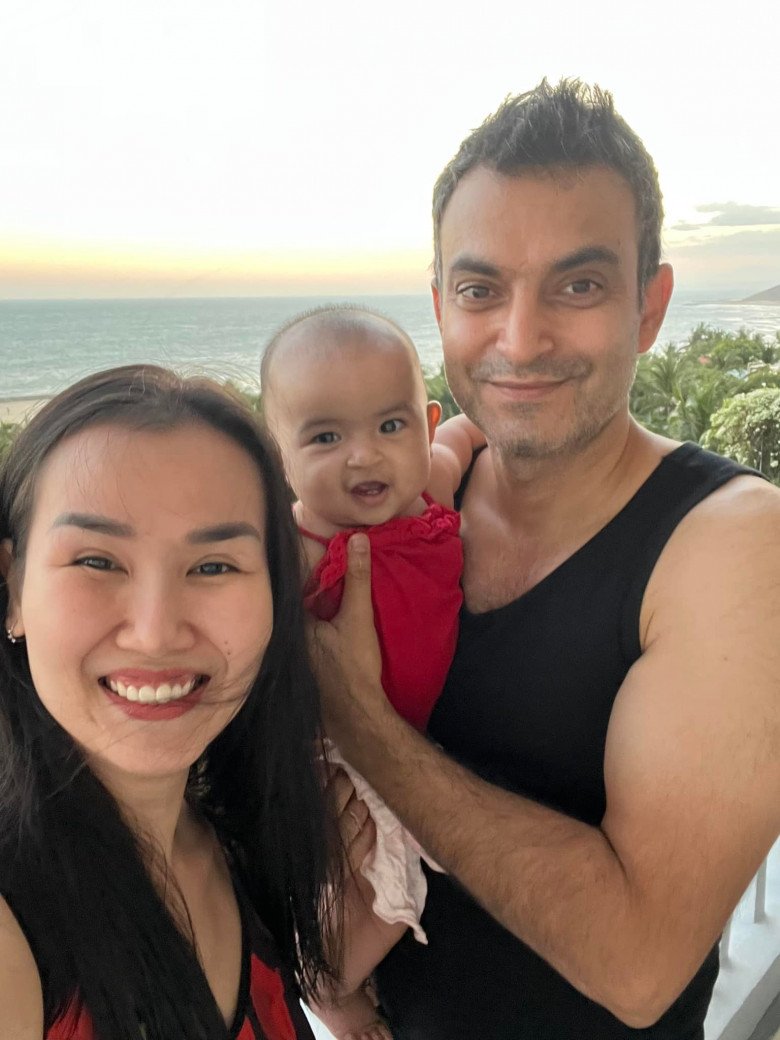 Currently, Vo Ha Tram's marriage is very happy and fulfilling.
Although she repeatedly blamed him for love, she loved her husband very much and understood that he always wanted to do his best and protect the safety of his wife and children. He narrates: "My husband is very protective of the family, but he is not very good at taking care of it. He couldn't stay up late at night to take care of the children, even if he woke up, he wouldn't know how to manage it. He couldn't even change a diaper, was so clumsy that after changing it I had to start all over again.
He was so afraid of hurting his daughter, he screamed in panic, so scared he asked his wife all sorts of things. In my husband's mind, just screaming meant he was in pain. Instead, he was a businessman, so the way he loved and cared for his family would be comprehensive, not as thorough and detailed as a woman's. Since baby Moon was still in the womb, she had already planned what school for her child, where to study abroad, which company to work for… Listening to her talk, I couldn't help but laugh because I was only 5 years old. months of pregnancy at that time."
You are reading the article
Vo Ha Tram blamed her Indian husband for not keeping his promise when he was still in love and had to live on green tea
at Blogtuan.info – Source: Eva.vn – Read the original article here