Khỏe - Đẹp
Do I need to get tested after I have Covid-19?
Currently, many establishments advertise post-Covid-19 testing packages with prices ranging from a few hundred thousand to several million dong/patient.
For example, at a hospital at the University of Medicine and Pharmacy in Ho Chi Minh City, a basic examination package for people after Covid-19 costs VND 2.1 million, including more than a dozen blood test indicators from a general blood analysis 22 only. numbers to quantitative tests of blood fat, liver enzymes…
In Hanoi, post-Covid-19 testing packages also flourished. For example, at a private hospital in Hai Ba Trung district, Hanoi, a test package costs from 450,000 VND to 2 million VND depending on each indicator for the patient to choose the examination package.
Nguyen Mai Huong (Hanoi) heard that a friend after recovering from Covid-19 went to a post-Covid-19 doctor and found that there was a phenomenon of lung coagulation. Too scared, Ms. Huong hastily went to the doctor. When she entered the hospital, Ms. Huong had to buy an examination card and do tests plus a CT scan of her lungs.
After the test, the doctor said that she had a blood clotting disorder and advised her to go to a more advanced medical facility for examination. Spending more than 4 million dong still could not, Ms. Huong went to Viet Duc Hospital to check. As a result, her health was completely normal, and the CT scan of her lungs showed no abnormalities.
With test packages proliferating after Covid-19, experts say that patients need to carefully choose and only go to the doctor in case of necessity, symptoms persist after Covid-19.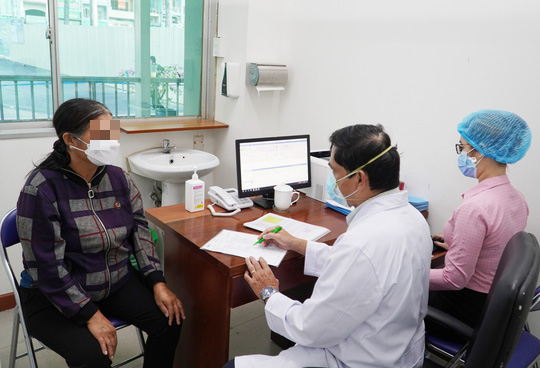 Post-Covid-19 examination patients in Ho Chi Minh City.
After contracting Covid-19, Mr. Nguyen Van Hoat (63 years old, Hanoi) was worried and asked to get tested for fear of being post-Covid-19. When his son took him for a post-Covid-19 examination, the doctor gave all kinds of clinical tests, lung scans, and full-body ultrasound.
Mr. Hoat is a retired cadre who still goes for annual health check-ups. But when examining, medical staff "threatened" someone who recovered from covid-19 had diabetes, high blood pressure… and for peace of mind, Mr. Hoat chose a package of 6.4 million VND.
After examination, all parameters were normal. At home, Hoat's son reads the newspaper and is very angry because he is afraid that after Covid-19 he may have diabetes, gout …
According to Associate Professor Hoang Bui Hai – Deputy Director of Covid-19 Hospital Hoang Mai, Hanoi, head of the Department of Resuscitation – Emergency, Hanoi Medical University Hospital People should not rush to get tested. For people who have recovered from Covid-19 but in the acute phase with mild symptoms and no symptoms, they do not need to be tested.
The need for testing in patients who have recovered from acute Covid-19 is determined by the severity and abnormal test results during the acute illness and their current symptoms.
Most patients with abnormal tests at the time of diagnosis improve during their recovery, and they can be retested.
According to Assoc. Hai, for patients recovering from severe illness, patients with identified abnormalities, patients who have been discharged from the hospital, or who have continued unexplained symptoms, it is necessary to do the following: following tests:
– CBC.
– Blood biochemistry: electrolytes, blood urea and blood creatinine; liver function, albumin.
– Other in-depth tests:
+ NT-proBNP, troponin in patients complicated by heart failure or myocarditis or who have cardiac symptoms possibly due to myocarditis (eg, dyspnea, chest tightness, edema).
D-dimer in patients with persistent or new unexplained dyspnea or in any patient with concerns about thromboembolic disease.
Thyroid testing in people with unexplained fatigue or weakness.
Creatinine kinase in patients with weakness or muscle strain.
No monitoring of coagulation parameters (eg, fibrinogen, fibrinogen breakdown products, activated thromboplastin time, INR, and D-dimer) or inflammatory markers (eg, erythrocyte sedimentation rate, reactive protein) C, ferritin, interleukin-6 ).
+ Covid-19 testing and serology – do not routinely retest for active SARS-CoV-2 at the time of outpatient follow-up assessment.
– Anti-SARS-CoV-2 antibody testing is not required in patients with acute infection.
– In addition, depending on the severity, the doctor will order an electrocardiogram, chest x-ray, computed tomography lung, echocardiogram, respiratory function measurement, arterial blood gas, walking test. 6 minutes for the patient. All indications are not for all F0 – emphasized BS Hai.
Khanh Chi
You are reading the article
Do I need to get tested after I have Covid-19?

at
Blogtuan.info
– Source:
infonet.vietnamnet.vn
– Read the original article
here