Thế Giới
Fierce fighting in Mariupol, Ukraine's president warns of 'world war 3'
Ukrainian President Volodymyr Zelensky warned of the risk of "a third world war" if efforts to negotiate with his Russian counterpart Vladimir Putin failed.
In an interview with CNN on March 20, Zelensky said he was ready for dialogue with Putin.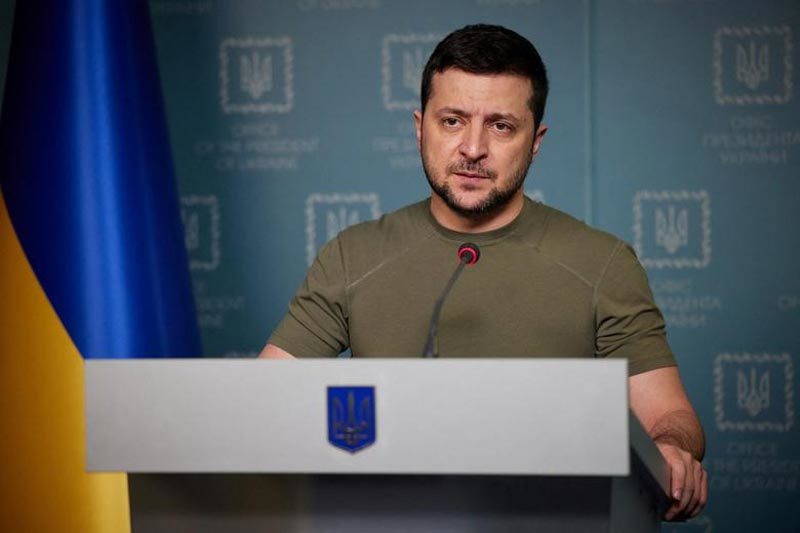 Ukrainian President Volodymyr Zelensky. Photo: Reuters
"I am ready to negotiate with him. I have been ready to do this for the past two years. I think, without negotiations, we cannot end this war," the Ukrainian president said.
In the latest attempt to call for foreign help, Zelensky gave an online video address to Israel's parliament, asking Israel to sell Iron Dome missile defense systems to Ukraine.
"Everybody knows that your missile defense system is the best … and you can certainly help our people, save the lives of Ukrainians, Jews in Ukraine," Zelensky said. who is also of Jewish ancestry, emphasized.
According to the Guardian newspaper, Israeli Prime Minister Naftali Bennett has held several separate phone calls with the leaders of Ukraine and Russia to try to end the conflict, as Moscow's forces are intensifying attacks in many parts of the country. neighbor.
Fierce fighting is taking place inside the city of Mariupol, eastern Ukraine. The strategic port city has come under some of the heaviest shelling since the outbreak of hostilities on February 24. Many of Mariupol's 400,000 residents are still trapped here with little food and water left, with power systems cut off.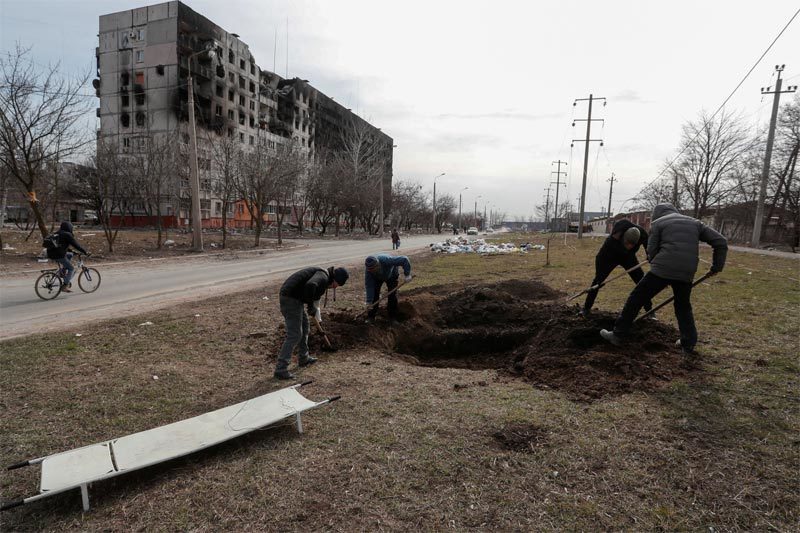 People dig graves to bury victims of the conflict in Mariupol, Ukraine on March 20. Photo: Reuters
Mariupol's government also accused Russian troops of bombing an art school in the city, where 400 residents were taking refuge on March 19. However, the Russian side denied that it targeted civilians.
The Greek consul in Mariupol, the last European Union diplomat to evacuate the city, confirmed it was war-torn. The official described the situation as "no one wants to see".
The Russian military demanded the surrender of Ukrainian forces in Mariupol to avoid a "terrible humanitarian catastrophe". They gave Ukrainian soldiers until 5am Moscow time (9am Vietnam time) today, March 21 to lay down their weapons to ensure the safe evacuation of people out of the city. The Russian side has announced that it will allow humanitarian corridors to be opened for civilians from 10:00 am Moscow time (14:00 Vietnam time).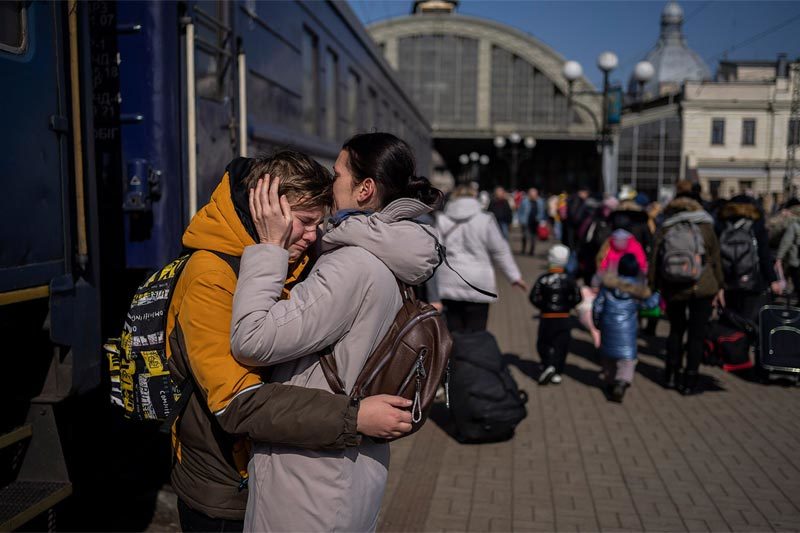 A mother hugs and kisses her son after he was evacuated from Mariupol and arrived at the train station in Lviv, Ukraine. Photo: AP
Deputy Prime Minister of Ukraine Iryna Vereshchuk said that 7,295 people were evacuated from Ukrainian cities through humanitarian corridors on March 20, including 3,985 people from Mariupol. According to Ms. Vereshchuk, the government plans to send nearly 50 buses to Mariupol to bring more civilians to evacuate.
Earlier, the Mariupol City Council alleged that thousands of residents were "kidnapped and deported" to Russia in this week. By contrast, Russian news agencies have reported that buses have carried hundreds of people from Mariupol to the country in recent days.
US Ambassador to the United Nations Linda Thomas-Greenfield said that Washington could not confirm whether there was a forced evacuation of Mariupol residents to Russia, but if it was true, it was "very worrying".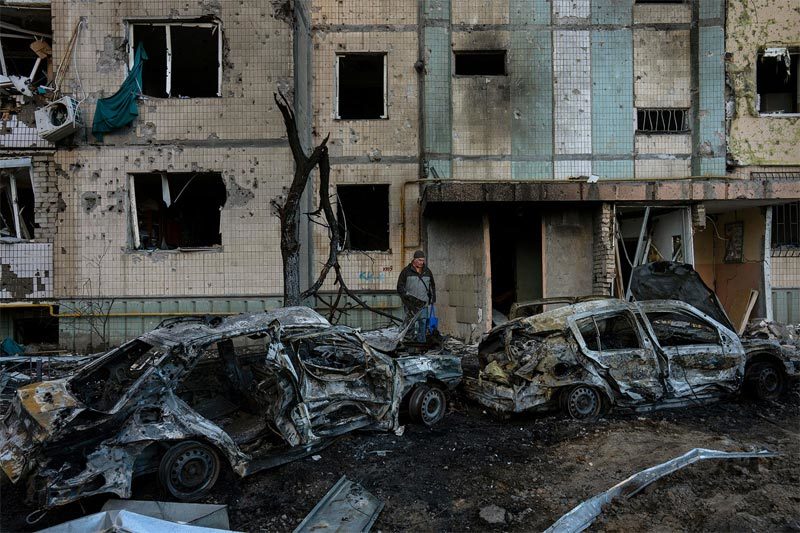 A scene of rubble after a Russian shelling of the Satoya residential area in Kiev, Ukraine on March 20. Photo: AP
The mayor of Kiev said that an artillery shell exploded outside an apartment building, injuring five people, as Russian troops approached and stepped up their bombardment of the Ukrainian capital.
According to the British Ministry of Defense, Russian troops in southern Ukraine are also trying to pass the city of Mykolaiv while moving west towards Odesa. However, British authorities estimate that Russian forces have made little progress in this effort.
"The Russian Navy continues to block the coast of Ukraine and conduct missile strikes on targets throughout Ukraine. The blockade of the Ukrainian coast has the potential to aggravate the humanitarian situation in Ukraine and prevent resources. vital supplies to the Ukrainian people", quoted the British Ministry of Defense's military situation report.
The Office of the United Nations High Commissioner for Human Rights (OHCHR) estimates that at least 902 civilians have been killed and 1,459 others injured since the beginning of the war. The OHCHR added that most of the reported casualties were caused by the use of explosive weapons with a wide range of effects, including heavy artillery, multiple rocket launchers and air strikes.
According to the UN refugee agency, an estimated 10 million people Ukraine were displaced, including 3.4 million who had to leave the country for neighboring countries like Poland to seek refuge.
President Joe Biden has no plans to visit Ukraine this week as he travels to Europe for an emergency summit to discuss solutions to the crisis, the White House has announced.
US and NATO officials are trying to decipher the status of peace talks between Russia and Ukraine. The West believes that Russian President Putin has not given up his initial demands in the negotiation process with Ukraine, although the Turkish foreign minister revealed that Moscow and Kiev have get closer together on key issues.
Tuan Anh
>>> Update Russia-Ukraine war situation today
You are reading the article
Fierce fighting in Mariupol, Ukraine's president warns of 'world war 3'

at
Blogtuan.info
– Source:
vietnamnet.vn
– Read the original article
here