Sức Khỏe
For three consecutive years, Nutifood GrowPLUS+ is the number 1 baby milk in Vietnam
In 2021, Nutifood GrowPLUS+ continues to maintain its position as the No. 1 baby milk brand in Vietnam with diverse product lines, meeting all conditions and nutritional needs of children, accounting for 23.6% of the market share.
Affirming the position of the number 1 baby milk brand in Vietnam
The year 2021 is the third consecutive year that Nutifood GrowPLUS+ has topped the rankings in terms of market share in both the infant formula and ready-to-drink infant formula segments. consecutively (from 2016 to 2021).
The results have just been announced by Nielsen Company based on research data in the Vietnamese market in the period from December 2020 to November 2021. This achievement not only proves the product quality and users' trust in the Nutifood GrowPLUS+ brand, but also affirms the competitiveness of the Vietnamese dairy brand with multinational dairy companies in the market. Vietnam.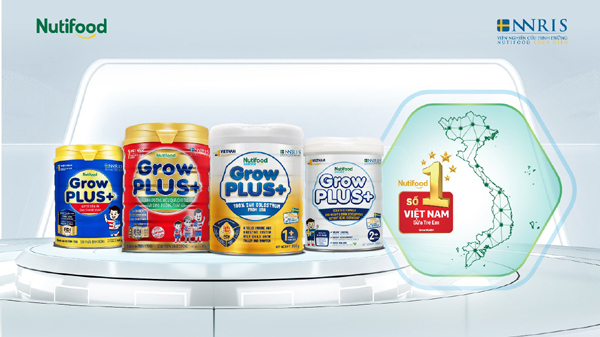 Nutifood GrowPLUS+ maintains the position of No. 1 baby milk in Vietnam for three consecutive years
Mr. Tran Bao Minh, Vice Chairman of Nutifood's Board of Directors shared: "Nutifood GrowPLUS+ is "conceived" from the enthusiasm of Nutifood nutrition experts in the face of malnutrition and stunting of Vietnamese children compared to the region and world. Starting as a special treatment product, after 10 years of constantly improving the formula and quality, experts from the Nutifood Swedish Nutrition Research Institute (NNRIS) have built the core FDI foundation "Healthy resistance – Healthy consumption". "good chemistry" firmly, helping Nutifood GrowPLUS+ become the optimal nutritional solution, meeting the needs of all Vietnamese children".
"We are proud to create high quality products bearing the imprint of the Vietnamese people, which can compete fairly with imported products of multinational companies in the world, bringing the quintessence of nutrition to every Vietnamese family", Mr. Minh said.
The brand was born from the enthusiasm of doctors and nutritionists
Not only a nutritional product, Nutifood GrowPLUS+ is also a "solution" to the concerns of doctors and nutritionists Nutifood through many visits to rural areas in the last decade. Statistics in 2009 show that the rate of malnutrition and stunting in Vietnam is alarming, especially for children under 5 years old, accounting for 31.9%.
Faced with that situation, Nutifood nutrition experts have diligently researched and pioneered the launch of a special treatment product for malnourished and stunted children – Nutifood GrowPLUS+ Red in 2012. Immediately, the product quickly create a "hit" in the market by providing all the necessary nutrients, helping children to grow tall and healthy, while having a delicious and attractive taste for children to drink every day. Clinical certification from the National Institute of Nutrition (Ministry of Health, 2013) also recognizes the remarkable effectiveness of Nutifood GrowPLUS+ for children after 6 months of use.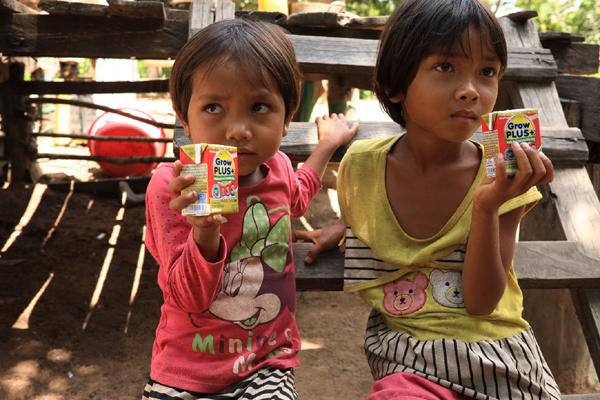 Nutifood GrowPLUS+ is proud to have accompanied many generations of Vietnamese children for the past 10 years
In the following years, nutritionist Nutifood introduced Nutifood GrowPLUS+ Green for anorexia children by adding Lysine and MCT, and created Nutifood GROWPLUS+ White with an exclusive Fiber Balance formula for overweight and obese children. Completely imported from Sweden.
The optimal nutritional solution for Vietnamese children
As soon as it appeared on the market, Nutifood GrowPLUS+ has made great efforts to carry out the mission of solving the problem of malnutrition and stunting for Vietnamese children. In 2019, "the milk company of experts" carried out the "Journey for a Vietnam to get rid of malnutrition and stunting", providing nutrition advice and giving milk to more than 30,000 poor parents and children in 12 provinces. city ​​across the country. Many poor children have been given 1 year of Nutifood GrowPLUS+ milk to improve their severely malnourished condition.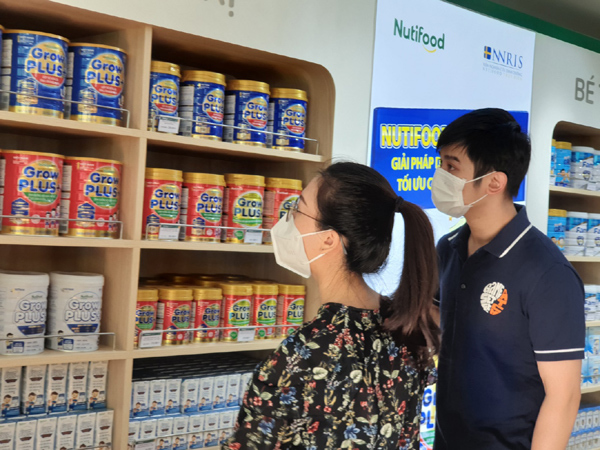 With a wide range of specialized product lines for each child's nutritional status, Nutifood GrowPLUS+ is trusted by millions of Vietnamese mothers.
Ms. Thu Trang (Hanoi) shares her experience of raising children with Nutifood GrowPLUS+: "Over 2 years of giving my child Nutifood GrowPLUS+ milk, from a boy who is not yet 9kg even though he is almost 2 years old, he has reached the 18kg mark on his third birthday. 5. Seeing my child getting stronger and healthier, as tall as friends of the same age and also less sick, for me, it is an indescribable happiness."
After 10 years of development, Nutifood GrowPLUS+ has become more and more perfect in both formulas and specialized product lines, becoming the optimal nutritional solution, comprehensively meeting all needs and health of Vietnamese children, from malnutrition stunting, anorexia to overweight and obesity. The entire range of Nutifood GrowPLUS+ products is developed based on NNRIS's proprietary FDI formula, building a launch pad "Healthy resistance – Good digestion", thereby helping children grow tall, smart, healthy, holistic development both physically and intellectually.
Celebrating 10 years on the market, in addition to three products GrowPLUS+ Red (for malnourished and stunted children), GrowPLUS+ Green (for anorexic children), GrowPLUS+ White (helping children grow taller without being overweight) ), Nutifood will launch a new product GrowPLUS+ Gold to double resistance for children.
As the latest scientific achievement from NNRIS, Nutifood GrowPLUS+ Gold is completely imported from Sweden. The product is created based on an exclusive FDI formula that combines 100% of 24-hour colostrum from the US, which is considered a precious "golden milk", combined with essential nutrients such as vitamins A, B12, E… and other essential nutrients. Factors that play an important role in the growth and development of children. Nutifood GrowPLUS+ Gold has two versions of powdered milk and ready-to-drink milk powder, which will be sold in the near future at the Nutifood Nutrition House chain, retail stores and many supermarkets nationwide.
To Uyen
You are reading the article
For three consecutive years, Nutifood GrowPLUS+ is the number 1 baby milk in Vietnam

at
Blogtuan.info
– Source:
vietnamnet.vn
– Read the original article
here