The "Zero Covid" strategy has helped the Chinese economy grow in the past few years while other economies in the world have been seriously affected, especially the industrial economy, which has been largely unaffected. in addition to record growth in exports.
However, currently, China is experiencing a serious outbreak, forcing many provinces and cities that play an important role in China's economic development to implement many strict blockade and isolation measures. . This has the potential to threaten to disrupt production and trade in the world's second-largest economy as well as globally. In fact.
A recent report of BIDV Securities (BSC) assessed that, in the coming time, if new measures are not effective, causing the outbreak to become stronger, factories and production facilities will have to close. Not only will China's economy slow down, but it will also have a significant impact on the entire world economy. Especially in the context of geopolitical tensions between Russia and Ukraine showing no signs of cooling down.
China is currently the largest import market and the second largest export market of Vietnam with import and export turnover in 2021 reaching 166 billion USD, accounting for 24.81% of total export turnover. imports from our country. Therefore, China's blockade of major cities will negatively affect our country's import and export industries.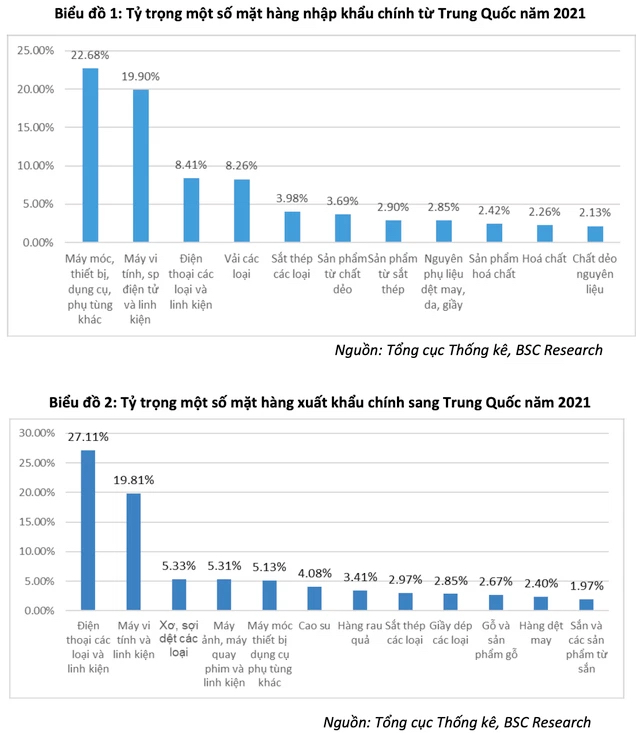 Assessing the effect on Vietnam's industries, BSC gave a "Neutral" view on Steel, Textile, Fertilizer and Chemical groups; "Not good" for Fisheries and Seaports; while commenting "Outperform" for the Shipping group.
Specifically, for Steel group, BSC believes that the above event will have short-term impact but not big. Accordingly, in the short term, factories in China will still produce, but inventories here will increase, reducing the demand for steel imports. Affected Vietnamese enterprises are mainly steel billet and construction steel exporters, but the impact for each enterprise will not be too great due to the diversity of export markets.
In the long term, steel prices may also decrease due to slowing demand in China; At the same time, the room to increase market share is relatively limited because steel products with high added value, used in the automobile and home appliance manufacturing industry (China's main export segment) do not account for a large proportion. in Vietnamese enterprises.
However, China's steel demand will be high this year as the Chinese government encourages infrastructure investment, and claims to support the country's real estate market. Therefore, BSC still holds an optimistic view on the prospect of steel exports to China this year.
For Textile group, BSC believes that China's blockade will have mixed effects. In particular, the negative impact is related to the source of input materials for the textile industry (thread, yarn, fabric) when the blockade of the provinces will cause the supply of input materials to be interrupted. On the other hand, for a positive effect, BSC expects that some textile and garment orders will move to neighboring countries (including Vietnam), continuing the trend of shifting orders from China to other countries. have lower costs.
Similarly, BSC's report assesses that fertilizer prices will continue to remain at a high level, which will be a positive factor for the future. Fertilizer industry, however, there is not much room for growth in fertilizer stocks, given last year's high base, and policies on export restrictions may be introduced in the near future. Prices of products Chemistry China is also likely to be affected, thereby affecting the world price of chemicals (such as phosphoric acid products), stemming from the blockade of Shenzhen – a major city in the production of goods. electronic chemistry.
More positive, BSC evaluates China's blockade of some major cities will bring a positive impact to the shipping industry. Specifically, the limited production activities and reduced operating capacity of the China Port system will lead to prolonging the disruption of the global logistics chain. Congestion of the port system and prolonged waiting time for docking will lead to an increase in global freight rates, thereby positively impacting the group of Vietnamese shipping enterprises.
On the negative side, BSC thinks that China's blockade of some big cities will negative impact on the seafood industry in Vietnam due to the sudden decrease in seafood consumption demand, especially the demand for importing pangasius and shrimp from Vietnam.
Besides, the seaport industry will also be poor due to limited trade activities between the two countries, thereby reducing the volume of goods through the Vietnam port system. However, The impact will be more negative for the group of enterprises in the Northern port because a large proportion of output through the port is serving routes with China's transit ports instead of serving goods to the US and Europe like in the South. Therefore, enterprises such as GMD, VSC, PHP will be directly negatively affected.
Forecasting for the market's movements next week, BSC believes that the VN-Index will rise to the resistance level of 1,480 – 1,485 points and have a break before establishing a clearer price movement. The report recommends that investors can watch to sell hot stocks in a sideways market like today.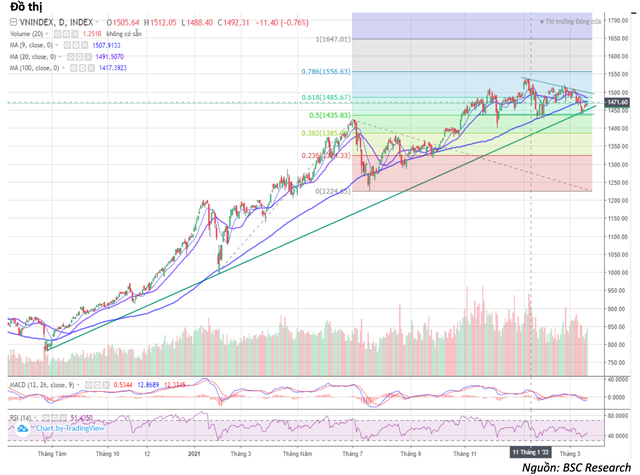 Three information should be noted next week related to foreign selling activities when central banks raise interest rates. Along with that is the conflict situation between Russia – Ukraine and the development of China's COVID control.
https://cafef.vn/trung-quoc-siet-phong-toa-nhom-co-phieu-nao-tren-thi-truong-chung-khoan-viet-nam-se-tham-don-20220321000147763.chn
You are reading the article
How does China's blockade affect Vietnamese stocks?

at
Blogtuan.info
– Source:
Soha.vn
– Read the original article
here