Khỏe - Đẹp
I have an emergency because I misuse Oresol when I have Covid-19, how to use it correctly?
Seeing that the child had a high fever with abdominal pain, diarrhea, and could not eat or drink anything, the mother mixed concentrated oresol for the child to drink, resulting in the baby getting worse because of hypernatremia.
Ms. Vu Thi Lam (Hanoi) has never forgotten the moment her 6-year-old daughter had a seizure due to using oresol the wrong way.
Lam said on March 3, her son tested positive for Covid-19. When infected with Covid-19, the baby initially had chills and then started to have a high fever. The baby did not eat and by the next day was accompanied by abdominal pain with diarrhea.
Because of high fever and diarrhea, Lam was afraid that her child would lose water, so she bought oresol to replace electrolytes for her child to drink. But oresol is difficult to drink, so she made it concentrated with the hope that she could drink a little instead of mixing the correct ratio of 1 pack/1.5 liters of water as directed by the manufacturer.
After replacing electrolytes all day, the baby turned to convulsions, the fingers contracted. Normally, your child has no history of seizures. The couple rushed to the emergency room at a private hospital near their home. The doctor ordered a blood test that showed an elevated level of sodium in the blood.
At this time, the baby's mother said that she had Covid-19 and the family compensated for electrolytes with oresol and gave her a concentrated drink because she thought that drinking less would be enough to compensate for electrolytes.
According to Assoc. Prof. DS Nguyen Huu Duc – Lecturer at University of Medicine and Pharmacy in Ho Chi Minh City For people with fever, diarrhea causing dehydration, electrolyte disturbances, electrolytes must be replaced immediately and the fastest way to replace electrolytes is to use oresol.
Therefore, in the treatment of Covid-19, doctors also recommend that patients should replace electrolytes when high fever, vomiting, diarrhea. But even though oresol is not a specific treatment, it still needs to be used according to the recommendations.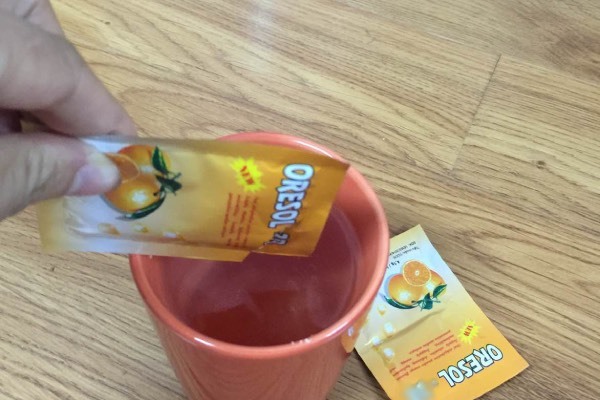 Illustrated photo.
Many people find oresol difficult to drink, so they think that the concentrated phase is concentrated with their eyes closed to drink enough electrolytes, but this is a mistake because it will cause the body to load too much salt (sodium) from oresol into the body, causing the amount of salt in the blood to rise.
More dangerously, too much salt in the blood can cause symptoms such as convulsions, coma and lead to dangerous brain damage, which if not treated promptly, can lead to death.
When used too dilute will reduce the effectiveness of rehydration as well as electrolytes of oresol. Therefore, when using oresol, it must be mixed according to the ratio of one pack in a liter of water, because too much salt dilution will not rehydrate enough, too diluted sugar will be poorly absorbed, and too thick for children will not be good: too much. Salt is dangerous, excess sugar makes diarrhea more.
There are popular oresol packing specifications, which are dilution in 200mL, 250mL or one liter of water. It is necessary to use accurate measuring tools and absolutely do not arbitrarily increase or decrease the amount of water.
Notes when making oresol:
First, a medicine pack is only mixed once with the correct amount of water indicated on the label, do not divide the medicine pack for many times because it will be inaccurate.
Second, Using purified water is best to make oresol. Oresol should not be mixed with mineral water, especially mineral water supplements with high mineral content.
Do not mix oresol with milk, soft drinks, juice, soup, soup or any other kind of water, do not add sugar to make it easy for children to drink.
Tuesday, oresol solution should not be boiled. If mixed with cooled boiled water, must wait for the water to cool completely before performing the preparation process.
Wednesday, oresol solution should be used immediately after reconstitution. If not used up, the oresol solution can be stored in the refrigerator, used within 24 hours and shaken well before use. If refrigeration is not possible, oresol solution should only be used within 1 hour of preparation.
Thursday, children 1-12 years old use about 100-200mL after each vomiting, diarrhea. Children over 12 years of age and adults should take oresol until thirst is gone and symptoms of dehydration are relieved, then 200 to 400mL after each bowel movement or vomiting.
Phuong Thuy
You are reading the article
I have an emergency because I misuse Oresol when I have Covid-19, how to use it correctly?

at
Blogtuan.info
– Source:
infonet.vietnamnet.vn
– Read the original article
here