Business
Land "fever" at the mouth of the "stork", how is investor F0 "tricked"?
Mr. NTD – broker in Hanoi has retired. For many years in the profession, Mr. no wonder the tricks of the "earth stork", especially in the "earth fever" spots. According to Mr. D., of the people who went to see the land at these sites, only about 10% were real visitors, the rest were the "land stork" team.
"They drive cars, dress nicely, but many of them rent cars to perform stunts. Prices are determined by the "trigger" team and there is no specific or fixed price. Depending on the understanding of the customer, that price is reasonable or not. "The land "stork" world is very fine, look who is the new customer, who is the owner of the land, who is the broker, you know right away", Mr. speak.
According to Mr. D., in the "play" with investors, the "stork" often pretends to have a phone to listen, listen again every 3-5 minutes and then shout out the terms closing price, increasing price, taking price. red book, deposit of hundreds of millions of dong… sometimes whispering in the ears of customers, discounting because they love and want to give each other fortune.
When the real investor has been able to "seduce" real investors to put money down and make sure the profit is in their hands (at least 20 – 40%), the "stork" will quietly withdraw from the market. People stuck, according to Mr. D., are usually inexperienced investors who have not participated in the market for long.
According to Mr. D., the above tricks are not new. The market has had its own lessons. And many people also learn from experience, but on the contrary, many people are still trapped.
However, the sophistication of the land "stork" after many years of participation in the market can make F0 impatient, down the money hoping to earn high profits. Hitting greed, the "stork" world succeeds in "pushing chickens", "hunting prey".
It sounds dishonest and unethical, but it's actually quite common. And in many hot spots "earth fever", one of the sources of heat is the "stork" team.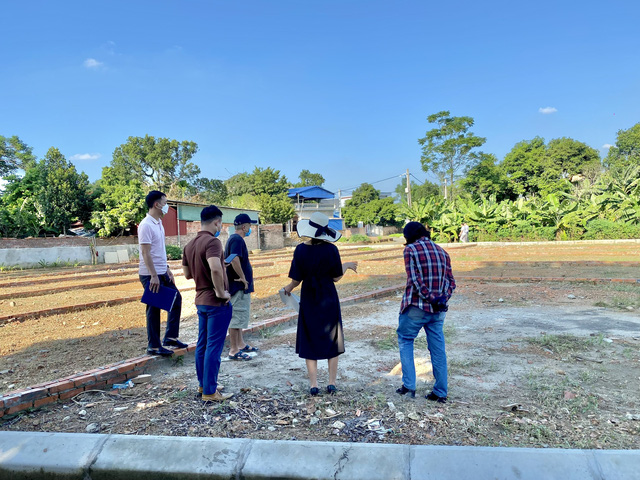 In fact, in the past 2 years, despite the complicated situation of the Covid-19 epidemic, many "land fevers" have occurred consecutively from big cities to rural areas. Notably, in the "land fever", the most popular and familiar trick of real estate speculators is to create an exciting atmosphere for the area to push the price, as mentioned above.
A series of information about planning, new projects … accompanied by "winged" sale information was released to attract investors to buy money. It is not uncommon for rumors to circulate on social networks, with a land price of 500 million VND after one night being offered for up to 1 – 2 billion VND.
There are many cases where a number of real estate business units or objects that are "storks" of land price themselves with each other. They pump and blow about road construction, opening industrial parks, transforming administrative centers from districts, towns to cities… to profit from the "surfing" of real estate.
It is this information that causes the land market to "wobble", many households sell off their houses and agricultural land… because they see immediate benefits. Localities had to issue notices to warn people.
Recently, in Loc Ninh district, Binh Phuoc province, Nam Khuong Real Estate Co., Ltd (with address in Binh Duong) organized a theater set up in an empty land, then "staged" the scene of "earth fever", "if it were" If you don't buy quickly, you won't have a chance."
Similarly, in the past 2 years, in many localities, some investors and real estate brokers have taken advantage of information on planning, the issuance of new land price lists, mergers and acquisitions. establishment, upgrading of administrative units, upgrading of infrastructure systems and the implementation of large projects in localities… to spread rumors, buy and resell real estate, entice people to participate follow crowd psychology into real estate transactions to cause information disturbance in order to push up real estate prices to take advantage of profiteering.
Exposing the situation of "blowing prices", the city's leaders. Ha Long (Quang Ninh) once said that in this city, there was a situation where some real estate investment brokers bought and sold plots of land that were not eligible for transactions in housing projects. eligible to transfer land use rights in Thong Nhat ward, Cao Xanh ward, Ha Khanh ward…
According to Ha Long City People's Committee, these transactions are actually just buying and selling activities between groups of brokers who are manipulating the market, creating "bait" transactions that make customers fall into traps. When people invest all the land plots that speculators have embraced, the "virtual fever" will end, land prices will level off or fall deeply, leaving land buyers stranded.
Assessing the situation of "storks" of land running rampant, Dr. Su Ngoc Khuong – Senior Director of Savills Vietnam said that in fact, many objects take advantage of land planning information and then inflate prices, creating a "land fever" " to "surf". In virtual "land fever", people are willing to sell agricultural land, which is a means of daily production. When the "land fever" passed, they did not know what to do to get more income, thereby affecting society.
https://cafef.vn/sot-dat-o-mieng-co-nha-dau-tu-f0-bi-lua-ga-ra-sao-20220321145229043.chn
You are reading the article
Land "fever" at the mouth of the "stork", how is investor F0 "tricked"?

at
Blogtuan.info
– Source:
cafebiz.vn
– Read the original article
here