Back in history, Micellar technology originated in France and has been applied in skin care since 1913. But it was not until 1991 that this technology was really famous worldwide thanks to its bleaching products. and is proven to be one of the most gentle cleansers for all skin types, including sensitive skin, making it a global beauty trend.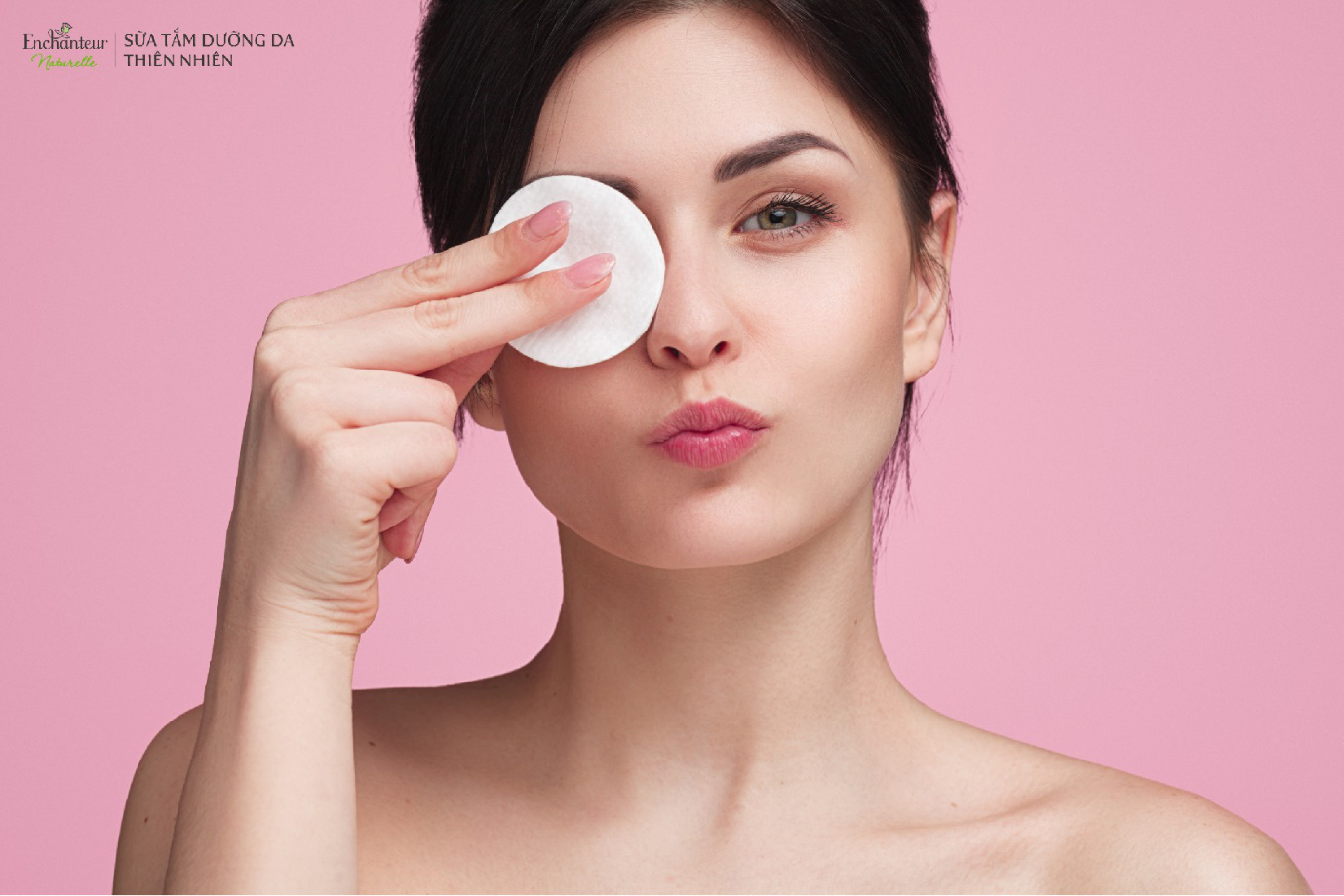 Until today, the use of makeup remover products applying Micellar technology is still a trend favored by girls.
Such great effectiveness is due to the Micellar technology using microscopic spherical cleaning particles called micelles, which have a hydrophilic head and an oil-loving tail. Oil-loving tails act like sponges capable of "grabbing" and sucking away dirt and excess oil from the skin. Immediately after, the hydrophilic head will help push the lipophilic tail that is carrying the dirt out and easily washed away. This effective "teamwork" allows the Micellar technology to gently remove dirt and oil without much rubbing, so it doesn't damage the skin's protective barrier – one of the key determinants of health. strength of the skin and protect the skin against harmful effects from the environment. Thanks to that, the skin not only retains moisture but also increases the ability to absorb other skin care essences.
In the current "bodycare" era, the plus points of Micellar technology have soon been desired by many shower gel brands to create a new product line, helping to effectively clean the body skin. still gentle, does not affect her skin barrier.
This intelligent way of working has created a great advantage for Micellar technology, which is to gently clean deeply and without affecting the skin barrier.
And most recently, the Enchanteur brand has done this when launching the Enchanteur Naturelle Natural Body Wash – a product that perfectly combines the essence of nature and modern Micellar technology.
Not only possessing all the advantages of Micellar technology to help remove dirt, sweat, and oil deep in the pores but still retain moisture for the skin, Enchanteur Naturelle Natural Body Wash also has a soothing formula. paraben-free, silicone-free, thereby ensuring maximum benignity for even her sensitive skin, and at the same time ensuring safety for her health. The most special feature of this formula is that it is rich in natural extracts, specifically Acacia honey from France which contains many precious nutrients such as: Vitamins B, C, minerals… soft, fresh and healthy.
Born with a mission to nurture both her skin and her senses, the Enchanteur Naturelle range also features a fresh, natural fragrance with flowers from France: Lavender and iris (Iris). ).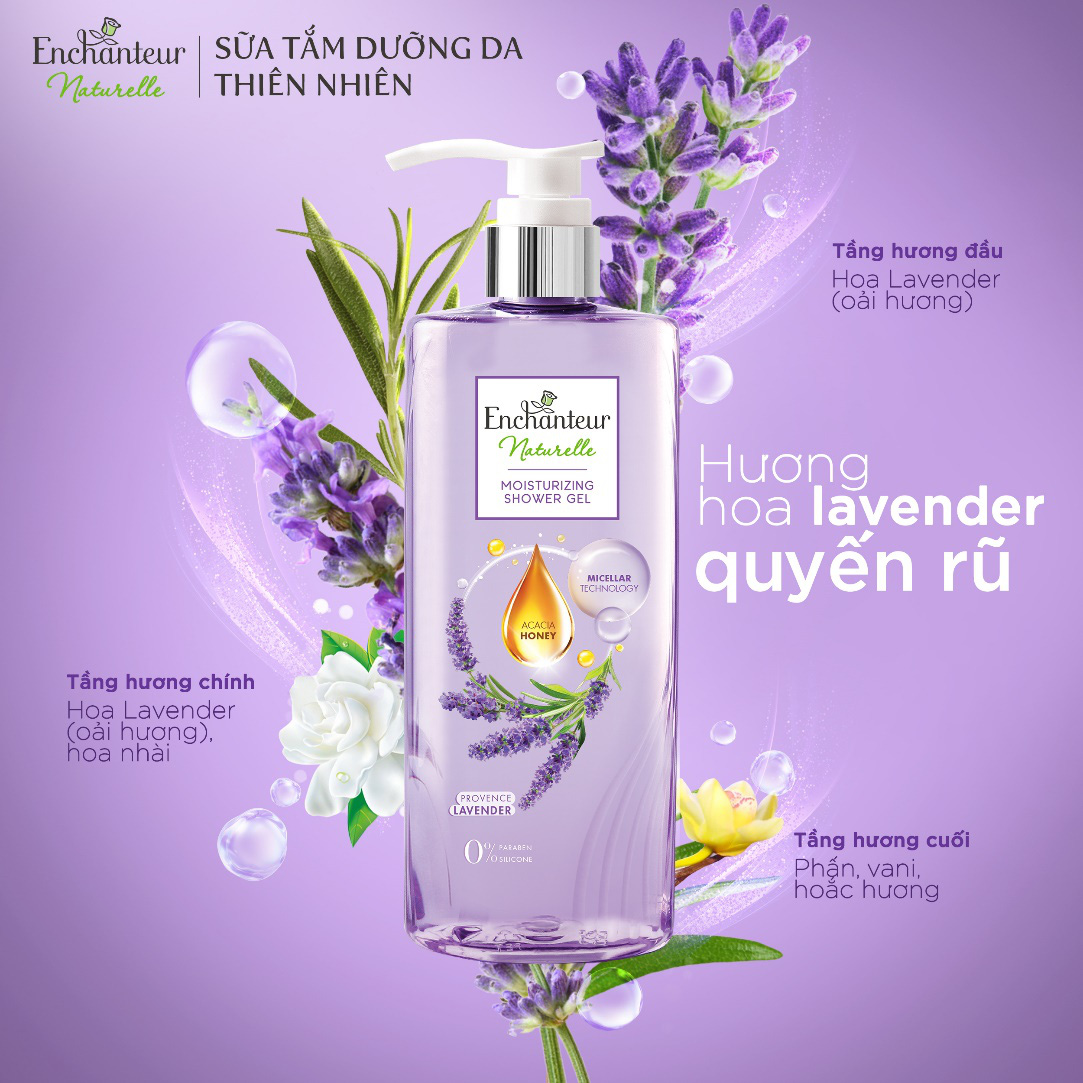 If you are looking for a sweet, seductive, mind-soothing fragrance for a feeling of complete relaxation and relaxation, then Enchanteur Naturelle lavender is the perfect suggestion.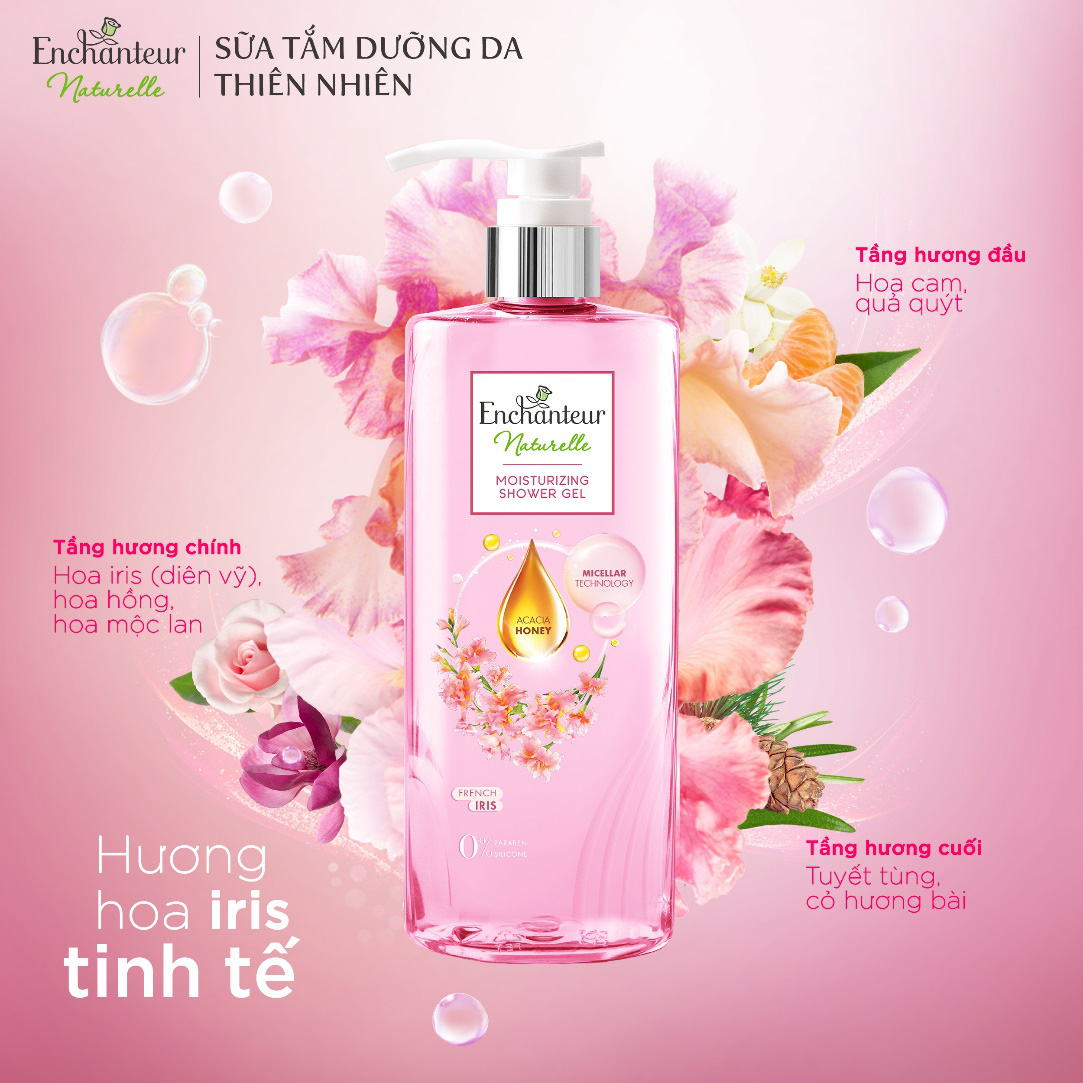 The above 3 unique scents have brought Enchanteur Naturelle Iris fragrance fresh, clear, delicate and delicate that she can hardly find in other products.
It can be said that this is an indispensable product in the bathroom of beauty believers who are fascinated with natural product lines and love smooth, fragrant skin all day long. Invite her to watch a video describing all the advantages and capabilities of the Enchanteur Naturelle product line to definitively "close" her in the cart right now!
It's time for urban muses to catch up with the beauty trend that combines the essence of nature and the famous modern French Micellar technology, to own moist, fragrant, and confident skin that attracts everyone. The look
Just like the skin on the face, the skin on the body needs gentle care from you. Summer is almost here, let's pamper your skin with quality products that apply Micellar technology, such as the Enchanteur Naturelle natural skin care shower gel line to confidently exude natural beauty in the right clothes. pretty wings right now!
Inspired by the natural beauty of France, the Enchanteur brand has created a new line of shower gels, Enchanteur Naturelle, combining Micellar technology and Acacia honey ingredients to gently cleanse and nourish the skin. living.
Enchanteur's products are being sold at supermarket systems such as Aeon Wellness, BigC, VinMart, Lotte, Coopmart, Emart… and prestigious cosmetic stores in cities such as Ho Chi Minh City. Ho Chi Minh City, Hanoi, Can Tho… and through online sales channels such as e-commerce channels. In addition, girls can visit Enchanteur's official fanpage to see more personal care product lines with legendary fragrance lines from France.
https://kenh14.vn/new-trend-sua-tam-duong-da-thien-nhien-tien-phong-ung-dung-cong-nghe-micellar-20220321191933714.chn
You are reading the article
Pioneering natural skin care shower gel applying Micellar technology

at
Blogtuan.info
– Source:
Kenh14.Vn
– Read the original article
here